Food Might Be The Easiest — And Most Important — Way To Make A Huge Difference In The World. Here's How
Contributing Food Editor
By Liz Moody
Contributing Food Editor
Liz Moody is a food editor, recipe developer and green smoothie enthusiast. She received her creative writing and psychology degree from The University of California, Berkeley. Moody is the author of two cookbooks: Healthier Together and Glow Pops and the host of the Healthier Together podcast.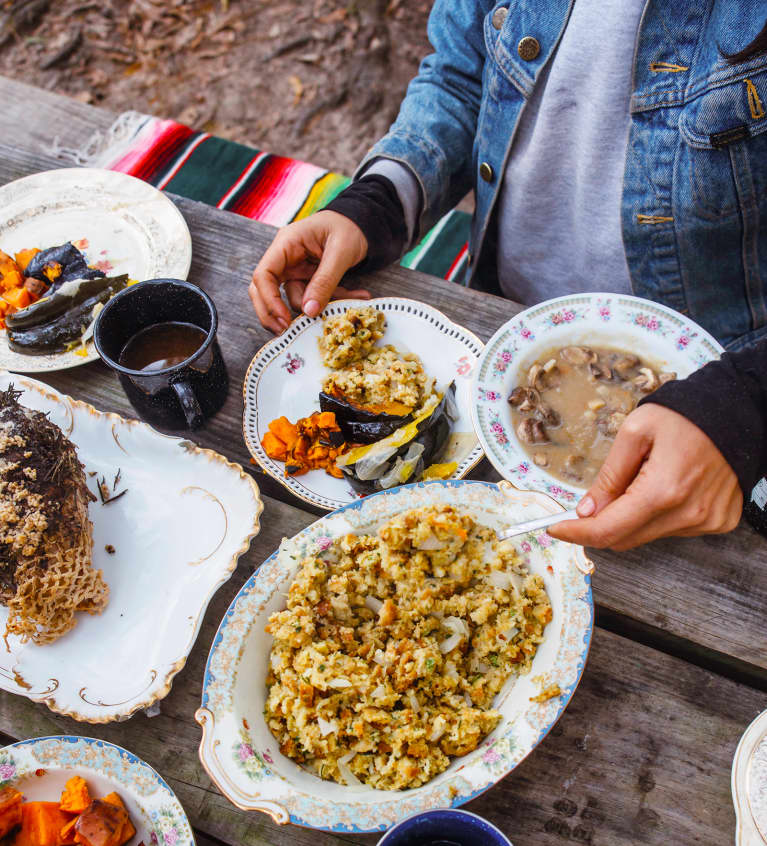 Our editors have independently chosen the products listed on this page. If you purchase something mentioned in this article, we may
earn a small commission
.
Welcome to the new mbg! We've relaunched and realigned ourselves with an evolved mission. Our take on wellness can be summed up in three words: You. We. All. You: You, yourself, are the foundation of wellness. We: We grow our spirit by nurturing our connection to our families, friends, and neighbors. All: All creation on our planet is interwoven and interdependent. To achieve true wellness, we need to nourish ourselves, our communities, and our planet. The time is now—rise with us. You. We. All.
It can be easy to get caught up in the individual elements of food—what am I allergic to? What will nurture my thyroid? What works with my body and makes me feel amazing? This is important, of course; food is the original form of medicine, and by optimizing its interactions with our bodies, we can go a long way on our wellness journeys.
But, throughout thousands of years of human existence, food has always been more than fuel. Even in times of scarcity, traditions were established around food; rituals were developed, and people came together to break bread and sip wine, to take pause and appreciate the simple fact of life, of being alive. Food is the one thing that every single person on the planet has in common. People fall in love over food. Families discuss their days over food. The sharp, citrus scent, and juicy acidity of an orange wedge still send my brain straight back to fourth-grade soccer games in a visceral, emotional way that photos can't come close to. The inextricable entanglement of food and emotion is what makes what we eat so powerful, both in our bodies and in our communities.
Food is the one thing that every single person on the planet has in common.
It should come as no surprise, then, that in a time when people are increasingly interested in figuring out ways to find their voice and, perhaps more importantly, the actions they can take that will actually make a difference, food has become an act of service. All over the country, food professionals and enthusiasts have taken the background emotions and community-building notions of food and amplified them. With dinners hosted for causes and books about using food as a political tool, food has emerged at the front lines of change-making activities.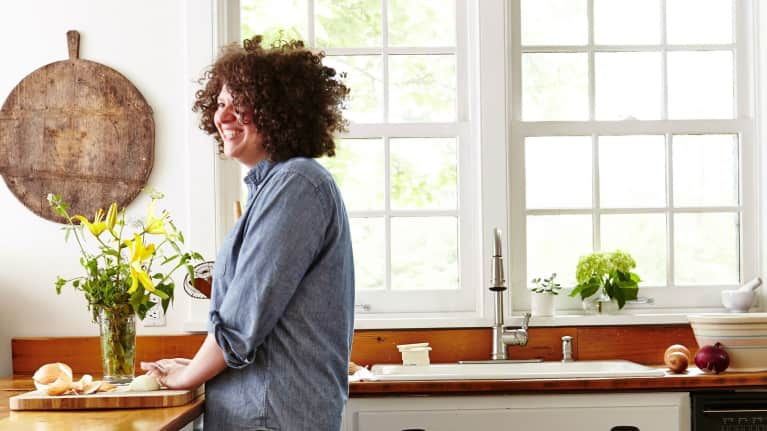 According to Julia Turshen, author of Small Victories and Feed the Resistance, food is inherently social and political. "Every single thing we consume is tied to a large food system that has huge political and social ramifications. So even if our decisions about what and where we eat (and how we eat it and who we eat it with, etc.) can feel small and insignificant, these decisions actually add up in big, meaningful ways. This also reminds us how much power we have as individuals to effect change and how much collective power we hold as communities. It's part of what also makes food such an accessible way to make a difference. We all eat anyway, so why not make thoughtful decisions about our food? Justice in our food systems also means racial justice, economic justice, and so on."
Turshen's new book is packed with over a hundred ideas of ways to use food to take action, whatever cause you're interested in. According to her, the ways that food can create real change are endless. "First, consider who you eat with and what you talk about when you eat," she says. "In the words of my friend and fellow cookbook author Nicole Taylor, invite someone who doesn't look like you over to your home for a meal. Food is a great way for us to all better get to understand each other. Second, consider where you buy your food and who your dollars support. If you have the option to shop at farmers markets or buy from small local businesses or women-owned business or businesses run by people of color, take those options. Third, think about the environment when you think about food (even as simple as considering whether those lemons really need to be in a plastic bag inside another plastic bag?). Fourth, if you can help feed those around you, do so. Volunteer at your local food pantry and/or soup kitchen. Fifth, use food as a way of nourishing those who better your neighborhood. Cook for activists in your community so they have one less thing to do. Bring banana bread or cookies to your first responders, public librarians, and local officials to thank them for their service."
Invite someone who doesn't look like you over to your home for a meal. Food is a great way for us to all better get to understand each other.
For Linsey Laidlaw, the founder of Gather for Goats, activism through food can often be more successful than traditional types, because it takes advantage of that inherent connection that food offers. "Giving food to people in need or in pain is such a universal impulse and tradition, and since most of us can't be the ones directly feeding those in need, food activism is a way to channel that. Gathering together with friends, raising awareness by talking about why you are doing it, feeding and caring for them and then direct money you would have spent going out toward feeding and caring for refugees." The Gather for Goats movement started as a way to help refugee families in Jordan have access to goats, a food source that, in that region, can be the difference between life and death. "In Jordan, animals are allowed to graze anywhere—goats provide refugees with fresh milk, cheese, yogurt, and even a bit of income."
While you can donate directly to the organization, Gather for Goats encourages people to host dinner parties, inviting guests to donate what they would've spent on a dinner out. "It doesn't have to be fancy; it doesn't have to be hard. A lot of our best events were pizza parties or potlucks!" says Laidlaw. "Put whatever spin on this project sounds most enjoyable and doable for you—people are very happy to support such a good cause, and gathering together to celebrate the human heart's desire to help is the most important thing, not the menu." She also loves how kid-friendly the projects are, giving the next generation the opportunity to get excited about making a difference. "We all want to teach our kids to give and care for others, but it can be hard to find service projects that are appropriate for little participants. And this provided a gentle way to talk a bit with them about the refugee crisis: 'We are raising money to help other kids have milk.' My kids have been so excited to help raise this money—they check the goat count constantly to see how many the donations have helped purchase and cheer every time the number goes up."
Turshen also loves the idea of dinner parties for a cause. "FEED has some great guidelines for this," she says. "If you're looking to raise money, I would suggest picking a cause that means something to you and explain why when you invite your guests. Make it personal. Ask them to make a donation to the organization for whatever amount they would normally pay for a meal. If you're looking to create action at your table, consider inviting a local grass-roots organization or other organizer (perhaps from SURJ) to come and tell them you have a group of folks invested in doing something. You can also consider hiring someone else to provide the food and, in doing so, support a business that betters the world. For example, if you're in New York, hire the Drive Change truck to cater your event. If you're in Indianapolis, check out Public Greens. Invited to a dinner and want to bring something besides wine? Consider a gift from La Cocina or Hot Bread Kitchen. The list goes on and on. Food can be as much fun as it can be a tool of resistance."