Here's One Big Way To Help Working Mothers Thrive, According To Research
mbg Contributor
By Madison Vanderberg
mbg Contributor
Madison Vanderberg is a Los Angeles-based freelance writer, editor, and screenwriter specializing in the women's lifestyle space with a bachelor's in sociology from UCLA. When she isn't writing, she's googling skincare products to spend her paycheck on or baking gluten-free cookies. She's written for HelloGiggles, Insider, Hunker, Racked, and more.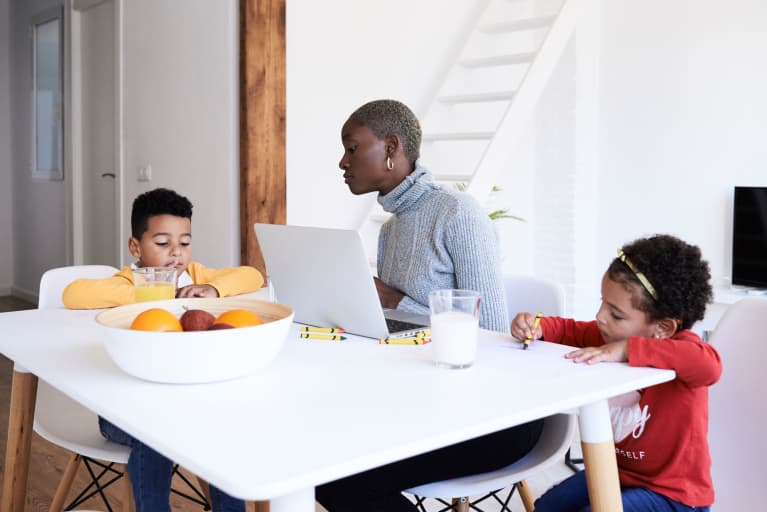 March 29, 2019 — 19:53 PM
There is always a constant tug-of-war happening between a person's work responsibilities and their family responsibilities, and this strain is especially hard on women, who are still generally expected to take on the bulk of child care.
A new study published in Sex Roles found that emotional support—both from a woman's spouse and her supervisor at work—can help reduce a mother's work-family conflict and employment-related guilt.
Work-family conflict is when one's work responsibilities interfere with family responsibilities. And if a person feels as if their job is keeping them from their expected family duties, they may experience something called employment-related guilt. Studies have shown women experience 30 to 40 percent more guilt than men do when their work crises interfere with their home life. You can blame this extra dose of guilt among women on the unreasonable societal expectations placed on moms that is not equally expected of fathers.
In her lifelong research on shame, Brene Brown explains that guilt—when left unchecked—often leads to shame, which can be even more damaging to a woman's mental health. For example, feeling guilty that you didn't come home from work early enough leads to feelings of shame that you are a bad mom or that you have failed as a mother.
This new study aimed to discover what could help moms eliminate some of this guilt and found that emotional support—which includes encouragement, understanding, and attention—is one of the best ways to help working mothers thrive, as opposed to instrumental support, which includes simply getting support with household operations. The researchers surveyed 201 employed Turkish mothers between the ages of 25 and 47 who have at least one child below the age of 10 and found that, regardless of how much paid or voluntary domestic help the mother had, all women reported lower levels of work-family conflict and the subsequent employment-related guilt when they received emotional support from their romantic partner and from their supervisor at work.
The researchers theorized that although spouses who provide instrumental support help their wives finish their tasks at home, only emotional support can boost a woman's self-efficacy and change her perception of how daunting her work-family conflict actually is—and how much she should or shouldn't blame herself for it.
That means one strong way for spouses and supervisors to emotionally support working mothers is actually quite simple: Have more empathy.
"A spouse who shows empathy and love, who is thoughtful and understanding and who offers advice when needed, provides an important source of social support for working mothers," the authors wrote in the study. "Additionally, a supervisor with empathic understanding for the well-being of women and their families can help to create more favorable working and home environments for working mothers of dependent children."
For supervisors, having paid maternity leave policies and on-site breastfeeding rooms are, of course, still extremely helpful (and often necessary forms of support), but so is simply showing through words and actions that you understand what your employees with children are going through. For spouses, you should certainly be going out of your way to make sure you're splitting the household chores and breaking off an equal share of child-rearing duties. But the biggest take-away here is that lending an ear and making an honest attempt at understanding a working mom's struggle can go a very long way. Take time to listen and validate what she's going through. It helps.