How To Help Our National Parks While The Government Is Shutdown
mbg Contributor
By Elizabeth Gerson
mbg Contributor
Elizabeth Gerson is a former mindbodygreen intern and a student at Stanford University studying Psychology and Communication with a specialization in Health & Development.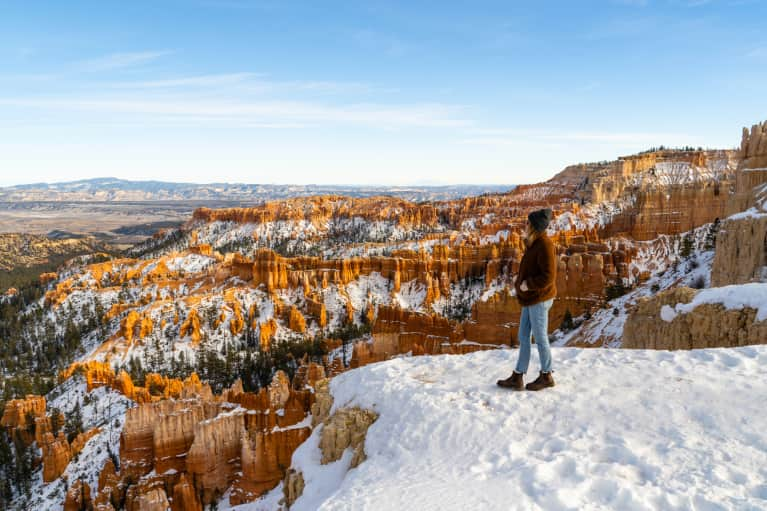 January 9, 2019 — 11:00 AM
Every day, 27,000 government employees move mountains to keep our national parks pristine. While the government may be shut down, the need to keep these natural spaces clean and functioning carries on.
In legendary parks like Zion and Yosemite, which have remained open amid the shutdown, garbage and human waste continue to pile up, presenting safety concerns for both visitors to the parks and the parks themselves.
"We are taking this extraordinary step to ensure that parks are protected and that visitors can continue to access parks with limited basic services," Daniel Smith, deputy director of the National Park Service (NPS), said in a statement released on Sunday.
It's no secret that enjoying nature in its purest form does wonders for your health. Time spent outdoors results in increased cognitive functioning, stronger bonds between children and nature, and reduced overall stress. So if you're itching to help, here are a few ways to do your part in keeping the great outdoors truly great:
Volunteer in nearby parks.
According to Smith, the 40 still-functioning parks have been able to remain open due "to the strong relationships that many national parks have built with partners across the country."
To see if your area park needs help, use the NPS "Find a Park" tool to see volunteering instructions, impending closures, and other announcements. To make sure your volunteering is safe and effective, check out volunteer handbooks, such as Yosemite's, before you go. Each volunteer program is park-specific, prioritizing each region's individual needs, so check out the volunteer calendar to see your nearest park's upcoming events.
Take to social & organize your own cleanups.
Social media isn't always cast in the most flattering light, but that doesn't mean it's good for nothing. In this case, social media can be used for raising awareness and taking action. By forming your own Facebook groups, creating trash-gathering event pages, or even making a simple post for your followers, you can find other like-minded park lovers and begin to organize your cleanup.
One place to start is with initiatives like "Wild Keepers," led by lifestyle company Keep Nature Wild. "Wild Keepers," outfitted with Facebook groups by state, lets participants pick up and log their collected trash by weight with the goal of picking up 1 million pounds of trash by 2023.
Consider a monetary donation.
According to Smith, the parks have been able to raise over $2 million in donations from individuals and communities looking to help as well as volunteer support. Consider donating to the NPS. Donations are used for educational activities, safety, and beyond and can even be named in someone's honor.
The NPS accepts monetary donations through cash or check in snail mail, and will use your contribution for the highest priority program.