How To Help Out Animals Around The World (Other Than Donating Money)
mbg Sustainability Editor
By Emma Loewe
mbg Sustainability Editor
Emma Loewe is the Sustainability Editor at mindbodygreen and the author of "The Spirit Almanac: A Modern Guide To Ancient Self Care."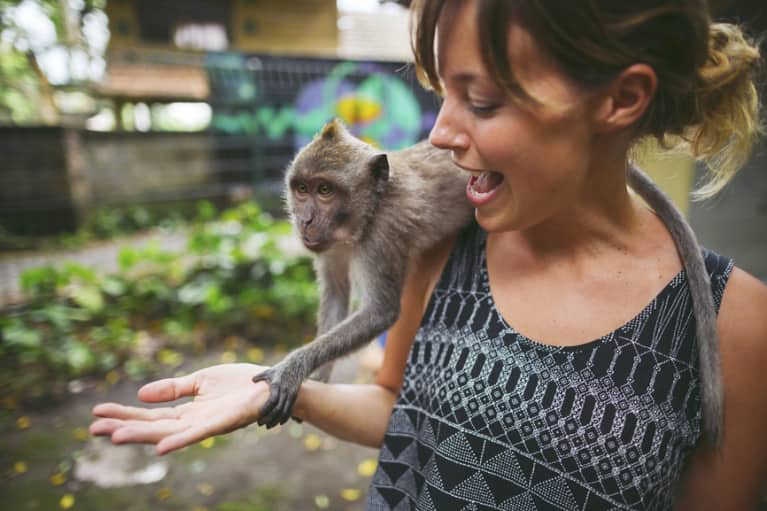 Earlier this week, a report from the World Wildlife Fund found that since 2015, a new species of plant or animal has been discovered in the Amazon every two days on average. However, many of them are already on the brink of extinction thanks to rapid deforestation. While harrowing, this narrative is sadly unsurprising.
Our planet is steadily losing biological diversity across all sorts of ecosystems—from jungles to coral reefs—thanks to a combination of climate change, habitat loss, pollution, and human intervention. If this trend continues, major ecosystems could soon reach a tipping point in which they experience widespread and irreversible degradation. We depend on these ecosystems a lot more than we may realize: Losing plants and animals along the coast could make coastal dwellers more susceptible to storm surges, while inland this shift could promote more pests on farms reducing the number of natural predators.
These projections read pretty doomsday, but experts in biodiversity remain hopeful that we can prevent them. Patricia Wright, a climatologist and conservationist biologist working in Madagascar, where 95 percent of the natural habitat has been destroyed, is one such optimist. "While 17 species of lemurs have indeed gone extinct, our team has discovered two new species of lemurs! This gives us hope," Wright tells mbg. "[People in Madagascar] are now implementing science and environmental education in schools and doing community training and sensitization along with outreach education to stop this cycle and find other ways for the people there to make a living while protecting their land and the biodiversity there at the same time."
These on-the-ground efforts are only half the battle, and those of us worlds away from endangered areas have vital roles to play, too. This summer, Wright joined forces with other leaders in the environmental field at Creating Equilibrium, a conference to address climate challenges with an emphasis on biodiversity. There, they shared information on how people who live in the middle of concrete jungles can take actionable steps to help lush green ones every day. Here are a few top take-aways from author and event creator Steven Kotler:
What can you do to help promote biodiversity—other than giving money?
While donating to environmental charities is a great start, Kotler notes that there are plenty of other ways to protect animals and their habitats. "If you're interested in protecting biodiversity, change your diet: Specifically, eat way less meat," he says. Shifting your consumption patterns outside the grocery store is also key. "Never purchase anything made from the skin, bone, shell, beak, or hoofs of an endangered species. Buy wood that has been sustainably harvested by looking for the Forest Stewardship Council's (FSC) label. Same goes for seafood. Look for the Marine Stewardship Council logo and avoid at-risk species like bluefin tuna or North Sea cod."
"Additionally, it's incredibly critical to start conducting honest conversations about biodiversity and extinction and to search for real solutions that can create impact. We need to focus less on the doom and gloom surrounding climate change and more on what we can do as individuals to play our part. We constantly expect our government and large corporations to take on the responsibility, but it's really up to us. Reducing your carbon footprint, recycling, etc.... Those things matter and make a difference."
How can people learn more?
If you're interested in taking larger steps to help protect species in faraway places, Kotler recommends getting started by reading David Quammen's The Song of the Dodo. "Personally, I think it's the single best book written on this subject. Quammen is one of the best living science writers, and this book is both a ton of fun to read and packed with everything you need to know. I truly believe it's the one book every elected official, and American, needs to dive into."
These expert-approved tips will show you how to protect sea critters in particular with your daily actions. Hint: Nixing plastic straws is involved.