The 'Me Too' Campaign Is Sweeping Social Media. Here's How To Heal If You've Been There
mbg Contributor
By Leigh Weingus
mbg Contributor
Leigh Weingus is a New York City based freelance journalist writing about health, wellness, feminism, entertainment, personal finance, and more. She received her bachelor's in English and Communication from the University of California, Davis.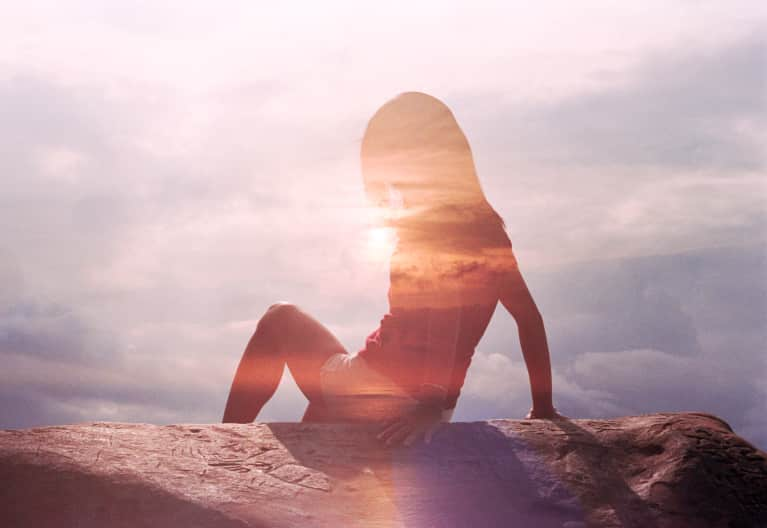 Our editors have independently chosen the products listed on this page. If you purchase something mentioned in this article, we may
earn a small commission
.
In light of recent allegations against Harvey Weinstein, who has been accused of sexually harassing and assaulting upward of 35 women, actress Alyssa Milano launched a Twitter campaign on October 15 based on the "me too" movement, which was started by activist Tarana Burke 10 years ago. "If you've been sexually harassed or assaulted write 'me too' as a reply to this tweet," Milano wrote. The campaign has since gone viral.
In the past few days, women all over the world have come forward with stories of sexual harassment and assault, and others have simply let the explanation of "me too" stand on its own. Here are a few powerful examples.
If you, too, have been a victim of sexual harassment or assault, know that you're not alone. Further, you don't owe anyone your stories—and that's not the point of the campaign itself. Instead, it's to shed light on what a huge problem our society has in its treatment of women as a whole. Here are some action steps to take if you're looking to heal from your own "me too" experience.
Allow yourself to feel it.
Dr. F. Emelia Sam, author of I Haven't Found Myself but I'm Still Looking, says the first step to healing from trauma is acknowledging the pain and letting it in. "Note that feeling it doesn't mean wallowing in it. Many people go into denial or use distractions to avoid the feeling, but repression has never helped anyone in any productive way," she explains. "What you don't deal with comes to express itself in unhealthy ways. The longer it's avoided, the more damage you have to deal with down the road. Time won't heal all wounds; only awareness can do that. Understand that nothing heals unconsciously and face it head on."
When it comes to healing, breath may be one of our most powerful tools. While there are hundreds of different techniques out there, breathwork expert Ashley Neese says that if you want to feel calmer and more connected to yourself in just 60 seconds, take long, deep breaths through the nose and exhale out of the nose for two to three counts longer than you inhaled. So if you breathe in for two breaths, try to breathe out for four. "The slower you breathe, the quieter the mind will become," she explains.
Try this body scan and journaling exercise.
Body scan meditations are a powerful way to let go of tension, and if you need evidence of just how powerful a body scan is, research shows that it has pretty immediate benefits for anyone dealing with chronic pain. Studies also show that body scans are an amazing way to alleviate anxiety, frustration, and anger. Want a simple, effective body scan followed by a therapeutic journaling exercise? Give this one a try.
If you or anyone you know has been affected by sexual harassment or assault, don't be afraid to seek help. Talk to someone you know and trust, seek professional counseling, or call any of the numbers provided by the Feminist Majority Foundation.