How To Kondo Your Way Out Of A Social Media Addiction
mbg Contributor
By Kaia Roman
mbg Contributor
Kaia Roman is a freelance writer and communications consultant for people, projects, and products working towards a better world.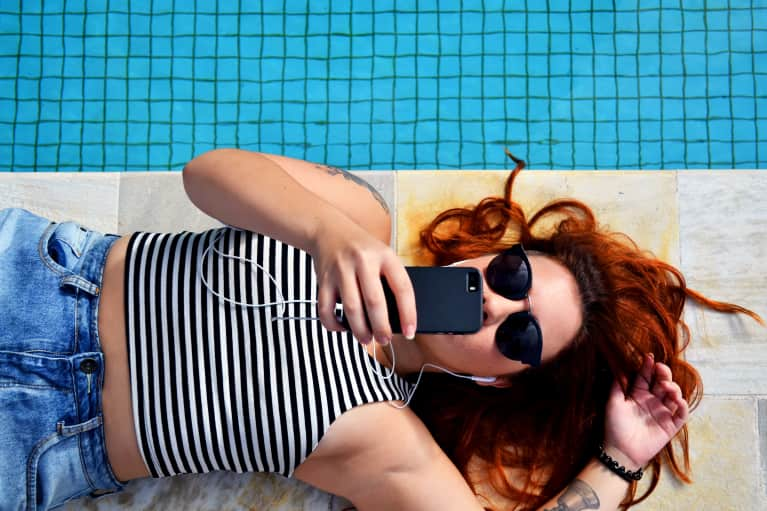 Our editors have independently chosen the products listed on this page. If you purchase something mentioned in this article, we may
earn a small commission
.
Most of us have a love-hate relationship with social media. We love the quick hits: updates, entertainment, likes, and the flood of gratifying dopamine they bring. What we don't love, though, is the vast amount of time we spend on our phones, the social comparison that gets us down, or the information overload that leaves us drained.
It's an interesting time to be alive, that's for sure. We're more connected than ever, but that connection has the potential to make us more disconnected than ever—from our friends, our loved ones, and the present moment. If we can keep our bearings in the midst of a sea of digital diversions, we can enjoy the pleasure they give us without being sucked under by the undercurrent of downsides they come with.
But how do we find balance in this fast-paced, digital world of ours? How do we benefit from the joys of technology while avoiding the pitfalls?
Well, joy—finding it, keeping it, and finding it again when you lose it—is a topic I'm rather obsessed with. (I even wrote a book about it.) Here's my action plan for harnessing a joyful relationship with social media.
1. Get clear on your objectives.
Why do you want to look at Facebook (Twitter, Instagram, etc.) anyway? Do you do it for work? Is it your source of news? Do you want to keep up with your friends? Without a goal in mind, social media can easily consume hours of our time each day. But if we know why we're there, we can limit our activity to achieving that objective.
There seriously are not enough hours in the day to be active on all the social media platforms that exist. If we spend our entire lives posting, pinning, tweeting, and snapping, what would we even have to say? Choose your favorite one, the one that gives you the most of #1 (your objective), and stick to it.
This is a big one. You have to be really honest with yourself here and notice how you feel when you look at the posts you're seeing. Keep it simple: do you feel more joy or less joy? If you consistently feel less joy when you see certain posts, unfollow. It may sound harsh, but this is the main way we can create a more joyful experience on social media: filter what we see.
4. Use social media only at certain times.
Instead of logging on whenever you have a spare minute or receive a notification, set aside a specific time each day for social media and stick to that time. Give it to yourself as a special pleasurable treat, like reading a book or taking a bath, but don't let it be so pervasive that it takes away from all the other things you do each day. Turn off notifications so you aren't tempted by those little red and white numbers.
Pick a day (or more) each week when your phone is put away, and your eyes and brain get a complete break from screen time. This might make the most sense to do on the weekend. Immerse yourself in the present moment, and give your loved ones in your actual reality your full attention. You may also decide that certain times of each day are phone-free, after 8 p.m. for example.
6. Make adjustments as needed.
Check in with yourself regularly and ask if your social media use feels balanced and joyful or if it's starting to cause stress. If it gets to be too much, readjust your boundaries. Find other ways to flood your brain with feel-good hormones and neurotransmitters, like acts of kindness, cuddles with loved ones, and outdoor activities.
What will you do with your newfound phone-free time? Try diving into one of our summer wellness must-read books or starting a new outdoor workout routine sans tech.