Planning A Wedding In The New Year? Here's How To Make Sure It's Sustainable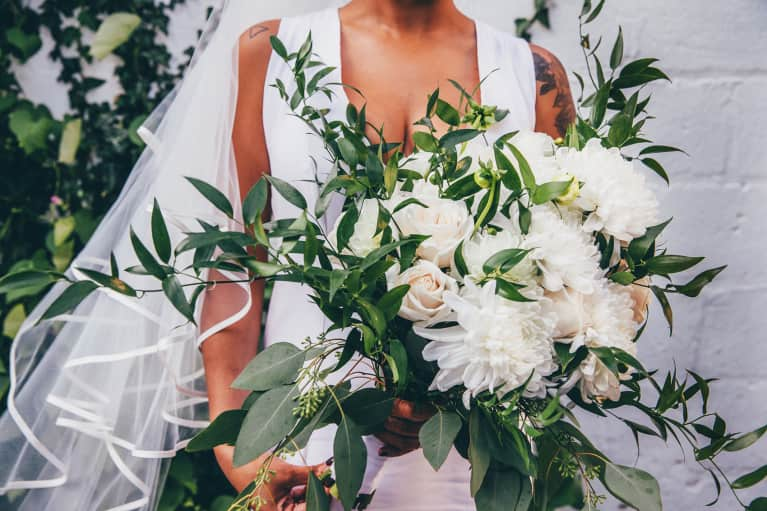 Our editors have independently chosen the products listed on this page. If you purchase something mentioned in this article, we may
earn a small commission
.
From the hundreds of save-the-date cards to the reception feast, weddings can easily rack up a pretty negative impact on the environment. If you and your partner are in the process of planning your big day, use these six eco-friendly tips to ensure that your nuptial celebration keeps Mother Nature in mind:
1. Reduce the amount of paper you use.
Instead of the traditional wedding invitation suite, send out electronic save-the-dates and invites to cut back on waste and save a pretty penny. Websites like PunchBowl, Paperless Post, and Greenvelope offer an array of elegant designs for the bridal shower, engagement party, and the big event. The e-tailer Minted offers free electronic invitations for engagement celebrations, bachelorette parties, and rehearsal dinners, too. Evite is another a free option with invites specifically tailored to welcome receptions and post-wedding brunches.
And if you worry about breaking traditional wedding etiquette rules, opt for eco-friendly paper invitations. Visit your local stationers and see if they can print your invites on recycled paper, or check out websites like Paper Culture, which prints invites on post-consumer waste and wood alternatives—and plants a tree for every order they receive! Green Field Paper is another site that lets you use sustainable materials like hemp, plantable seed paper, earth pigments, and soy ink for your invites.
During the ceremony and reception, cut down on paper by using chalkboards or framed signs to display information rather than printing individual programs, menus, and escort cards for every guest.
2. Say "yes" to local, seasonal flowers.
The vast majority of flowers found in grocery stores and floral shops have been flown in from Amsterdam, Ecuador, and Colombia. Rather than purchasing out-of-season flowers imported from across the globe, buy your seasonal blooms from a local flower farmer.
If you are on a budget, head to your local farmers market to select your flowers, then arrange the bouquets and table arrangements with your bridal party. Or, instead of floral arrangements for the ceremony and reception, opt for potted plants like succulents or perennials that you can later plant in your garden to remind you of your special day.
3. Don a secondhand dress.
If spending upward of $1,000 on a dress that you'll only wear once sounds wasteful to you, why not try to find a stylish secondhand option? Who knows, maybe you can tailor the gown that your mom or grandmother wore to your frame or track down a gem at your local vintage boutique. Consider browsing Etsy for vintage gowns, or searching for designer wedding dresses on sites like Still White, Nearly Newlywed, and Tradesy.
And if you STILL can't find an option you love, consider renting one instead! Rent the Runway has an array of white dresses, and though Vow to Be Chic is known for its bridesmaid gown rentals, they also offer a selection of "little white dresses" for a bride.
4. Embrace farm-to-table.
When selecting a caterer, be sure to ask where they source their produce and meat. If possible, you'll want to hire a company that uses seasonal ingredients from local purveyors who adhere to sustainable or organic farming practices. Be thoughtful with your beverage selection for cocktail hour, too, opting for local microbrews and natural or biodynamic wines.
If you are interested in donating your untouched leftovers, ask your catering company if they have partnerships with homeless shelters. And if you're DIYing the catering, search the Homeless Shelter Directory or Feeding America to find a place to donate leftover food after your reception.
5. Rethink the diamond bands.
Choosing a wedding ring without a stone will drastically reduce your toll on the environment. There are plenty of beautiful options available for wedding bands in a variety of materials, from traditional metals to alternatives like tungsten and titanium. Or, to show off your love for nature, opt for wooden wedding bands.
Antique jewelry is another great option. If your grandmother or mom has a selection of heirloom rings, ask if you can have one as your wedding ring. Or, incorporate stones from another piece of jewelry, like earrings or a bracelet, into your ring design. Most jewelry stores can easily extract stones and melt down metals to fabricate new pieces that speak to your roots.
6. Give favors that give back.
Couples are getting more creative with favors these days, ditching the traditional trinkets for more useful, eco-friendly items like potted plants, packets of seeds, or even charitable donations in guests' names. Place a card made from eco-friendly paper or plantable seed paper on each place setting with a personal note that explains you've donated on your guests' behalf.
Don't be afraid to skip the favors altogether, either. After all, your wedding celebration will give friends and family plenty of happy memories for a lifetime.