Top Tips For Dealing With A Climate Change Denier
mbg Sustainability Editor
By Emma Loewe
mbg Sustainability Editor
Emma is the Sustainability Editor at mindbodygreen and the author of "The Spirit Almanac: A Modern Guide To Ancient Self Care."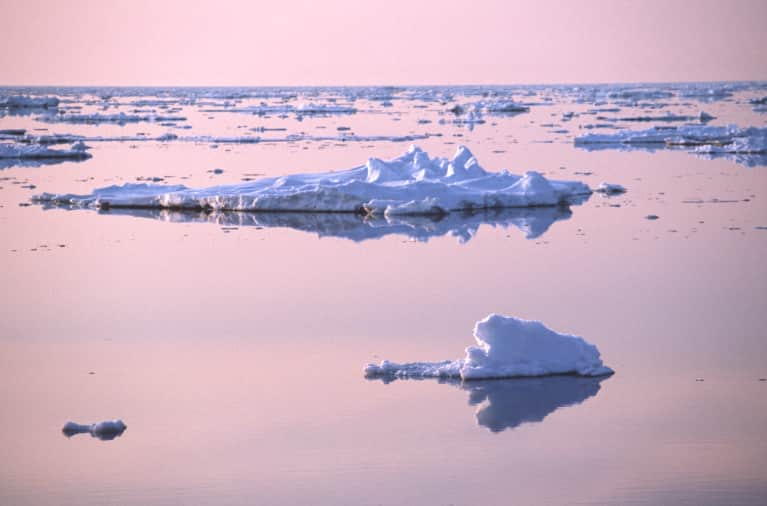 Our editors have independently chosen the products listed on this page. If you purchase something mentioned in this article, we may
earn a small commission
.
While 97 percent of climate scientists, hundreds of government heads around the world, and even the pope all agree that humans are contributing to global warming, the latest data says that 12 percent of Americans still don't believe in climate change. A mix of ideology, cultural values, and mistrust of the media are some of the main drivers of this skepticism.
While everyone is entitled to his or her own opinion, dealing with someone who thinks the world doesn't need our help can be a frustrating experience—but getting angry will not help your cause. Here are a few tips for having an honest, productive conversation with a climate change denier, whether it's your friend, family member, or elected official.
Before you have the conversation, you should loosely map out what you want to say. Think about what messages you really want to get across, and gather a few specific, science-backed facts you can reference about how climate change happens and how it will affect us. Think about how exactly the other person's life could change as a result. Susan Clayton, a psychologist who studies the human response to environmental issues, recently told mbg that people take short-term threats far more seriously than long-term projections. "It is hard to visualize the abstract and long-term challenges, and in some ways this requires us to suppress our more instinctual inclinations," she says. "We can become more informed about the personal and immediate impacts of climate change, such as the spread of Lyme disease, the increased toxicity of poison ivy, and the threat to coffee crops, [which] feel more immediate because I can easily imagine how they will affect me."
You should also spend a few minutes considering what arguments the other person might have. According to environmentalist and politician Al Gore, the fact that the climate has ebbed and flowed throughout history is one point they may bring up. He recommends responding by saying that while humanity is not the only driver of climate change, it's the largest one, thanks to the 110 million tons of pollution we're putting into the atmosphere every day.
Lastly, set an intention for your talk. Is the goal just to get your point across, or do you want something more concrete to arise as a result? Maybe the other person can agree to watch a climate change documentary with you or pledge to change one aspect of their daily routine to help out the planet.
Once you get the conversation going, don't bombard the other person with facts, figures, and accusations right away. Ease into it, and find an entry point that feels natural. "I recommend starting with a topic the other person enjoys talking about and then connecting it to climate change," environmentally minded CEO Tom Szaky wrote in an mbg piece earlier this month. "Animal lover? New plant and animal species are constantly added to the endangered list as a result of human activity."
As the talk progresses, try to maintain a level-headed, fact-first approach. Getting worked up could make you resort to broad, unquantifiable claims. Discussing your personal connection to the issue isn't a bad idea, especially if you're speaking to someone you're close with.
The last thing to remember is that there are two sides to every story, so you shouldn't dismiss the other person's views as invalid or naive. Studies show that people don't believe in or act on climate change often have a reason for thinking the way they do. It could be a mix of ingrained cultural and ideological beliefs, or they could feel like an issue so big can't possibly be in human control. So along the way, be sure to ask them about their viewpoint and where it arose. End the conversation with one rhetorical question:
"Even if you're right and humans aren't causing climate change, what's the harm in living more sustainably?"