The One Thing The Healthiest People We Know Do On Thanksgiving For Good Gut Health & Better Digestion
Contributing Food Editor
By Liz Moody
Contributing Food Editor
Liz Moody is a food editor, recipe developer and green smoothie enthusiast. She received her creative writing and psychology degree from The University of California, Berkeley. Moody is the author of two cookbooks: Healthier Together and Glow Pops and the host of the Healthier Together podcast.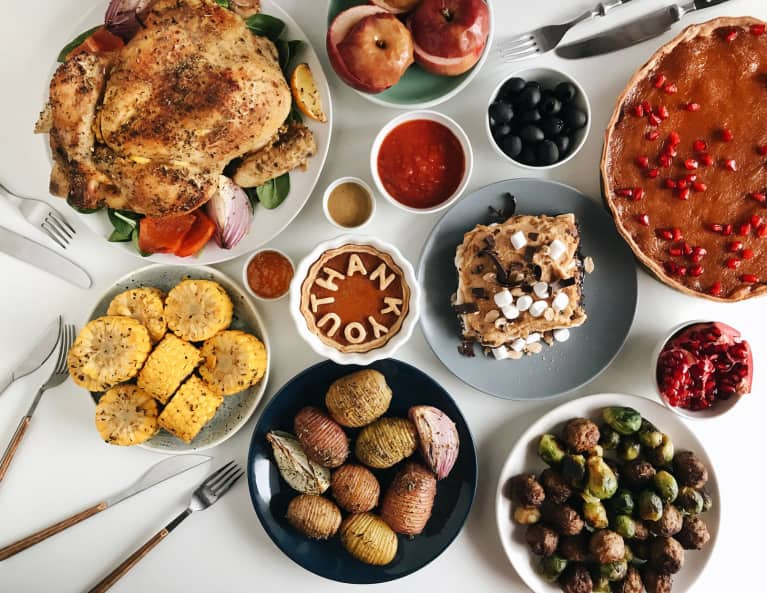 Our editors have independently chosen the products listed on this page. If you purchase something mentioned in this article, we may
earn a small commission
.
Thanksgiving can be a tricky day for anyone to navigate, but luckily, the healthiest people we know have a few genius tricks up their sleeves. We asked some of the country's best R.D.s and functional doctors for their best tips for a healthier holiday and were mind-blown by their tips. From the one digestive tonic you need to try to the best breakfast to eat before the big day, here's what they said:
Drink bone broth, and take a gut shot.
I drink bone broth in the morning. It's great for gut health and healing leaky gut. Then, I like to have a shot of a gut tonic, like Farmhouse Culture's ginger beet juice, before the big meal to help stimulate stomach acid production and improve digestion.
—Vincent Pedre, M.D., mbg Collective member and author of Happy Gut
Make a digestive tonic, and take enzymes.
I like to make water with fresh ginger, lemon, and honey and take lots of digestive enzymes! This helps me digest all the heavy foods.
—Taz Bhatia, M.D., mbg Collective member and author of Super Woman Rx
Shut down hunger hormones.
Thanksgiving prep can have clients skipping breakfast, picking at recipe ingredients, and grazing all day. I always advise my clients to shut down hunger hormones, balance blood sugar, and fuel up with a Fab 4 Smoothie to eliminate mindless snacking.
—Kelly LeVeque, celebrity nutritionist, mbg Collective member, and author of Body Love
Use bitters to help with digestion.
To aid in digestion, pass on the beer or wine and have a low-calorie cocktail with bitters instead. Mix an ounce of mezcal with soda water and add some fresh lime juice and a splash of bitters, which primes the body to digest your big meal. Lime plus bitters can reduce gas and bloating by supporting the production of hydrochloric acid, pancreatic enzymes, and bile.
—Diana Rodgers, R.D., author of The Homegrown Paleo Cookbook
I always use bitters in sparkling water before meals to improve stomach acid or digestion. I also end the holiday meal with fernet branca, which is a medicinal-herbal liqueur that improves digestion because it is also bitter.
—Nicole Rivera, D.C., founder of Integrative Wellness Group
Treat it like a normal day.
I might be in the minority here, but eating-wise, I actually treat Thanksgiving like every other day/dinner. My family normally eats in the early evening, so I will wake up, drink my bulletproof coffee, go on a long walk/hike or take a yoga class, and have a normal breakfast midmorning (which for me is either a green smoothie with a protein granola square or a blended chia pudding with grain-free granola). With blood sugar balance, this first meal usually keeps me satiated for five or six hours. I try to stay hydrated before I enjoy a glass of wine and will have a Thanksgiving appetizer if it's being offered or just hold out until the main meal. I am never "starving" by the time the dinner rolls around (which you don't really want to be), which allows me to be mindful and present with my choices and prevents me from overeating. There was a time when Thanksgiving was ALL about the food (or rather for me the food anxiety around whether I would eat too much), and that has since shifted to focusing equally on the gratitude, family/friends, and delicious food).
—Sara McGlothlin, holistic nutritionist
I never skip meals on the day of Thanksgiving! So many people skip meals or eat tiny portions in anticipation of a massive feast. Going into the meal on empty typically leads to overeating, making poor choices, and unpleasant GI symptoms. Eating proper meals the day of prevents me from overdoing it and helps me make conscious indulgences throughout the dinner.
—Leah Silberman, R.D., founder of Tovita Nutrition
In the morning, I'll make a big vegetable scramble to help fill me up with fiber and veggies to start the day (I choose kale, onions, carrots, and mushrooms lately!). I always make sure to have a lunch with protein and veg—like the rest of the stir fry with half an avocado or chicken! At the meal, I snack on protein-rich apps (shrimp cocktail, bacon-wrapped scallops) or veggies to help me avoid the starchy items in high quantity and also to balance my blood sugar.
—Isabel Smith, R.D., founder of Isabel Smith Nutrition
My No. 1 rule on Thanksgiving is to eat breakfast. A lot of people skip breakfast to "make room" for the Thanksgiving feast, but that is definitely not something I recommend my clients do. My breakfast always entails a high-fiber grain (ex: Nature's Path Smart Bran or an Ezekiel English muffin) paired with healthy fat, protein, and fresh fruit. This wakes up my metabolism for the day and keeps me just full enough. That way, I am not totally starving but can still enjoy the Thanksgiving meal.
—Allison Aaron, R.D., founder of Nutrition Curator
I'm always careful to eat a satisfying, balanced breakfast and lunch on the day of Thanksgiving. The last thing I want is to be blood-sugar crashing and hangry heading into Thanksgiving. I also usually try to do something active that day so I feel that deep, healthy hunger that comes from exerting yourself. I make better choices when I have that kind of hunger, as opposed to the munchy hunger that comes from being sedentary. As I'm eating the meal, I listen for satiety signals from my body, and I do my best to honor them while still enjoying the feast. Finally, I try to minimize alcohol consumption on Thanksgiving. Emotions run high this time of year—the holidays conjure memories of the past, and we all regress to immaturity when we're around our families. The last thing I need is to throw booze onto that emotional fire!
—Ellen Vora, M.D., mbg Collective member and founder of EllenVora.com
Make efforts to de-stress.
I always start my morning with lemon water and then make sure to have a breakfast that includes plenty of protein and some veggies—my go-to is a veggie-filled omelet or a green smoothie. The combo of protein and fiber helps keep my blood sugar stable and ensures I get in a bunch of nutrients early. I also make sure to drink plenty of water and take a probiotic supplement.
I also like to take a few minutes to journal in the morning—set an intention for the day (for me, that might be to stay calm in a house full of people) and note down a few things I'm grateful for. Since stress can mess with digestion and cloud our perception of hunger and fullness cues, going into the day with a clear head is so helpful for making mindful choices.
—Jessica Cording, R.D. and founder of Jessica Cording Nutrition
Try intermittent fasting.
Food should be fun, enjoyable, but also medicine. I like to do an OMAD (one-meal-a-day) version of intermittent fasting (or time-restricted feeding) on Thanksgiving. I'll sip on some organic Earl Grey tea in the morning to enhance autophagy, and by waiting until dinner to eat, I enjoy my healthy version of a traditional Thanksgiving meal (I'm having many Ketotarian dishes on Thursday!) and so much more. I get the benefits of intermittent fasting, enjoying my meal, and feel great on a day when people are in a food coma after gorging themselves on foods that make them feel lousy.
—Will Cole, D.C., mbg Collective member and author of Ketotarian
Remember, there's no magic pill or food you can consume to immediately feel excellent; it's more about long-term health habits—not as sexy as powders and tonics, but that's the reality. I personally like, and recommend, starting off your day like any other normal day—with maybe a little extra love and time toward meditation or quiet time to reduce potential holiday stress. Stress affects everything we do including the food choices we make and our digestion, so it's so important to pay attention to your mental-emotional needs during holiday times. Otherwise, start off with a breakfast that's rich in fiber (like my Stripped Green Smoothie), add in some protein (or have it on the side) and healthy fat, and you should be good to go! Smoothies are super quick to make, they can contain nutrient-dense ingredients like healthy fats, fiber, carbs, and protein all in one glass. Drink plenty of water throughout the day, and if you can, check in with yourself and be mindful of your choices throughout the day. Most of all, enjoy and have fun!
—McKel Hill, R.D. and founder of Nutrition Stripped
I like to brew a homemade tea of fresh ginger and fennel seeds and sweeten it with maple syrup. Fennel and ginger are both amazing for digestion and can reduce bloating. Maple syrup is a great low-FODMAP sweetener that is also a perfect for fall holidays.
—Danielle Capalino, R.D., author of Healthy Gut, Flat Stomach Drinks