Is Your Diet Missing This Key Ingredient?
mbg Contributor
By Leah Vanderveldt
mbg Contributor
Leah Vanderveldt is an author living in Brooklyn, New York. She received her bachelor's in communications and media from Fordham University, and is certified in culinary nutrition from the Natural Gourmet Institute. She is the author of two cookbooks: The New Nourishing and The New Porridge.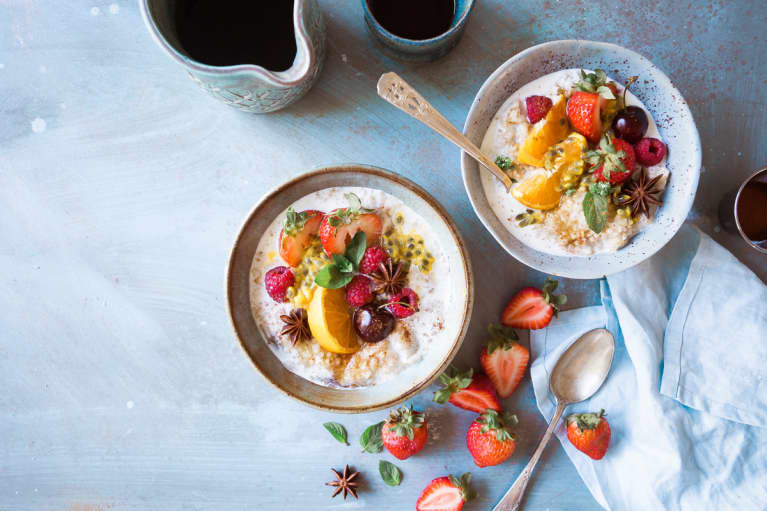 Our editors have independently chosen the products listed on this page. If you purchase something mentioned in this article, we may
earn a small commission
.
If you're anything like me, you're all about balancing out your smoothie with a big dose of greens, protein, and fat. Making sure to eat a well-rounded bowlful of vegetables, legumes, and avocado is always a lunchtime priority. Maybe you're a master meal prepper, nutritious recipe saver, or hemp milk maker. What, then, could possibly be missing from such a healthful diet?
For me, it was nourishment.
Admittedly, calling nourishment an "ingredient" might be a copout, but hear me out.
After a few years of ups and downs of trying (and failing) to adhere to a completely "healthy" diet, I realized that if I really valued my well-being, I needed to stop using food as a manipulation tool against myself and really start honoring it in a way that made my body feel good.
Once I realized that properly nourishing myself—not just eating a bowl of kale and thinking it would cleanse me of all my sins—had the ability to fill me up, energize me, and make me feel amazing, I started to notice a big shift in how I felt.
I started eating when I was hungry and thinking in terms of feeling satisfied rather than a constant push and pull between deprivation, "giving in," and feeling guilty. Allowing myself a bigger breakfast and lunch (I always skimped on these meals) with carbs, fat, and protein launched me into more productive days and less time spent thinking about if/when/what I should eat.
It's about more than food.
Shifting my diet to an abundance and fulfillment mindset helped me function at a higher level, and it's been instrumental in lowering my anxiety and fueling my love of food in a healthy and truly nourishing way.
My new cookbook, The New Nourishing, focuses on plant-based comfort food and explores the relationship between the foods that are great from a nutritional standpoint (think lots of vegetables!) and the magic that happens when you have the ability to make them taste crave-worthy.
It's important to eat foods that are full of flavor and plants and are good for you in the physical and emotional sense. Feeding yourself satisfying meals that also happen to be filled with nutrients is one of the biggest acts of self-care you can do.
So pay attention, and recognize the foods that make you feel great and enjoy those every day. Bonus points if you share them with others!
Whether part of your worth is found in identifying with a certain type of eating or you're just obsessively reading food labels, it's time to give that stuff up. More likely than not, it causes excess stress, which can be more harmful than any doughnut could be.
Introducing meals to your everyday life that are satisfying, plant-centric, and that you really, really love is what this new nourishment is all about—combining the positive feelings of certain dishes with the positive effects the food gives you. This is what causes us to actually want to eat certain foods instead of feeling obligated to.
I don't want you to go vegan or eschew any food groups, for that matter (in my book, I offer lots of modifications that include dairy, eggs, etc.); I just want to bring more delicious plants into your life.
Find your feel-good point.
Tune in to what makes you feel energized, satiated, and happy, and do more of that. Comfort and nourishment should be about what makes you feel cared for and peaceful. In the realm of food, this means taking the time to create meals that are both substantial and tasty.
My goal is to inspire people to cook more plant-centric meals in ways that feel good to them. I want to give them the courage to improvise and change a dish to suit their personal feel-good point. And I want them to realize that sometimes, the most nourishing thing you can do for yourself is to lean into pizza and wine with your favorite people.
These healthy comfort food recipes make it super easy to eat delicious, nourishing food—give 'em a try and see how you feel!