12 Creative Ways To Go Green With Your Friends, Family & Community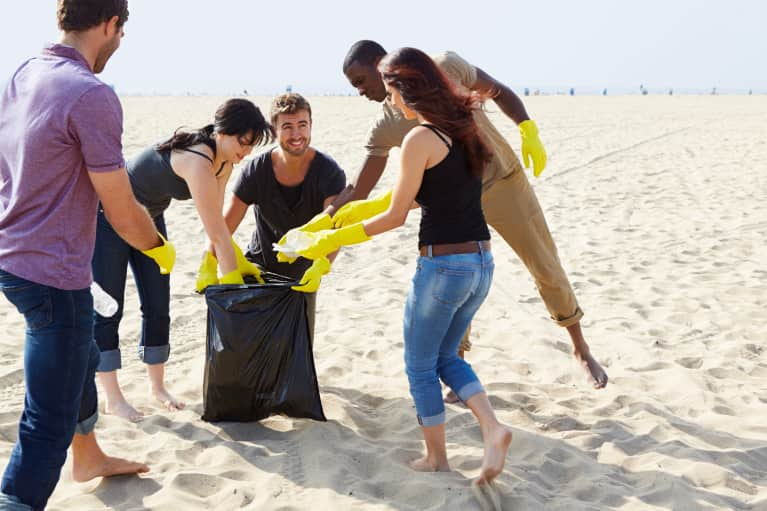 Our editors have independently chosen the products listed on this page. If you purchase something mentioned in this article, we may
earn a small commission
.
Writer and environmentalist Michelle Neff offers 500 simple, straightforward ideas for living a greener life in her new book,
Simple Acts to Save Our Planet: 500 Ways to Make a Difference
. The 12 excerpted for this list embody the principles of mindbodygreen's You. We. All. mantra by showing that by syncing up with other members of your community, you can magnify your power as a steward of the earth. These are the basic steps that should be part of everyone's environmental practice.
1. Host a book swap or environmental book club.
Get some new-to-you books while also getting rid of extra books piling up in your home. You'll be reusing old books that otherwise might have ended up in landfills. You could also get a few friends together and start an environmental book club in your area. By reading up on the latest environmental news and issues, you'll empower yourself and others to take action for the planet!
2. Take a nature photography class.
Learn a new skill while celebrating the outdoors! Take a class on how to capture nature's beauty and you'll more than likely have a greater appreciation for all of Mother Nature.
3. Host a film screening of an environmental documentary.
Grab the popcorn and some friends and cue up Netflix!
Go through your closet and put aside any items you don't use anymore. Gather some friends, grab some food, and get to swapping. When textiles decompose in landfills, they release pollutants like carbon dioxide and methane. By hosting a clothing swap, you'll get to hang out with your friends while preventing more clothing from entering landfills.
5. Change your voicemail message and email signature.
Edit your voicemail message to include a line about the environment. For example, you could say something like "While you're waiting for me to get back to you, please check out the issue of plastic pollution." You'll be spreading the word without even lifting a finger! Change your email signature to include a favorite quote about the environment, a website for people to check out, or perhaps a fact about animal extinction. Whatever you choose, every time someone emails you, they'll be reminded of important environmental issues.
6. Host a river or beach cleanup.
Help keep waterways and beaches pristine and safer to enjoy by spending just a few hours cleaning up trash. Everything from cigarette butts and plastic items to food wrappers and abandoned fishing gear can all be picked up to help keep our oceans and marine life safe. You can host a cleanup of your own or contact your local environmental organization.
7. Grow flowers to give to friends.
Plant flowers in your garden so that when a special occasion rolls around, you'll have fresh, homegrown flowers to share instead of buying them from the grocery store. Gifting flowers you grew yourself is very thoughtful!
8. Join (or start) a local tool library.
Many cities have what is known as a tool library, where you pay a yearly fee and are able to "borrow" tools, just as you would a book from the library. This is a great way to support your local community's economy while reducing the number of tools you need to buy. Or simply start your own tool share by introducing yourself to your neighbor and offering to trade. You'll be supporting a sustainable community right in your neighborhood, and you won't have to buy a dozen power tools with heavy packaging when it's possible to simply rent or borrow one when needed.
9. Create a library display.
Public libraries will usually have a display case to feature posters and leaflets on important issues. Visit your local library and add materials to educate others about environmental issues important to you, such as plastic pollution or global warming. You could also ask your local natural-food store if they could make space in their window display. Spread the word, and encourage people to take action.
10. Start a seed exchange.
Save seeds from organic fruits and vegetables bought at the farmers market and create your own seed exchange about fellow gardeners (a fun hobby to pick up). You'll save money since you won't have to buy seeds, and you'll help maintain organic foods that aren't made using GMOs.
11. Create an online fundraiser.
Create an online fundraiser to raise money for an environmental nonprofit, perhaps to celebrate your birthday. You'll help spread awareness about important environmental issues to your friends while raising vital money for a good cause.
12. Teach a class on your eco-friendly talent.
Many community education centers around the world are looking for volunteer teachers to expand course offerings. Whether you're a plant-based chef, a social media wiz, or a master at zero-waste living, your skills can be utilized. Contact your local community education center to learn how you can teach a class of your own and use your talents to help the earth.