I'm Raising A Spirited Son. Here's How My Partner & I Went From Surviving To Thriving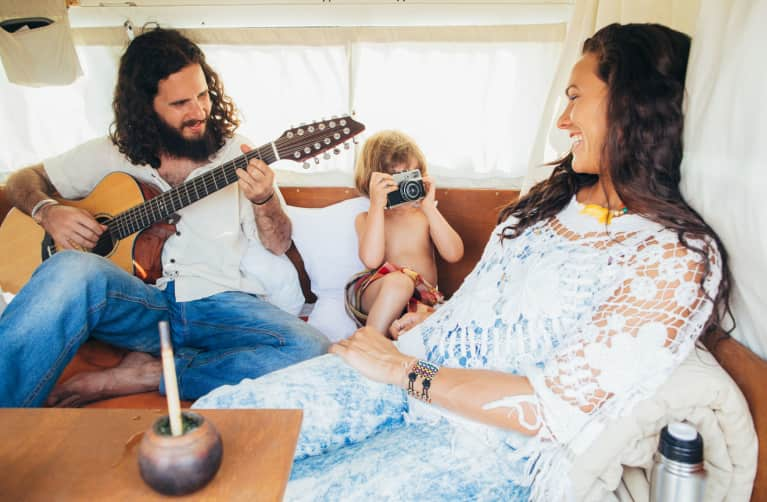 Before we were introduced to the concept of spirited children, my husband and I engaged in epic battles with our toddler over everything, every day of the week. Then we happened upon the concept of the "spirited child," and it was like everything suddenly made sense and clicked into place.
The five main traits of spirited children include intensity, persistence, sensitivity, perceptiveness, and adaptability. This, plus our knowledge that he was an introvert, helped us to not only better understand our son Garrett, but also ourselves and each other. After all, our son is a hybrid of us. Armed with understanding, we were able to come up with our own strategies. Here's how working with each element of his personality helped us go from surviving to thriving.
Intensity and transitions.
We know our son's intensity (screaming, kicking, and flailing) is most likely to present during transitions, so we now use a timer. Like magic, when it goes off, he moves on to the next activity. The timer gives Garrett a sense of autonomy and empowerment. When we're frustrated, it helps us to think of it this way: Would we want our boss to say, "OK, you're done with that project RIGHT NOW!" No, we would want some warning, and kids do too.
A persistent child will wear a parent down. We give in just to get them to shut up. With Garrett, "if...then" works well. "If you put your toys away," we tell him, "then we can blow bubbles." Using "if ... then" works with persistent children because they are highly motivated to obtain their desired outcome. Getting Garrett to do what we need him to do first makes it a win-win because everyone gets what they want.
Our son is sensitive. Tags in shirts "stab" him, and seams in pants "strangle" his legs. He can become alternately overwhelmed or overstimulated in crowds. As a highly sensitive person and Reiki master, I know that keeping our energy clear is critical to staying well, so Reiki, exercise, and spending time in nature work wonders for us. Cutting out exposure to large amounts of energy helps too.
A perceptive child is far more aware of "people, colors, noises, and objects" around them. I'm sure many who have been diagnosed with ADD are perceptive. Those who are also high-energy would have the H added on, as in ADHD. Garrett has a double dose of this. My husband would probably qualify as ADD, and I was diagnosed as ADHD in college. When we really need to get out of the house, all electronics are put away, and we keep ourselves, each other, and Garrett on track via time reminders using the good old clock.
A child who struggles with adaptability is going to freak out when the plan is changed, and that's just the way it is. Empathy is our best ally when this happens. I try sentences like, "I know you're disappointed because you were really looking forward to a piece of cheesecake, and they're out of it." Then we give Garrett time to get past the change in plans and suggest an alternative. "How about a cookie?" When we're frustrated, it helps us to think how we would feel if we had been looking forward to that piece of cake in the fridge all day, only to come home and discover someone else had eaten it.
Introversion versus extroversion.
A spirited extrovert will talk all day long. A spirited introvert will have intense reactions when they socialize too much, for too long. This is because extroverts get their energy from being around others while introverts get their energy from being alone. Like most introverts, Garrett prefers to socialize with a few select friends and then needs downtime afterward to refill his energy tank. Now I know my job is to recognize when his energy reserves are getting low (he starts to isolate) and avoid pushing him too far.
Each spirited child carries within them a spark of potential. Our job is to tend the flame and teach them to burn brightly without burning out. If we see our children as extensions of our own spirited selves, we may just see that spark within ourselves and each other. Indeed, we may see ourselves and each other in a whole new light.
Want to have a solid marriage after kids? Here's what you need to know.