How To Give Yourself A Rejuvenating Spa-Quality Facial
Contributing Wellness & Beauty Editor
By Lindsay Kellner
Contributing Wellness & Beauty Editor
Lindsay is a freelance writer and certified yoga instructor based in Brooklyn, NY. She holds a journalism and psychology degree from New York University. Kellner is the co-author of "The Spirit Almanac: A Modern Guide to Ancient Self Care," with mbg Sustainability Editor Emma Loewe.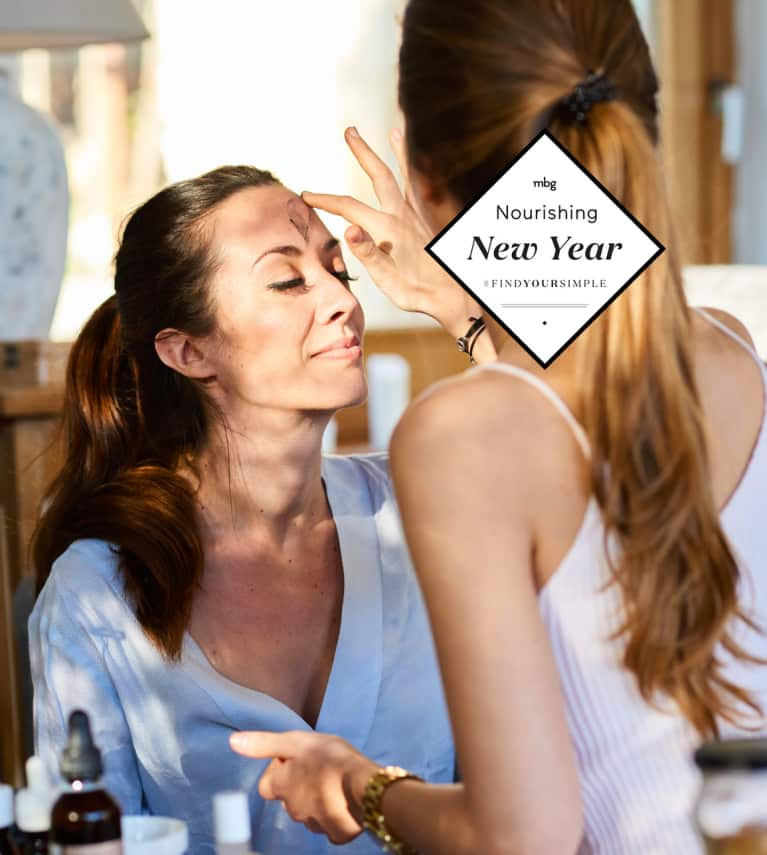 Our editors have independently chosen the products listed on this page. If you purchase something mentioned in this article, we may
earn a small commission
.
Don't you push yourself enough? This January, nurture yourself with Nourishing New Year. Instead of focusing on flaws to fix, this January we're nurturing ourselves back to balance with simple, grounding steps. For the next two weeks, mindbodygreen will share with you a story a day inspiring you with simple ways to nourish yourself, your community, and our world through eating, moving, giving, creating, and loving. Follow these common-sense principles along with us for the next two weeks and start the new year with a calm mind, connected spirit, and balanced body. Check out the full plan here!
If your first thought is you "don't have the time" to treat yourself, chances are you're incorrect. If you have even 20 minutes to spare, you have plenty of time to indulge in a super sensory and satisfying facial. The truth is that taking a few minutes out of every day is so important for health and well-being. These brief moments can make or break your relationship to the most important person in your life: you. Self-love can be built through self-care, little by little, day by day. It's what our Nourishing New Year is all about.
Today, natural beauty expert, esthetician, and holistic health coach Britta Plug shares the play-by-play, giving you the steps she swears by for her New York City clientele. She recommends exactly what steps to do (and what to skip), her favorite products, as well as the proper order of operations that yields the best, most glowing skin every time.
Instead of burying yourself in your Instagram feed, reclaim your time and give your face a little TLC. Here's how:
1. Thoroughly cleanse the skin.
When it comes to cleansing, oil removes sebum buildup, dirt, and makeup more gently than a cleanser with harsh detergents that strip the skin. That's why we often come across skin that's both oily and dry at the same time, Plug said. To oil cleanse, rinse your face with warm water, use about a quarter-size amount of oil and take a full minute to work it into your face. When you're done, drape a warm washcloth over your face and, thoroughly and gently, remove the oil.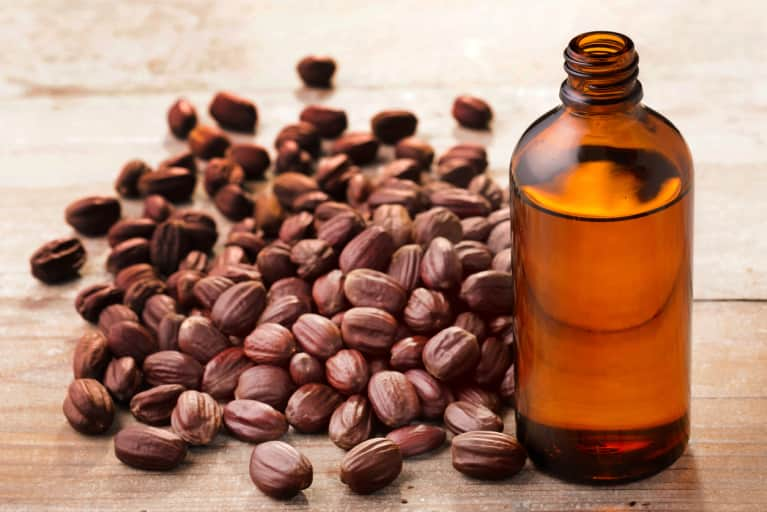 2. Exfoliate with a cleansing powder.
3. Follow with a facial steam or facial compress.
Of course, be very careful with this step. The last thing you want is to burn yourself on spa day! Bring water to a boil in a face-size pot and add either some chamomile tea bags, a facial steam kit, or simply steam without any additions. Once the water cools enough (test it on your wrist), pour it into a bowl or leave it on the (now turned off) stove. Hover at least a foot away from the bowl, tent with a towel over the back of your head and sit for a few minutes with the steam.
Your second option is a facial compress. You can use the same water method as facial steam, adding the herbs, tea bags, or nothing, depending on what you have on hand. Let the facial tea steep 10 to 15 minutes, wring out a hand towel in the facial tea, and just lie down and absorb all the warmth. Let it cool down enough so you don't burn your face with a scalding towel.
Laurel Whole Plant Organics has a video that illustrates how to do a facial compress—scroll to the bottom of that post and skip to the 17-minute mark for the relevant information.
4. Pick the right mask for your skin type.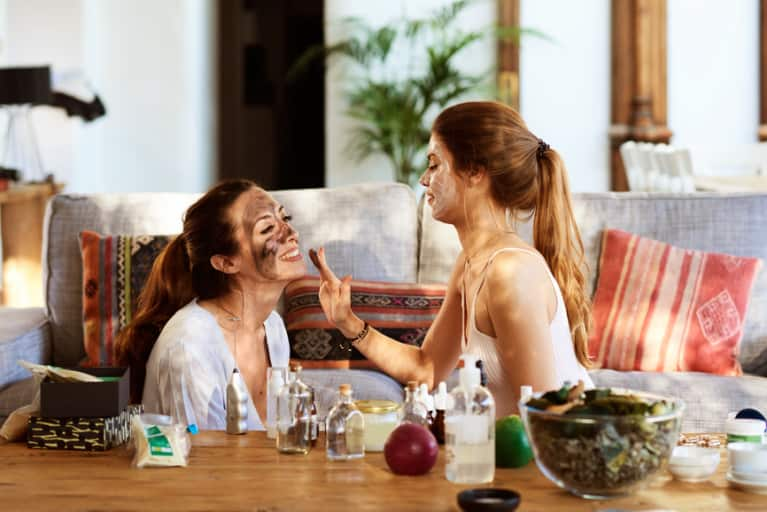 This is as simple as asking: What is my skin like today? If it's feeling dry, try a hydrating Manuka honey mask and let it sit for 15 to 20 minutes on your face before taking it off.
If you're feeling oily or like you need a detox, try a clay mask, but Plug advises to keep it "wet" and don't let it dry out too much. (Yes, it's still working, even if you don't let it fully dry out.) You can pick up French clay from the health food store or order it relatively easily online. Many beauty products like Laurel Whole Plant Organics also make masks with clay as the main active ingredient. Use a spray bottle to spritz or your damp washcloth to blot, keeping your skin hydrated. Remove the mask after 15 to 20 minutes.
5. Finish with a non-alcohol toner and your favorite treatment products.
Finishing with your regular skin care routine. Plug recommends using a hydrosol or alcohol-free toner (because it's important to use toner with facial oils) with facial oils. Here's a short guide on how to choose the right facial oil for your skin type. If oils aren't your thing, simply continue with the rest of your skin care after you've used a toner, being sure to follow the correct layering sequence. Really massage your moisturizer in, using Plug's de-puffing facial massage technique. And voilà! Welcome to cleaner, happier, well-loved skin.
For more self-care how-tos, check out the rest of our Nourishing New Year stories.