The Most Effective Way You Can Give To Charity, Even On A Super Tight Budget
Contributing Health & Nutrition Editor
By Stephanie Eckelkamp
Contributing Health & Nutrition Editor
Stephanie Eckelkamp is a writer and editor who has been working for leading health publications for the past 10 years. She received her B.S. in journalism from Syracuse University with a minor in nutrition.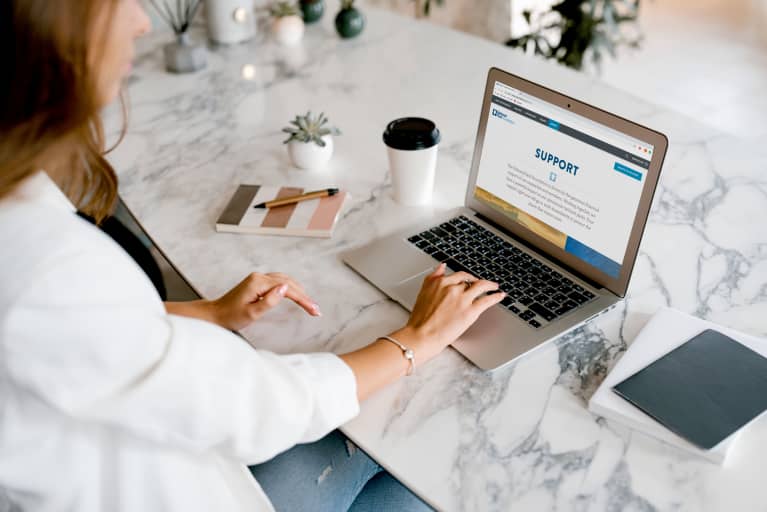 There are some huge issues plaguing our world today—from climate change and lack of access to clean water to homelessness and hunger—and thinking about it all can be pretty overwhelming. One of the most obvious ways you can feel productive and take action, particularly if you don't have the spare time to volunteer, is by donating your dollars. But sometimes, the sheer magnitude of the problem you want to remedy, coupled with a potentially limited budget, can make you feel almost paralyzed. After all, how much good is a $5, $10, or $20 donation actually going to do?
But it turns out, small donations can have quite a big cumulative impact. "Even though the big $100 million gifts are what get the most attention, about 70 percent of all charitable giving comes from individuals," says Andrea Pactor, interim director at the Women's Philanthropy Institute. "So smaller gifts are definitely important."
While a gift of $100—whether donated all at once or broken up over several months—may seem like a drop in the bucket, the reality is, that could help keep the lights on for a small nonprofit, says Pactor. Plus, research shows that the act of volunteering or donating your talents or money promotes happiness, which can create a ripple effect, making you much more likely to take this kind of positive action again in the future. "We find that when people engage in charitable behavior, they're happier than people who spend the same amount of money on themselves," says Lara Aknin, Ph.D., associate professor in the Department of Psychology at Simon Fraser University and director of the Helping and Happiness Lab.
If you're someone who isn't wealthy but wants to incorporate charitable giving into your routine, Pactor says setting up a small recurring monthly donation to a cause that you're passionate about can be a really smart choice. After all, you probably have a Netflix, Hulu, or Amazon Prime subscription—for the same monthly payment, why not add "philanthropist" to your résumé?
That said, there are several important considerations that can help you figure out how much to donate and to which nonprofit organization(s). To help you out, we've put together this step-by-step guide for making philanthropy through charitable giving a rewarding part of your routine—without breaking the bank:
1.
Find a charity or cause that really speaks to you.
You know that feeling when you're approached on the street by someone promoting a charity? Sometimes you take a few minutes to listen, but sometimes there's this strong urge to cut and run. No, this doesn't make you a bad person—research shows that people feel better when they do something "prosocial" or for a worthy cause but only when their actions feel self-chosen. If they do something because they feel cornered or like they "have to," they actually feel worse. "And the happier people feel from actions, the more likely they are to do them again, helping maintain a consistent cycle of giving," says Aknin. All of which is to say: Choosing where you donate your dollars requires careful consideration.
"The first thing we have to do is step back and think about who we are and what we care about," says Pactor. "Sometimes we care about so much that we get paralyzed with anxiety. That's why identifying the top two or three things that you're passionate about—and actually writing them down—is helpful." This, according to Pactor, is the first step in creating a "giving plan."
If you're an animal lover or conservationist, this might mean choosing to donate to the ASPCA or a local animal rescue, the World Wildlife Fund, or the National Park Foundation. Want to support kids and teachers in low-income school districts? Consider Donors Choose. And if your interests are so varied that you honestly can't decide, try something like GoodToday, which allows you to easily divvy your funds among a variety of nonprofits. Once you find what seems like a good charitable match, you can vet them on Give.org to make sure they're legit and see how they spend their money.
2.
Factor giving into your budget.
Now that you have an idea where you want to donate your money, deciding on a number is the next part of your "giving plan." Remember, even if you can't donate much, you're still making a difference, especially if you do it consistently. Pactor recommends taking a look at your finances, coming up with a number, and divvying it up in a way that makes sense for you. This, and the charities you choose to donate to, can be reevaluated on a yearly basis.
"You might say, I have X amount of dollars to give per year or month, so I'm going to commit 80 percent of that to the causes where my values are held most deeply and 20 percent to causes that pop up unexpectedly," says Pactor. These "unexpected" charitable costs could be a friend who's raising money for Alzheimer's research or a GoFundMe campaign that tugs at your heartstrings.
3.
Set up a recurring monthly donation.
Once you come up with an amount you want to donate to your go-to organizations, the easiest way to actually make it happen is setting up a recurring monthly donation that automatically deducts money from your bank account or credit card—most nonprofits make setting this up easy. Relying on your memory or a calendar reminder won't cut it. "If it's effort-full, whatever the activity, charitable or otherwise, people are less likely to do it," says Aknin. "So to the extent that we can budget it in and remove the legwork, that's going to make it a lot more likely."
And remember, even $5 a month is perfectly OK. "The only thing that's not OK is not to care," says Pactor. "Whether we give $5 a month, a dollar a year, or we lend our couch to someone who's in need, we are philanthropists."