Don't Teach Your Kids To Meditate. Here's What You Should Do Instead
mbg Contributor
By Leigh Weingus
mbg Contributor
Leigh Weingus is a New York City based freelance journalist writing about health, wellness, feminism, entertainment, personal finance, and more. She received her bachelor's in English and Communication from the University of California, Davis.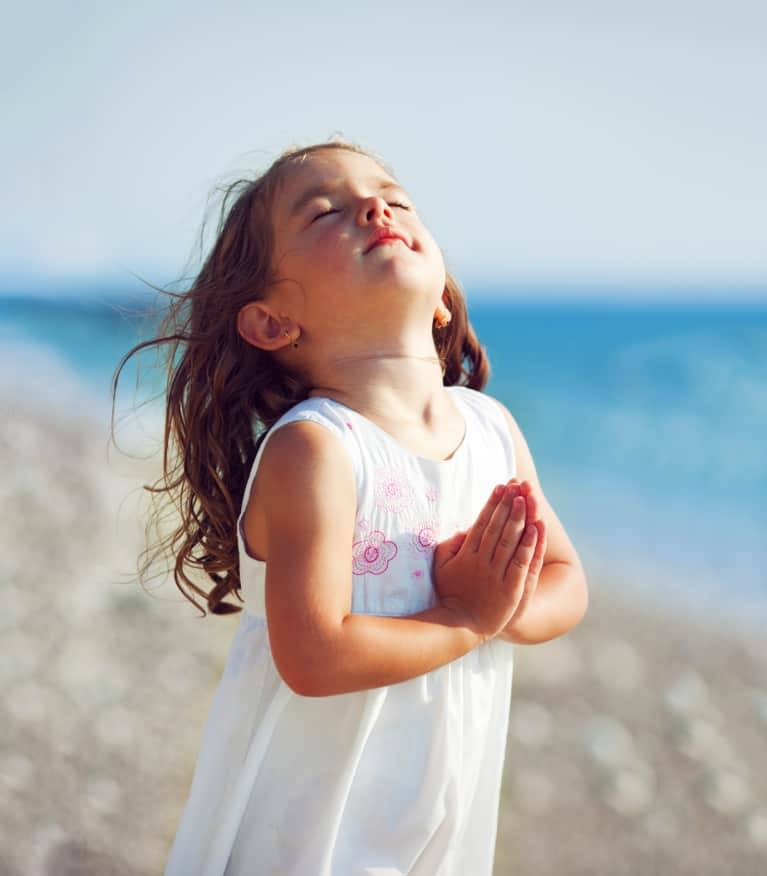 Our editors have independently chosen the products listed on this page. If you purchase something mentioned in this article, we may
earn a small commission
.
Parents who have reaped the benefits of a regular meditation practice likely wish they could get their kids to sit down and meditate, especially when they're mid-meltdown. But getting your child to sit on a cushion for a few minutes a day to practice visualization and deep, mindful breathing is more easily said than done, and many parents give up before they even begin.
But according to experts on this topic, seated meditation is hardly a requirement if you want to raise a tiny meditator. In fact, the most productive thing you can do is simply model your own meditation practice. Here's how to do that—and how to encourage your kids to adopt a mindful outlook from a young age.
ABC news anchor Dan Harris is an avid meditator, and he believes in his practice so strongly that he published two books on the topic: 10% Happier and Meditation for Fidgety Skeptics. But as a father of a 3-year-old boy, he hasn't once tried to "teach" meditation. For Harris, the most important thing is to be a parent who practices meditation.
"You're modeling this thing that's all about being better at not being yanked around by their emotions," Harris tells mbg. "And that's the most important thing, I think. My parents didn't lecture me about exercise, but they always exercised a ton. Now I'll always exercise, because it was modeled for me so early. My son knows knows I meditate, and I think eventually he'll pick up on the fact that it's helped me handle the challenges of everyday life so much more easily."
Social worker Jenna Rosenbloom has proof that modeling meditation works. "The other day, my 7-year-old sat on the cushion with me at the end of my practice," she says. "In that moment, he experienced a calm and quiet time before the start to the day. Our children are always watching us and picking up on the things we do. In these quiet moments, our children learn that sometimes simply being still and connected is just what they need."
She adds that kids aren't naturally drawn to technology—they see their parents engaging with it, and it makes them want to engage, too. "Just as parents model an attachment to their device of choice, we can also impact our children's understanding of their innate ability to calm themselves and be more in tune with what is happening in the here and now."
Encouraging a calm, mindful space.
No, you probably won't be able to get your kid to sit on a meditation cushion with you every day. But what you can do, according to kids' yoga teacher Andrea Bogart, is encourage mindfulness in every situation. "Mindfulness is not simply sitting perfectly still; music and movement often make ideal mindfulness entry points as well," she explains. "Whether it be creating a special space in your home, using things like a candle flame to focus on, encouraging imagination with colors and visualizing or saying mantras with simple breathing exercises, allow your child to partake in the idea fun and help lead the way to mindfulness."
One tactic Rosenbloom likes to practice is finding mindful moments that encourage her kids to be present, no matter what they're doing.
"I drive my kids to school every day, and it'd be so simple to get in the car and drive to school without even noticing what is happening in the moment," she explains. "So every Monday, we choose a house and drive slowly past the house and each take turns saying something that we notice about it. By the end of the week, we have taken the time to just notice something that we would have otherwise quickly driven past. The lesson to slow down and take notice of the present moment is a simple and easy way to begin a meditative practice."
Want more ideas for how to encourage your kids to meditate? Here are four ways to make it happen.