How Your Company Can Help Reduce Global Carbon Emissions By Two-Thirds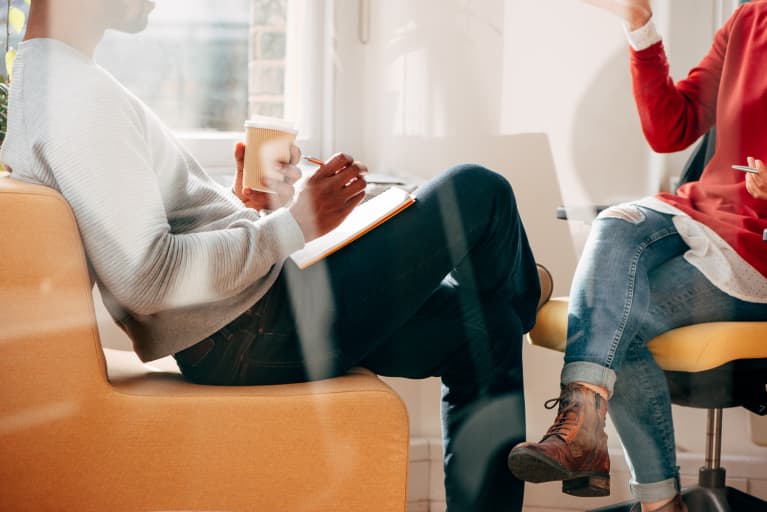 Raise negotiations, conflict management between co-workers—there are many tough conversations that happen in the workplace. And just as we need to advocate for our individual rights, we can zoom out and think bigger about our collective needs in the office.
With the severity of our current climate crisis, asking questions about your company's sustainability efforts may be uncomfortable, but it's a much-needed way to spark action. If your company's sustainability efforts aren't meeting the expectations of what's best for our environment (or if there aren't any efforts at all), it may be time to speak up!
Going paperless and changing light bulbs are promising starts, but there's so much more that companies can do on a larger scale these days. Of course, you can't just approach your boss and say, "Let's be greener!" but you can assess the company's current initiatives and give concrete advice on how to jump-start sustainability efforts that will make a difference. Here are some ideas to get you started:
1. Analyze what your company is currently doing for the environment.
Is there a sustainability team in place? Do employees receive any training on specific actions in line with a sustainability policy? Is there an existing budget for eco-friendly initiatives? Does the company participate in any efforts that affect the environment? Taking the B Corp Quick Impact Assessment can help to quickly and easily benchmark your company's sustainability performance by giving you insights into how sustainable your company is, how you match up against other businesses, and what the opportunities are for improvement. If you can gather substantial information on what your company is currently doing (or not doing), you'll be more confident in presenting your case.
Once you have a good grasp on this, you'll need to have proposed initiatives and be able to discuss the impact these efforts will have, which leads us to the next point...
2. Suggest implementing an employee volunteer program.
A study by the Boston College Center for Corporate Citizenship found that 90% of companies surveyed cited improved employee engagement as one of the top three benefits of having an employee volunteer program. It turns out that giving employees opportunities to get involved and contribute to the company's sustainability efforts not only supports the environment and local community but actually inspires and motivates everyone involved.
The program should create regular opportunities for involvement that are both fun and rewarding.
The ideal program will provide incentives and options to employees (such as earning work-from-home hours for every hour they volunteer) so that they're not coerced into participating if they don't want to, nor penalized if they don't. The program should create regular opportunities for involvement that are both fun and rewarding.
3. Get involved with a cause that the company can connect to.
With companies increasingly ramping up their focus on corporate social responsibility (CSR), working with a nonprofit that protects or restores the environment is a smart move. Look to work with organizations that align with your company's values, that employees will be able to connect and engage with, and that have the ability to make a tremendous impact on the environment.
For example, as a director at One Tree Planted, I'm a little biased, but reforestation has proven to be an excellent cause for employees to get behind. It will give your company actionable ways to get involved—whether it be tree-planting events, one-for-one initiatives (in which you plant a tree for every product sold), or programs to donate a percentage of sales to tree-planting projects.
When you're planting more trees, the impact on the planet is tangible and clear. A recent study from the Crowther Lab estimated that one trillion more trees on Earth could help reduce global carbon emissions by two-thirds. By planting trees, your company can literally be a direct part of this solution.
4. Be prepared to discuss the impact of implementing these initiatives.
Find a compelling way to elevate the direct impact your company would have on the environment through these efforts. Those quick wins are important (reducing waste, limiting energy usage, occasionally working from home), but getting involved in large-scale climate change efforts as an organization will push your company toward a more developed sustainability initiative. If that's not motivation enough, it's good for business!
Going back to the reforestation example, you can show management exactly where the trees are being planted and explain the direct impact the trees are having on the environment and society. Through One Tree Planted, your company can spend $1,000 a month and plant 1,000 trees. Do this every month for a year, and then celebrate planting 12,000 trees! This allows you to do much more than reduce your company's carbon footprint. You're also cleaning water in Brazil, protecting biodiversity in Indonesia, empowering women in Rwanda, and fighting back against forest fires in North America.
It will be easier to get the green light if you make it easy to understand and cut out any additional work on their end. Pitch the ideas to them by creating flashy graphics, get some others on your team to support your suggestions, and step into a leadership role to carry out some of the initiatives you propose if there's no one else to manage them. It might be more work for you at first, but it can also elevate your role within the company and be personally rewarding.
It's no secret that we're facing a climate crisis. If your company has the resources to get involved and make a difference, motivate your management to do so.