How To Get A Safe Manicure: What To Look For & What To Avoid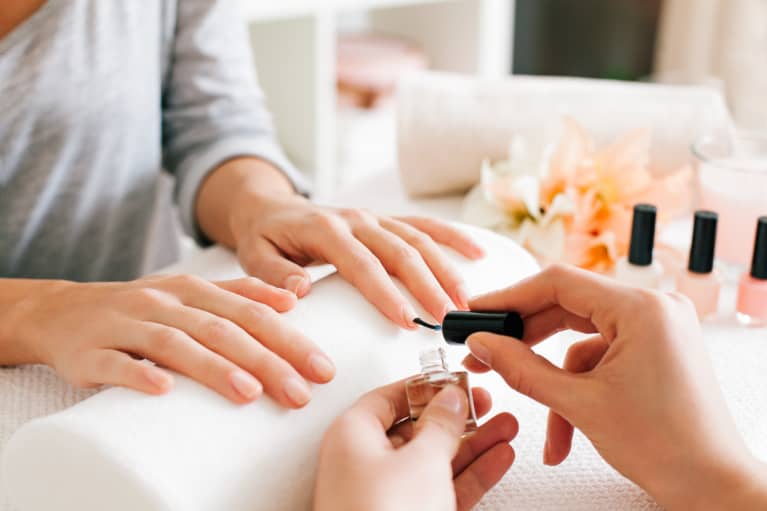 Stopping into a salon to get a manicure or pedicure should be a peaceful, relaxing experience. But if you're someone who is focused on clean beauty, that might not always be the case: Sure, clean and natural spas are opening up more and more around the country, but they're still not the norm. And default salons are usually less than ideal.
If you can't make it to a nontoxic salon, there are simple ways to asses safety—from there, you can also make small tweaks to make the experience a little bit cleaner, too. "There are three main things to look for: safe environment, clean products, and proper hygiene," according to Nadine Abramcyk, co-founder of clean salon tenoverten.
How to evaluate the environment.
"If the first thing you notice when you walk into the salon is the fumes smack you in the face right away, it's not a great sign," says Abramcyk. "Salons that use straight acetone to remove the polish and formaldehyde in the base coat usually have the most airborne chemicals. And when they don't have great ventilation, the airborne chemicals just linger there."
Here's the thing: Being in a place with airborne chemicals for 30 minutes every week or so likely isn't going to make you sick—it's not enough exposure. But it is incredibly harmful to those who work there. "All the chemicals in nail polish are airborne, so that's the way you get potentially sick from them, by breathing them in," she says. "Unless you are smelling your polish all day, that's not going to hurt you, but the employees are the ones are who are going to get sick."
And supporting spas that treat their employees humanely should be top of list—whether or not you are a stickler for natural products.
Be mindful of what they are using—or bring your own.
The products are what are more potentially harmful to a customer because that's what is living on the skin. So in terms of your own safety, this is where you'll want to pay attention.
"The most important being your base coat because that is what is touching your nail and seeping into the skin," says Abramcyk. The most basic to check: See if they are formaldehyde-free. "This is the most common ingredient in base coats, so even if a salon carries 8-free polishes, that doesn't mean the same thing across the board. They still might have formaldehyde in the base coat. But if the entire salon is formaldehyde-free, you are in a safe place."
The reason it's commonly in base coats? Often people want a strengthening agent, which is formaldehyde, but "it's not that great for you, it really doesn't work that well, and there are plenty of other formaldehyde-free base coats that work just as well," she says.
From there, you should be mindful of how clean the polish itself is ("because it's good to be clean," says Abramcyk), but it's not as vital since you have that base buffer. So, if you have a favorite shade that is 5-free, rather than, say, 8- or 10-free, you can still feel fine using it. However, Abramcyk notes that the two other ingredients you should really look out for are camphor (which is used to provide high shine) and toluene (for vibrant color).
The back bar products, too, are usually problematic. "It's expensive for salons to buy clean products as a back bar—and there is not that much out there to even buy in bulk," she says. "Unless being clean and natural is your primary focus, it's more cost-effective to go the easy route."
Any easy fix? Bring your own. Make a set of nail care essentials that you can use at your home between appointments, with remover, cuticle oil, lotion, base coat, and top coat. "It's just a simple way to make sure it's clean. Just grab it on your way out the door."
"You want to make sure they are sanitizing the tools correctly," Abramcyk says. "The barbicide and UV light system that a lot of salons have is not a foolproof way to kill off germs and bacteria." Ask if they use an autoclave to clean the tools, she says. It's a medical-grade tool that is often used in dentist offices. If they don't know what you are talking about, they aren't using it.
You also might see that the tools have been sealed in a packet and think they must be clean, no? "You can just seal them without cleaning them properly," she says. Instead, there's actually an indicator at the very top of the packet, which will turn brown when the tools have been cleaned. "So when they pull out the tools, glance at the packet to see that brown mark."
"It is really easy to get a fungus and really hard to get rid of," says Abramcyk. "And when you're pregnant, it's even harder because you can't take medicine and do a lot of the things you could do." (Of note: If you are expecting or have kids, some clean salons have products and treatments specifically designed for to-be moms, so you don't have to think about all of this; tenoverten recently collaborated with Hatch, a clean brand targeted toward moms, for clean polishes and in-salon services.)
From there, another thing you should be mindful of is running water and basins with pedicures. "When you have a sink, a lot of bacteria can get caught around the drain. Try to find a salon that takes the basin away to be washed—it's not a guarantee, but it carries less risk for bacteria being in the soaking tub. When you have a drain, you are just dealing with a different level of bacteria."