This Trick Could Be The Key To Teaching Kids To Eat Healthy
mbg Contributor
By Madison Vanderberg
mbg Contributor
Madison Vanderberg is a Los Angeles-based freelance writer, editor, and screenwriter specializing in the women's lifestyle space with a bachelor's in sociology from UCLA. When she isn't writing, she's googling skincare products to spend her paycheck on or baking gluten-free cookies. She's written for HelloGiggles, Insider, Hunker, Racked, and more.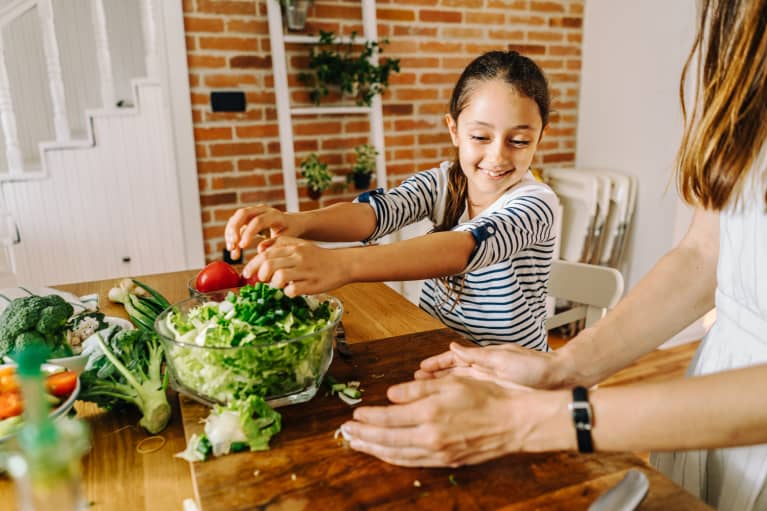 Getting your kids to eat healthy can seem like a daunting task, but a new study in the Journal of Nutrition Education and Behavior has discovered an easy strategy that might convince your kids to eat better foods.
In their attempt to discover the best way to get preschool-age kids (3 to 6 years old) to consume healthier foods, researchers at Washington State University Vancouver recruited 98 families and served their children tomatoes, bell peppers, lentils, and quinoa. Children were assigned one of the foods for repeated exposure, one for child-centered nutrition phrases plus repeated exposure, and two foods for no intervention.
After the six-week study concluded, the researchers discovered that when kids were repeatedly presented with healthy foods and the food was paired with a child-centered nutrition phrase each time, the kids were more like try the healthy food, like it, and then consume it again.
But what is a child-centered nutrition phrase? It's a child-friendly but scientifically accurate sentence that one can say to kids when one introduces a new food item. Here are three examples used in the study:
"Whole grains help you run fast and jump high."
"Fruits and vegetables help keep you from getting sick."
"Protein helps you learn."
Researchers found these specific phrases were more effective with young children, as opposed to saying something vague like "vegetables are good for you," which is too abstract for a kid to understand. Simply telling a child that a food is "good for them" is not as effective as saying it will help them "run fast and jump high," which preschool children not only understand but aspire to do.
"Mealtime conversations can be a time to encourage food exploration and develop healthy eating behaviors with young children," Jane Lanigan, Ph.D., lead author of the study and academic director of human development at WSU Vancouver, said in a news release. "Both parents and child care providers would benefit from learning and using developmentally appropriate, accurate nutrition messages when introducing new foods."
These kinds of food phrases may have a secondary positive effect when it comes to a child's body image as well: A 2018 study found individuals who mostly heard restrictive or critical messages about food (i.e., "don't eat that" or "that's bad for you") as kids, as opposed to positive and encouraging messages about food, were more likely to struggle with body image and disordered eating as adults. Past research has similarly found positive, promotion-focused goals around food are more effective at creating healthy eating behaviors than restrictive mindsets.
If you're struggling to get your kid to eat more healthy foods or they are resistant to trying something new, try using the aforementioned phrases or make up some of your own. Your main goal: Make your little one just as excited and eager to get those nutritious benefits as you are to give them to them.