The Best Advice We've Heard About Saving Money On Wellness In 2018
mbg Sustainability Editor
By Emma Loewe
mbg Sustainability Editor
Emma Loewe is the Sustainability Editor at mindbodygreen and the author of "The Spirit Almanac: A Modern Guide To Ancient Self Care."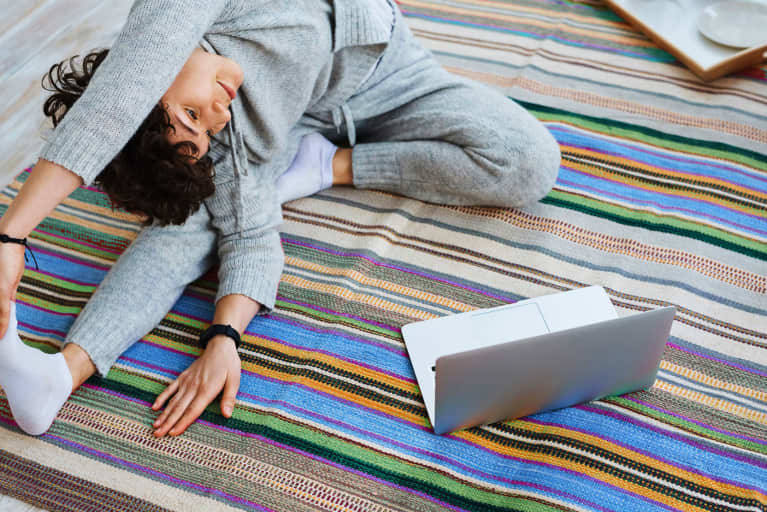 Our editors have independently chosen the products listed on this page. If you purchase something mentioned in this article, we may
earn a small commission
.
Once you look beyond the pricey infrared therapy sessions, venture past the artisanal nut butter aisle, and cut through the expensive boutique classes, you'll find that healthy living can be simple and straightforward.
Every body is different, but chances are when you eat a lot of plants, move every day, get enough sleep, and avoid unnecessary stress, you're going to feel pretty darn good. These building blocks of well-being don't have to cost you the proverbial arm and a leg. In fact, they actually might end up saving you money.
It's long been mindbodygreen's mission to help everyone find a way into wellness. When we announced our new mission statement last year, You. We. All, we solidified this commitment to making health feel more accessible to the everyday person—the one who doesn't want to blow their whole paycheck on luxury gym memberships and superfoods. That's not to say you shouldn't treat yourself to these things if they're within your budget—you just shouldn't feel obligated to when money is tight (lest we forget that financial well-being is an important part of health too!).
In that vein, we rounded up some of the best advice we've heard about how to save money in 2019 on a few key health pillars—straight from mindbodygreen editors and Collective members.
Movement: Get outside and take advantage of digital classes.
When double-board certified functional medicine doc Amy Shah, M.D., was strapped for cash and trying to pay off student loans while living in NYC, she made Central Park her new gym. "I lived in NYC at the time and I was a runner, so instead of joining a gym I went to Central Park every single day," she told mbg. "I incorporated a lot of wellness into my life in a very organic way, and I think that's what we have to remember. It's not about green juices or the hot gym workout—that's all just the cherry on top."
And if it's too cold to bring your workout outdoors, mbg associate fitness editor Ray Bass is all about streaming digital classes such as Tone It Up ($12.99/month), The Become Project ($35/month), and Todd McCullough's total body workout class on mbg ($39.99/unlimited).
"Stop thinking about it as Pilates or weight lifting—and think of it as movement. Movement can be free. Movement can be a jog. Movement can be riding a bike. Movement can be doing a home yoga class that you stream for an affordable price," adds Todd McCullough, founder of TMAC fitness.
You can also bump up your recovery game with a few small investments, like a foam roller. "Any kind of recovery stuff you can do at home, like taking a bath and foam rolling, is easy and less expensive," says fitness instructor Shauna Harrison.
Beauty and self-care: Go back to basics.
If you have a bathtub, you're halfway to a restorative ritual for the body and soul. "One of the main reasons I post baths on my Instagram is because they are such powerful tools for self-healing," explained NY-based healer Deborah Hanekamp. "And you don't need to go out and buy anything to take one; you don't need to put crystals in it. A little salt, a little bit of chamomile tea, and you've created a whole healing ceremony."
Renowned life coach Lauren Zander reminds us that you don't have to go to a pricey spa for a restorative beauty treatment. She's a fan of hosting girls' nights and having everyone bring one product to share with the group. "Self-care has nothing to do with spending money. It has to do with self-care," she says, adding that you can't put a price on a solid group of friends who lift you up.
And the cheapest, most effective beauty essential of them all? Plenty of sleep. "I tend to believe in the body's ability to figure it out and heal...as long as we get out of the way," says Collective member and holistic psychiatrist Ellen Vora, M.D. Here are some of her top tips to help you have the most restorative sleep of your life in 2019—without needing to shell out cash on a weighted blanket.
Health: Look for community treatments.
We're calling it: Community acupuncture is about to become the norm. The experience is similar to a one-on-one session (hey, your eyes are closed anyway!) and worlds more affordable. "I think the experience of community acupuncture is sometimes even better because you feel like you're in it with other people," raves mbg's health editor Gretchen Lidicker, who's gotten it done for as little as $25.
Another healthy practice that we can't recommend enough? Getting outside. Yep, plenty of doctors prescribe time in nature to relieve stress and boost immunity, including William Cole, D.C. "Go outside and have a moment of stillness, silence, and breathing. To me, there's nothing more game-changing on a physical, mental, emotional, and spiritual level," he says.
Food: Plan ahead and make the freezer your friend.
"Buying food online is a huge money saver. I use ButcherBox for my meat and Nuts.com and the prices are insane. I do a CSA too, which keeps me tied to fresh produce I have to cook with every week," Liz Moody, mbg's food director, says about her money-saving tricks in the kitchen. She also recommends buying flash-frozen fruits and veggies when they're out of season in your area since they're cheap and just as nutrient-dense.
And you've heard it before, and Whole30 founder Melissa Hartwig is here to tell you again: Meal planning saves major cash. "The first thing you have to do is meal plan. If you don't have a solid meal plan, you'll go into the grocery store, buy things that you're not going to use, and then they're going to spoil because they're perishable," she says. "Meal-prepping will cut down on impulse spending and ensure you'll actually use what you purchase so nothing will go to waste."