I Finally Joined A CSA & It Actually Changed My Life
Contributing Food Editor
By Liz Moody
Contributing Food Editor
Liz Moody is a food editor, recipe developer and green smoothie enthusiast. She received her creative writing and psychology degree from The University of California, Berkeley. Moody is the author of two cookbooks: Healthier Together and Glow Pops and the host of the Healthier Together podcast.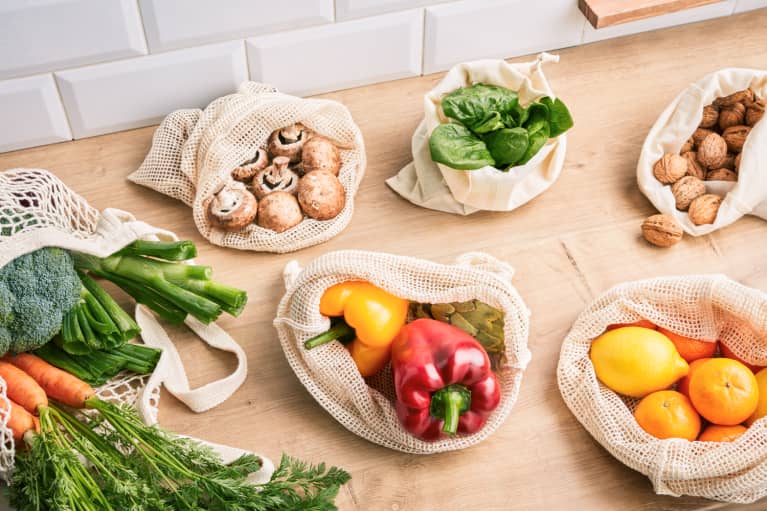 I didn't join a CSA for so long. CSAs, which stands for Community-Supported Agriculture, are just that—you pay a certain amount of money that goes directly to farmers and allows them to better plan for their growing season. For that farm share you've just purchased, you then get a weekly or monthly delivery of produce, directly from the farm. Deliveries tend to cost between $20 and $50 a week, depending on whether there's animal protein involved, and they usually net out slightly lower than buying the same quality (organic, biodynamic) at a local store or farmers market. Sometimes you'll pick it up at a local spot, sometimes it'll go to your doorstep, sometimes it'll be in a big box, other times it'll be bagged, but the model is essentially the same.
I lollygagged around becoming a CSA member for a long time. I was supporting my farmers at the farmers market, I figured, and besides, it'd be annoying to not be able to choose the produce I received every week (there are running jokes among CSA members about finding ways to eat strange produce like kohlrabi). When I finally caved, it was more of an experiment than a mission. "I'll do it for a few weeks and see how it goes," I thought, fully assuming I'd cancel it and go back to my normal shopping habits.
Almost 10 months later, I can say that it's solely responsible for the greatest shift in my food life I've experienced in years. I joined a CSA called Local Roots, which consolidates produce, eggs, and small pantry items from a number of farms in the NYC area. I pick up my share at a bar about two blocks from my house every Tuesday night, and it's become one of my favorite parts of the week.
Ironically, the thing that kept me from joining a CSA for so long is actually my favorite part. I, like many people, tend to get into food ruts, where I reach for the same ingredients and end up making derivative versions of the same meal over and over again. Even when I went to the farmers market, I'd gravitate toward some form of greens, some fruit to snack on, and maybe asparagus, broccolini, or tomatoes, based on what was in season.
In my CSA, though, I've been given radishes, ramps, bok choy, and, yes, the dreaded kohlrabi, and I've had to come up with ways to use all of them. Rather than it being a dreaded chore, though, it's become a Tuesday-night ritual—my husband and I dump our haul on the kitchen table, then brainstorm ways to use the produce for dinner. Last week, we pan-fried the ramps till they were crispy and used them with lemon as a side dish; before that, we thin-sliced the radishes, tosses them with baharat, and air-fried them. We roasted the kohlrabi and shaved it into salads, and through it all, I've referenced the strange internet sites and cookbooks from the back of my shelves more than ever before. I've become a better cook, and a healthier one, as the diversity in my diet has expanded exponentially.
But more so, I've become more connected to my partner. Instead of slapping together a quesadilla or stir-fry (our go-to's), we're problem-solving in the kitchen together, laughing and tasting our weekly creations.
Yes, there are health benefits too—produce that's grown locally is far richer in nutrients than most of what you find at a grocery store, which has often traveled thousands of miles and sat on the shelf for weeks, losing precious vitamin content all the while. Yes, the diversity also adds benefits, as I'm exposing myself to far wider varieties of nutrients than in my typical diet of five or six rotating members of the produce family. But in an age when the epidemic of loneliness reigns supreme and we often find ourselves doing so many things, dinner-prep included, mindlessly, the biggest gift of my CSA is that moment of connection—to my partner, to my food, to my food's origins, to the community I'm part of that the C part of the CSA literally stands for. Food is never just about what we eat. Food is a reflection of our values, our choices, and what we want our present and future to reflect. With my CSA, I'm casting my vote in a direction I believe in.
As for the other problems I envisioned before I joined? They had easy enough solutions. I've developed a few go-tos that easily use up leftover, strange produce—almost anything can be turned into pan-fried rice with the addition of an onion, tamari, and toasted sesame oil, and a frittata or quiche is another perfect use for leftover veggies. I've also taken to prepping any vegetables that are near the end of their lives into a state as close to how I'll be consuming it as possible—kohlrabi gets peeled, steamed, and cubed; greens are washed removed from their woodiest stems—and freezing them. Now, on my laziest or most time-deficient nights, I have farm-fresh produce, pre-prepped and ready to go into a quesadilla, taco, or even a dinner smoothie.
Want to find a CSA near you? The USDA has a great directory, or Googling "CSA" with your ZIP code generally yields great results.