The Trick To Actually Getting Someone To Be Your Mentor (From THE Justin of Justin's Nut Butter)
Contributing Food Editor
By Liz Moody
Contributing Food Editor
Liz Moody is a food editor, recipe developer and green smoothie enthusiast. She received her creative writing and psychology degree from The University of California, Berkeley. Moody is the author of two cookbooks: Healthier Together and Glow Pops and the host of the Healthier Together podcast.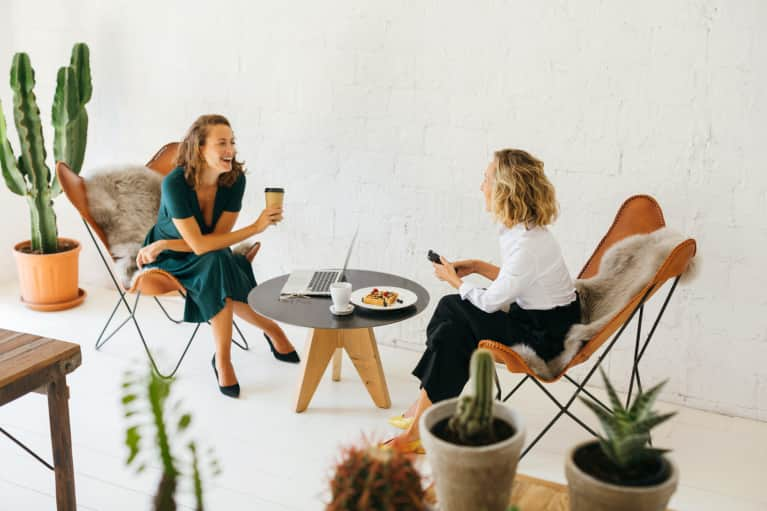 I'm not quite sure how I ended up hanging upside down next to THE Justin, otherwise known as the man whose name is scrawled in jaunty handwriting on millions of nut butter jars and cups around the country. We're at an aerial yoga class, learning how to twist and suspend ourselves in midair to support the launch of 11 new Justin's products. We're building up an appetite before a private chef-prepared dinner featuring Justin's new cinnamon almond butter, maple almond butter, and cashew butter (for dessert, we ate cashew nut butter cups, which taste exactly like cookie dough and are one of the best things I can recall eating recently).
While digging into our fresh spring salad with a cinnamon maple vinaigrette, Justin and I got to talking about how he took his company from a small farmers market brand to a leader in the nut butter category—and the many mentors who have helped him along the way. While Justin himself now mentors a number of young entrepreneurs (he actually never turns down a request for a phone call or meeting), he thinks many people are going about the mentee/mentor relationship in the wrong way.
I think that a lot of founders start at the top when they really should start at the bottom.
"A lot of the people that I've met with try to start at the top, which is a big mistake," he shared. "When you start at the top, No. 1, you don't have any credibility yet, and No. 2, you may not know exactly what you're talking about, and then lastly, you're kind of wasting a founder or CEO's time by asking them questions that someone else could answer. I always tell people to start at the bottom, if you're just starting out and find the specialists in the areas you actually need support on." If you need support on sales, Justin recommends finding sales people; and if you have questions about marketing and getting your product in front of people, you seek out experts in that category. "Slowly, you build your company, gain credibility, gain knowledge, so that way, when you really have questions around leadership, around guiding a time, around vision, mission, values, now you have credibility and experience to come to the CEO or founder and not waste their time and be very effective and directed with your questions," he explained. "I think that a lot of founders start at the top, when they really should start at the bottom."
When it comes to finding a mentor, he had one other key tip: Never ask someone to be your mentor. "The first thing you have to do with someone is develop a relationship, and that relationship turns into trust and into credibility. The last thing you want is to have a relationship with someone who gives you bad advice—or a relationship with someone who never takes your advice on the other side. Start off with a friendship, have a few coffees, hang out, see if you're aligned philosophically, see if you're aligned on how to run a business, and then if they start giving you good advice, you have more coffee with them, you have more interactions, and they kind of just become a mentor, without even defining the relationship. Defining the relationships puts all of this expectation into it, so just become it instead." He laughed before adding, "I have a lot of mentors that don't even know it!"
Want more business wisdom from leaders in the wellness product world? Check out the mindbodygreen podcast!