Your Definitive Guide To Feeling Confident AF In A Swimsuit This Summer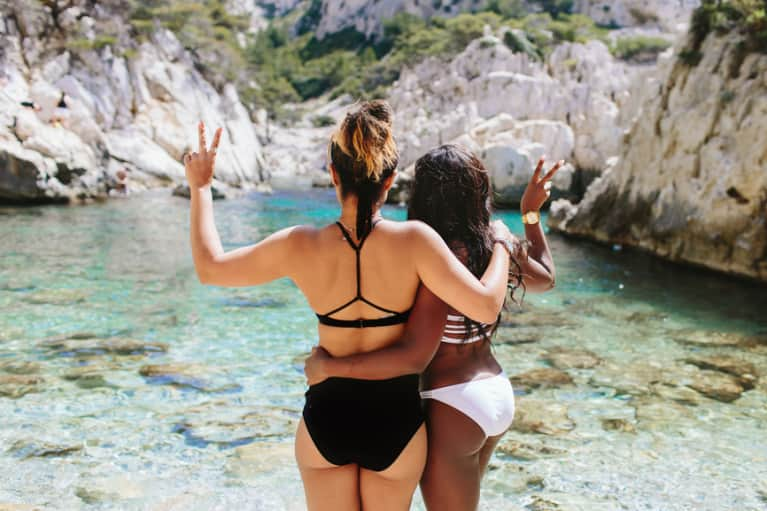 Ever dread putting on a bathing suit or have a hard time relaxing on vacation because you just dread the bathing suit thing?
"Why are you so sensitive?"
Sound familiar? This is what my husband said when we were on holiday in Jamaica because I wasn't acting like myself.
I was accusing him of ignoring me. At one point I sat isolated from the group and watched as he played a game on the beach. It seemed he was having fun without me. I felt sorry for myself. My low point was when I said, "You hate me, don't you?"
Why was I doing this? I have a history of body-image issues. I was trying to find a way to blame my husband for how I was feeling about myself. Truthfully, I hated wearing my bathing suit and couldn't even come close to loving my body. Instead, I desperately wished to be skinnier. I'm still healing from years of body hatred and sometimes these old wounds surface. Thoughts like "I'm fat," "I look terrible in a bathing suit," "I'm not good enough for my husband" turned up and nearly ruined our vacation.
The whole scene triggered me—the beach, bathing suit, hot bodies, sand, sunscreen—all of it. It took me back to the dark place of negative self-talk and body hatred.
As far as body image goes, I've realized how much I've relied on my brain and my patterned enemies of body hatred. These saboteurs wreaked havoc on my personal relationships and cast a shadow on what was supposed to be the "good times" in my life. I've read that there's a reason for this. Psychologists say that women with low self esteem allow their insecurities to drive their emotions and actions.
When we were in Jamaica, wearing a suit unleashed all my deep insecurities about my body, which, lo and behold, guided my feelings and actions. It's no wonder they were destructive to our vacation and our relationship.
This visceral reaction to my bathing suit ruined my holiday.
This same scenario would play out, and I'd pick a fight. However, this time, I was able to catch myself. And realized what I was doing when my husband lovingly said, "Why are you so sensitive this weekend?" With heightened self-awareness and a better mood (due to the tips below) I was able to answer him openly and honestly.
If you've ever struggled with insecurities about your body and you've experienced a similar spillover of negative side effects—here are some suggestions that can help get you through tough times.
1. If you don't feel like yourself, find out why.
Slow down and ask yourself what's up. But do this gently. In the past, the question would be, "What the f%$# is wrong with you?!" Try instead to speak to yourself like you would your spouse, child, mother, or friend. You wouldn't talk harshly to your loved ones so do not do this to yourself. Instead try, "Hey, you don't seem yourself, what's up? Everything OK?" Tenderness is always the way in.
2. Then, write it all down.
Ever thought that "being strong" means keeping the hard stuff to yourself? I used to too, but learned the hard way that holding it all in does no good. It pushes feelings down and allows them to fester. Then, just when you've had enough, you explode, and whoever's in your way takes the brunt of it. It's unfair to you and your friend on the receiving end.
It's hard to express what's on our minds. We fear judgment, even from ourselves. I recommend sitting down in the morning and writing out how you are feeling. Put it all on the page. Journaling will help you work through things and get them off your chest. It's amazing how much this helps.
3. Do one thing for yourself, and take your body with you.
When you are in the midst of body hate, it's difficult to give yourself love. Isn't it crazy that the hardest person to love is ourselves? We take care of our spouses, our parents, our children, our friends—and ignore the very person who needs love the most. It's taken me a long time to realize I need love from me and not just from other people. So, when I figured out what was bothering me in Jamaica, I woke the next morning and moved my body gently. I swam in the ocean around 7:00 a.m, which was invigorating. When you do something like this, try to connect with yourself and pay attention to how it makes you feel. Is it refreshing? Soothing? For me, the swim was a great way to show myself love. Not only did it feel amazing, it was rejuvenating to swim in crystal-blue water. This whole experience was exactly what I needed.
4. Don't dismiss your feelings. Sit with them.
When you are in a better place, take a moment to recognize how you felt and forgive yourself for it. Admittedly, I was pretty upset at myself. I was frustrated: After all the work I've done to love my body and be free of dieting, there are still wounds. So when I returned home, I needed to forgive myself and reconcile these feelings.
I busted out my journal and went to town. I wrote down everything. Then I meditated on what happened and asked for forgiveness. I reminded myself how little control I have over moments like Jamaica. It's important to admit how we feel, then forgive and move on.
At times like this, sometimes talking can feel worse. Be careful with sharing. This is another reason for the journal. There is no one to judge you or make you feel even worse than you did before you started. So, when you have a moment, take at least five minutes and reconcile with yourself how you felt.
5. Be grateful to your body for what she's done for you.
I've figured out that the one way to get back to center with self-love is to have gratitude. Take 10-15 minutes and consider what your body does for you every single day. It's carried you through life: Be thankful for it.
We tell our body it's not good enough. Not hot enough. Not skinny enough. But we don't take the time to thank it for all it's done for us. I do my best to remember that my body as a precious gift. I think of her as my baby. I even call her "she" instead of "it." I go out of my way to thank her for all she's done for me. She's allowed me to run marathons and participate in triathlons; to travel to cool places around the world; and she helps me feel the warm embrace from my husband. She does a lot. You can't take care of something you hate. So try loving your body and be thankful for her.
If loving your body still feels weird, try a different approach to body image: body neutrality.