Hyperpigmentation Gets Worse From The Summer Sun: This Supplement Can Help
mbg Associate Editor
By Jamie Schneider
mbg Associate Editor
Jamie Schneider is the Associate Editor at mindbodygreen, covering beauty and health. She has a B.A. in Organizational Studies and English from the University of Michigan, and her work has appeared in Coveteur, The Chill Times, and Wyld Skincare.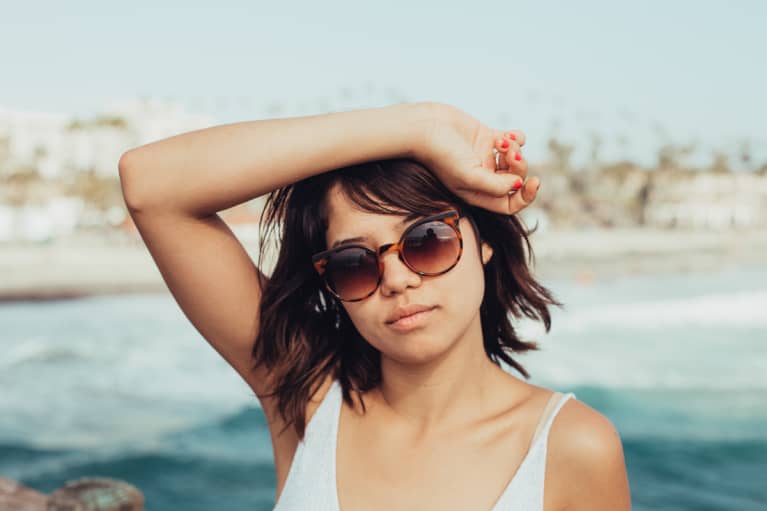 Our editors have independently chosen the products listed on this page. If you purchase something mentioned in this article, we may
earn a small commission
.
If you suffer from hyperpigmentation, chances are you're familiar with the uphill battle of ridding those dark spots. Fading those marks takes time, patience, and (let's be honest) a pinch of faith. So allow us to remind you of the setback that may come your way: Unfortunately, hyperpigmentation can get worse in the summer.
That's not to say you can't do anything about it. Of course, a proper sunscreen regimen should be your main priority, summer or not. But to give your skin an extra layer of support, you might want to consider approaching those spots internally. Here's why.
First, how does sun exposure make hyperpigmentation worse?
A little refresher on hyperpigmentation, shall we? "Hyperpigmentation is excess melanin production in your skin," says cosmetic dermatologist and founder of Epione Simon Ourian, M.D. When the skin faces any inflammation (brought on by the usual suspects: acne, hormones, and sun exposure), the cells that control melanin production—called melanocytes—can become overactive, leading to that extra pigment. Keep in mind, the discoloration may look a little different depending on your skin tone: For those with dark skin tones, hyperpigmentation may appear brown or black, while fair-skinned individuals may experience red or pink spots.
Regardless of tone, the key to keeping that hyperpigmentation at bay is to avoid the inflammation that cranks your melanocytes into overdrive, which poses quite difficult as we enter a scorching summer—after all, when your skin is exposed to irritants like UV radiation, your body initiates an inflammatory response. "These already overactive melanocytes are even more sensitive to sunlight, so when the skin is exposed to the sun, these dark spots become even darker than the surrounding skin," explains board-certified dermatologist Ife J. Rodney, M.D., FAAD, founding director of Eternal Dermatology + Aesthetics.
Why supplementing can help. 
The key to managing that inflammation? Investing in potent antioxidants. While you can slather on some skin-brightening vitamin C, you might want to ingest powerful antioxidants to truly support the fading process.* mindbodygreen's nr+ is chock-full of skin-supporting players to help stabilize free radicals, support your body's ability to neutralize oxidative stress, and promote even-toned skin.*
It starts by naturally rejuvenating your cellular metabolism by promoting healthy levels of NAD+—the important coenzyme that keeps your cells healthy and energetic.* (Hyperpigmentation starts with skin cells, so it only makes sense to respond at the cellular level, no?) Then antioxidants come into play to keep those rejuvenated cells happy: Specifically, the formula contains astaxanthin to support the skin's collagen layer and manage age spots (another form of hyperpigmentation), and rhodiola to help the skin manage inflammation and oxidative stress.*
Then for some much-needed hydration, it includes phytoceramides (which are just plant-derived ceramides), to promote skin barrier function and moisturized, plump skin.* In fact, research has shown that phytoceramides dramatically improved the rate of repair of a damaged stratum corneum (aka, the top skin layer).*
This blend of good-for-you ingredients works to support your skin from the inside out. Studies show that the supplement can promote glowing skin, even reducing the size of wrinkles while you're at it.*
Whether your hyperpigmentation stems from acne, sun spots, or aging, the summer sun can inflame those marks and make them even harder to fade. Getting rid of hyperpigmentation is already a frustrating feat; let's not slow the process even further. That's why protection is key: In addition to slathering on sunscreen, you'll want to target those skin cells at the source and enhance your body's natural protection process.*