How To Emotionally Connect With Your Child (Without Crossing Boundaries)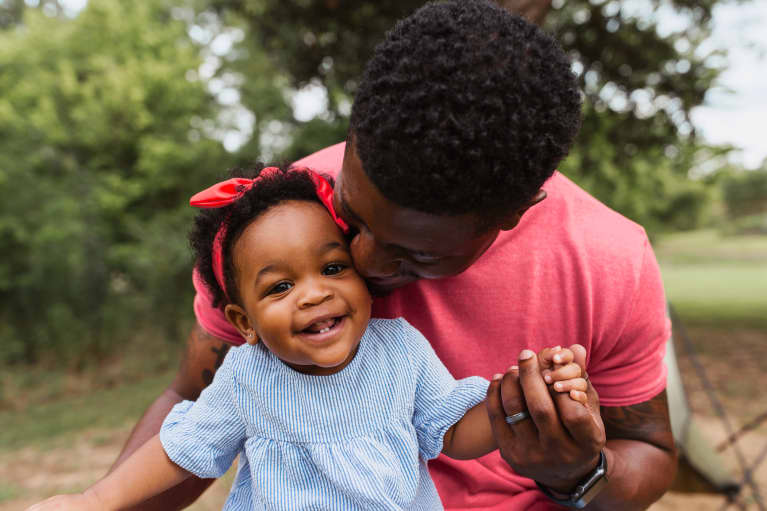 Our editors have independently chosen the products listed on this page. If you purchase something mentioned in this article, we may
earn a small commission
.
There is one factor that will positively affect your child's physical, psychological, and emotional well-being from infancy through adolescence, one factor that promotes optimal brain development and protects against depression, suicide attempts, addiction, and low self-esteem, and that factor is emotional connectedness. However, we live in a fast-paced, busy society and a culture that often supports parenting methods that make strong emotional connection more difficult to achieve.
Fortunately, there are simple steps we can take toward improving our connectedness and the emotional climate in our homes. When connection is high, there is warmth, trust, and security. Communication is open and positive, family members are affectionate and supportive, and conflict is low. This is the ideal climate for positive outcomes. Here are three ways to connect with your kids without crossing their boundaries, which I detail further in my new positive parenting workbook, slated to release in March:
1. Provide loving responsiveness.
From the time we are born and throughout our lives, it's important that we get our needs met. The work of John Bowlby on attachment theory provides us with a framework that traces the importance of forming secure attachments all the way back to infancy. Bowlby described attachment as "lasting psychological connectedness between human beings." From his work emerged the theme that loving responsiveness to an infant's needs by the primary caregiver creates a sense of security. Psychologist Mary Ainsworth expanded upon Bowlby's original work in the 1970s. Her "strange situation" study revealed different attachment styles and their impact on behavior. By responding lovingly and promptly to an infant's needs, they come to depend on and trust their caregivers, thereby forming a secure emotional bond.
Loving responsiveness isn't just for infants, however. Children never outgrow this need, yet some discipline methods often have us withdraw affection, warmth, and responsiveness for the purposes of training children's behavior. We can keep our attachment strong by being responsive to the emotional needs of toddlers through teens. Studies suggest that the emotional involvement of parents throughout childhood affects the outcome of the child's emotional competence.
2. Empathize with their experiences.
Empathy is the ability to feel things with another person, to see things from our child's perspective. This works in two ways. Being empathetic to our children's feelings and experiences helps us to be emotionally connected, and according to research, "adolescents who reported secure attachments primarily with the mother, but also with the father, reported greater ability to empathize with another's situation." So not only does empathy help us connect to our children, but it helps our children develop empathy and the ability to connect to others, providing further protection later in life.
As parents, we are often told to ignore tantrums, whining, and other displays of emotional distress rather than to empathize with our child's experience. We also tend to want children to move quickly through negative emotions or to do so alone. "Go to your room until you can stop crying or behave," is a common refrain. But to create a strong emotional bond and help your child develop empathy herself, look through a new lens at your child's experience, feel through it with her, and help her regulate her emotions.
Life is busy, and often play gets cast aside for "more important" activities. By the time we shuffle our children around to school or day care, extracurricular activities, and complete homework, it's usually time for baths and bed. There is little time left for playing. However, play is crucial in the cognitive and emotional development of children, and the decline in play is correlated with a rise in children's mental health disorders. Over the last two decades, children have lost eight hours of free play per week.
Lawrence Cohen, Ph.D., author of Playful Parenting, says, "Play can be the long-sought bridge back to that deep emotional bond between parent and child." Luckily, play doesn't have to be long to be beneficial. Psychologist Dr. Laura Markham says that playing for just two to 10 minutes can be beneficial in restoring connection. Physical play and roughhousing is particularly good at helping children release negative emotions and feel bonded.
Want to try a different discipline method? Here are five gentle ways to discipline your kid.