3 Ways To Embrace (Not Hide Or Fix) Your Acne
Contributing Wellness & Beauty Editor
By Lindsay Kellner
Contributing Wellness & Beauty Editor
Lindsay is a freelance writer and certified yoga instructor based in Brooklyn, NY. She holds a journalism and psychology degree from New York University. Kellner is the co-author of "The Spirit Almanac: A Modern Guide to Ancient Self Care," with mbg Sustainability Editor Emma Loewe.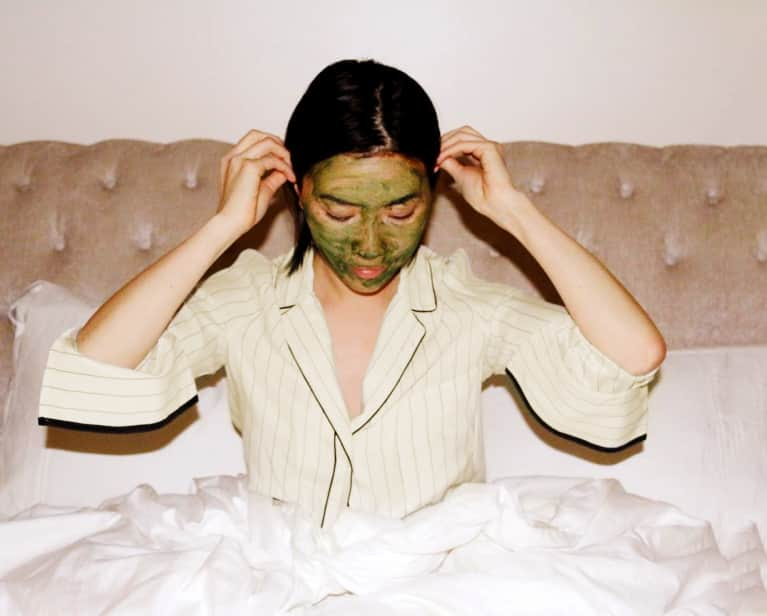 Priscilla Tsai founded Cocokind, an all-natural, handmade in San Francisco, USDA-certified organic skin care line—one of the first of its kind to be made with a high-quality consideration set and uncharacteristically (welcome) low cost. When it comes to all-natural skin care, Cocokind is one of the best affordable lines on the market today.
Starting a skin care company was a welcome surprise.
"No one from my family would be surprised to hear that I started a company," Tsai said, when discussing her childhood dreams and aspirations. Growing up, she was an entrepreneurial kid with working-class parents who immigrated from Taiwan and was used to being inventive and was always creating. She made her own clothes, loved coming up with food concoctions, and eventually started whipping up her own skin care.
"But a skin care company? That was always something I struggled with." Tsai had hormonal acne growing up and said it became her biggest insecurity. Back in college, she took antibiotics for three years straight—a common prescription for acne back then (and still today)—but it took a toll on her health. "I was always nauseous, crashing during the day, and I got a stomach ulcer. That's when I quit my meds and finally started to learn to cook for myself," she said. Within a few weeks she noticed a huge difference in her skin, and although it wasn't perfect, she started to experiment with putting healthy ingredients directly on the skin topically.
For Tsai, healing began from the outside in.
"My face didn't automatically sting when I used these superfoods on my skin," like organic, virgin coconut oil, Tsai said. She didn't know there was a different reality because she'd gotten so used to the pain of living with cystic acne. Now, Tsai still has acne, but much less of it—and it's not painful. Her mission is to empower women through Cocokind so they feel comfortable in their own skin.
For instance, Tsai recently created a video of women expressing how they feel about their own beauty by painting their bodies and coming up with words to match how they felt. In another, Tsai posted a photo of her face to Cocokind's Instagram account, blemishes and all, showing the reality of living with imperfect skin. Here are her tips on embracing your skin, just as it is:
1. Accepting your skin mentally and emotionally leads to healthier skin physically.
"Your skin changes so quickly on a day-to-day basis—if you're traveling or ate like crap, you may have some inflammation that arises. It comes just as quickly as it can go. Depression and anxiety will attack, but to understand that your skin changes helped me a lot. Even if you think of it like 'I have acne today,' it is less overwhelming than permanently categorizing yourself as someone who has acne. Often, this leads to wearing less makeup and allowing your skin to breathe and regenerate, which also has great benefits for the skin," she said.
2. Be present in conversations and make eye contact.
"Having acne can be pretty debilitating sometimes. It's different if you have one zit versus a severe breakout—with the latter it can feel like people are just staring at you. It's helped me to really make eye contact with other people and trust that they're not studying your face the same way you are in the mirror," she said.
"If you're seeing images or feeds where everything looks perfect, that's probably going to make you feel like sh*t and unaccepting of who you are. There are other accounts who are honest about their skin, that they're dealing with major breakouts and just putting it out there. It's powerful," she said. Unfollowing has become easy for Tsai—she'll do it without question if she's made to feel insecure, not enough, or less than.
The idea of constant self-optimization is getting exhausting for many people. Tsai embodies the mbg mantra You. We. All so well—focusing on the community and healing the world at large with her sustainability practices. "People are getting sick of perfect, and they want to know where to turn and that it's OK to turn," she said. We couldn't agree more.
For more sage advice, check out how New York Times writer Bee Shapiro started her own beauty company and how creative soul Samantha Paige is redefining conventional beauty standards.