11 Genius Ways To Eat Your Greens, From The Healthiest People We Know
Contributing Food Editor
By Liz Moody
Contributing Food Editor
Liz Moody is a food editor, recipe developer and green smoothie enthusiast. She received her creative writing and psychology degree from The University of California, Berkeley. Moody is the author of two cookbooks: Healthier Together and Glow Pops and the host of the Healthier Together podcast.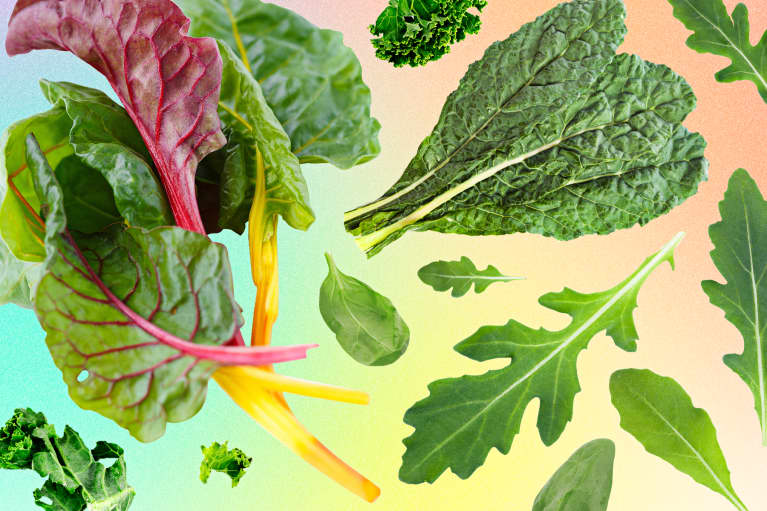 Our editors have independently chosen the products listed on this page. If you purchase something mentioned in this article, we may
earn a small commission
.
Functional doctors agree—greens are one of the healthiest foods on the planet. Whether you're munching on cilantro, spinach, or kale, you're benefiting from
better digestion, inflammation-fighting powers, and tons of antioxidants
. We all know we should eat a heaping amount of green goodness daily—but how do you fit all of that fiber in? We reached out to the healthiest people we know to steal their genius tips for munching greens all day long.
Some people refer to this technique as massaged kale, but the idea is less giving those greens a deep-tissue rub down and more ensuring that each and every leaf gets covered with a mixture of acid, oil, and salt. This helps draw out some of the kale's natural moisture, softening and tenderizing it in the process. It works similarly to a ceviche, taking the texture of the greens from woody and raw to wilted and semi-cooked. This also makes it easier for your body to break them down. My favorite is this basic kale salad.
—Phoebe Lapine, mbg Collective member and founder of Feed Me Phoebe
A favorite in my household is to make some meat in the pan, like bacon or ground beef, and then throw some leafy greens in the grease and use the grease to cook up the greens. Culturally, we shy away from meat grease because we've been taught it's unhealthy. Everything in moderation, of course, but I would argue that most of us actually improve our health by incorporating reasonable amounts of fat from healthy animals. I get bacon from pastured pigs, free of nitrates and sugar. The grease from that is actually an excellent cooking fat with a high smoke point, and it adds flavor and nutrition to the greens. The fat also helps us absorb the fat-soluble vitamins (vitamins A, D, E, and K) in the leafy greens.
—Ellen Vora, M.D., mbg Collective member and founder of EllenVora.com
3. Mix them into a chia pudding.
These days, a meal rarely feels complete without some leafy greens, but sometimes I just don't want to eat a salad and therefore have to sneak them in or incorporate them in other ways. Blending spinach or kale for breakfast is my go-to, whether that is in a smoothie/smoothie bowl or in my blended green chia pudding, which is what I am loving lately. I like to switch it up for lunch, using collard greens or large romaine lettuce leaves as a wrap. My favorite concoction includes hummus, avocado, and raw or roasted veggies. This is also a great time to use up any leftovers from the night before.
—Sara McGlothlin, holistic nutritionist, founder of SaraMcGlothlin.com
Sautéed in ghee or even bacon fat! I'm not kidding. Many of the vitamins in leafy greens are fat-soluble, so adding a little fat will not only increase the flavor but also allow your body to absorb the vitamins. I never eat kale raw, as it can go through your system like sandpaper. If you suffer from any sort of bloating or gas, please consider eating fewer raw kale salads, a common mistake I see many of my nutrition clients make.
—Diana Rodgers, R.D., founder of Sustainable Dish
I always add organic and fresh leafy greens to my smoothies and smoothie bowls, especially during the summer. Spinach is a go-to, and you can freeze them to make them last longer. Using leafy greens in your smoothies makes a great foundation and can be easily balanced with fruits, nut milk, and, my favorite, coconut butter for yummy healthy fats.
—Sophie Jaffe, mbg Collective member and founder of Philosophie Superfoods
I love adding leafy greens to ketotarian smoothies as you can add a lot without noticing a huge change—if any—in flavor. Mix in some coconut milk, berries, MCT oil, and adaptogens, and you have a delicious, creamy plant-based keto smoothie.
—Will Cole, D.C., mbg Collective member and author of Ketotarian
6. Stir 'em into an omelet.
My favorite way to eat leafy greens currently is in an omelet. I typically use baby spinach or kale, and it is a great way to get in some greens with breakfast or brunch!
—Alanna Waldron, R.D., founder of Eats Real Food
I love my leafy greens any way I can get them. To make the most of all those antioxidants, fiber, and other nutrients, I use them throughout my day by adding spinach to sandwiches, Swiss chard to pasta dishes, and even kale to my drinks. One of the most delicious green drinks ever is my Kale Lemonade—just combine freshly squeezed lemon juice, honey, chopped kale, water, and ice. Give it a quick whirl in the blender, pour, and serve!
—Dana Angelo White, R.D., founder of Dana White Nutrition
8. Serve meals on a bed of greens.
Eating my meals on a bed of greens is my favorite way to incorporate them into my diet. It not only makes the plate look pretty, but it also ensures I'm getting nutritious vegetables with every bite! My favorite is the Organic Girl Protein Greens variety.
—Allison (Aaron) Gross, M.S., RDN, CDN, founder of Nutrition Curator
Most people don't like leafy greens because they're either bitter or tough to eat. I usually chiffonade my leafy green leaves so they're easy to eat with a fork and toss them in a dressing with fat or something sweet. The fat (like a ghee or pairing with an avocado) helps dial back the bitter, as does a drizzle of honey.
—Carlene Thomas, RDN, founder of OhCarlene
My favorite way to enjoy baby greens is in salad form—baby kale is my current favorite. I also love adding leafy greens to soups, stews, and chili to bulk up the dish and add nutrients. They're also an easy and delicious way to add nutrients and color to scrambled eggs or an omelet. When fresh isn't available, I love to add frozen spinach to a smoothie.
—Jessica Cording, R.D., mbg Collective member and founder of Jessica Cording Nutrition
I love incorporating green leafy veggies into stir-fries (I love a mix of edamame, leek, and Swiss chard), a pesto (think spinach or kale pesto), or soups (wilting spinach into turkey chili).
—Stephanie Middleberg, M.S., R.D., CDN, founder of Middleberg Nutrition