How To Decrease Inflammation Over The Holidays (Yes, It Is Possible)
Functional Medicine Practitioner
By William Cole, D.C., IFMCP
Functional Medicine Practitioner
Dr. Will Cole, D.C., IFMCP, is a leading functional medicine expert who specializes in clinically investigating underlying factors of chronic disease and customizing a functional medicine approach for thyroid issues, autoimmune conditions, hormonal imbalances, digestive disorders, and brain problems. Cole is also the bestselling author of Ketotarian and The Inflammation Spectrum.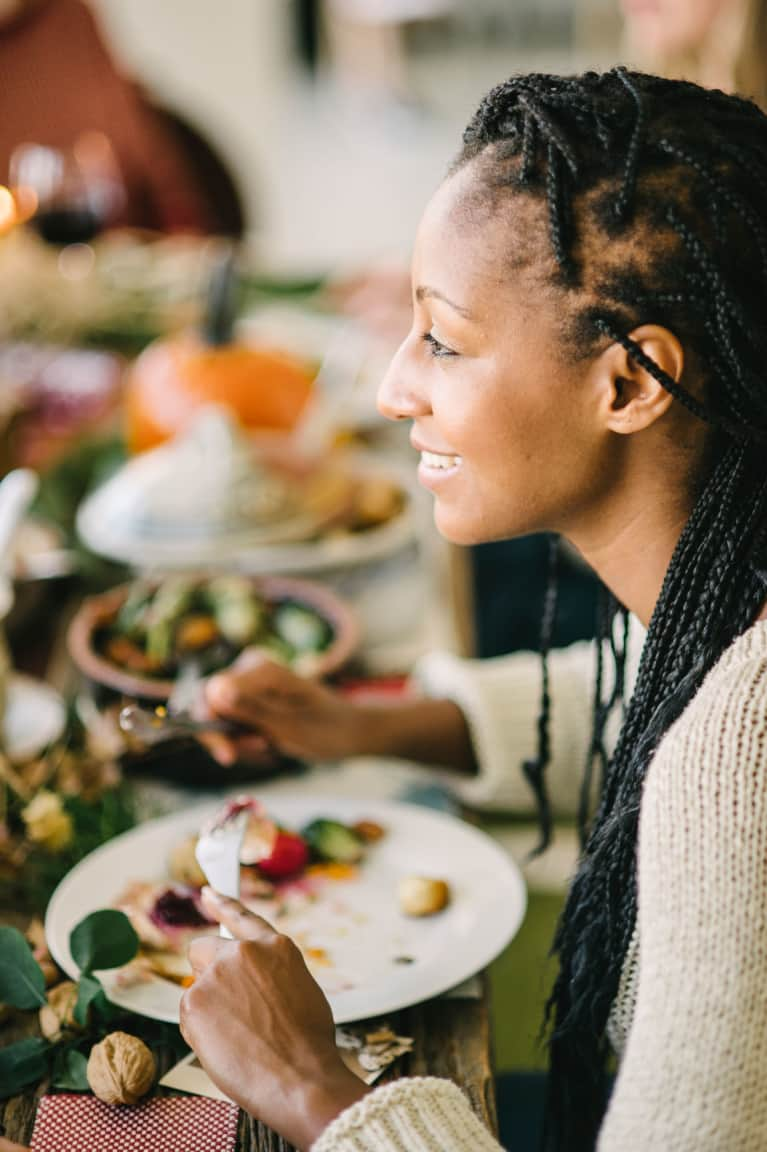 The holidays are a joyous time of friends, family, and good cheer, but when it comes to a person's health, it can also be a time of anxiety and guilt between the temptation to overindulge and the desire to eat well. As a functional medicine practitioner, I often hear from my patients that they are worried about this time of year since many gatherings are focused around food—and not the clean, wholesome kind.
Most traditional holiday dishes and desserts are loaded with inflammatory foods and ingredients. And with inflammation being one of the main contributors to almost every single major health problem we face today, it's important to avoid inflammatory triggers as much as possible.
While it may seem like a difficult task, it is still possible to work on driving down inflammation during the holidays. Instead of giving in, let's reframe our mindset and reclaim the holidays for our health. Let's use these celebrations as a time to build not only relationships but better health as well. By implementing a few simple strategies, we can emerge from this season feeling better than ever rather than worse.
Knowledge is power when it comes to making the healthiest choice. If you're going out, make sure to check restaurant menus beforehand to ensure you know your options and what you can and cannot substitute. You can also eat ahead of time if you know wherever you are going isn't going to have the best options. Remember, food is only part of the gathering—it's who you are with that really makes an event.
It's a lot easier to stick with something when you have a support system. Finding someone who can come along with you and encourage you to stick with your goals, and vice versa, can make the health journey not feel as lonely. If you're going to the same events, you can even team up and make some healthier dishes to contribute to the meal. This way, it's a lot less work and you have more delicious options to choose from.
3. Enjoy alcohol—in moderation.
There's no doubt that alcohol is not the best when it comes to inflammation, specifically its impact on your liver and digestive system. To indulge more responsibly, look for cocktails made with gut-healing, anti-inflammatory ingredients like ginger, kombucha, and water or coconut kefir. Make sure to choose better alcohols in moderation, including grain-free options such as hard cider, tequila, brandy, cognac, rum, and red wine. In fact, a glass of red wine every once in a while has been shown to decrease inflammatory CRP.
The holidays are a busy time of year, which makes it easy to put things like exercising on the back burner. However, exercising is essential for keeping inflammation at bay. Studies have shown workouts such as yoga and tai chi are powerful inflammation calmers, so make sure you're adding some movement to your days.
In a season of giving, remember to still make yourself a priority. Not only can you not be your full, generous self if you are burnt out, but stress has been implicated in many different health cases, including increased inflammation. According to research, just 12 minutes of meditation every day can decrease inflammation.
The colder months are also a great time to practice the Danish concept of hygge, which is basically the art of cozy.
6. Pass on the junk food.
Deep fried chips and crunchy snacks are staples at holiday parties. While they may seem like a healthier choice, they can fuel inflammation if they are coated in inflammatory oils like canola or soybean.
Instead, focus on easy real foods for snacks like raw, soaked, or lightly toasted nuts and seeds; hummus and vegetables; nut cheese; almond flour crackers; cassava flour tortilla chips, salsa; guacamole; and holiday fat bombs.
7. Share the healthy love.
Use holiday gatherings with friends and family to share some healthy foods that you enjoy and that your loved ones wouldn't otherwise normally try. I'm planning to bring some plant-based keto recipes to show my family just how delicious clean eating can be.
This spice is known in the wellness world for its next-level inflammation-fighting abilities. Curcumin is the compound found in turmeric that is responsible for its ability to down-regulate inflammation. Cooking with turmeric is a great way to incorporate this into your wellness routine, but taking a supplement around the holidays can be more effective when needing to really harness its anti-inflammatory capabilities. Look for a supplement, at a dose of 10 grams per day, that contains piperine as well since it can increase the bioavailability of curcumin by 2,000 percent.
Your gut is the foundation of your health. And when your gut lining is compromised, it can lead to chronic inflammation. Probiotics work to bring good bacteria back into your microbiome to heal your gut. Arming yourself with probiotics during the holiday season can ensure your gut is always getting the proper nutrients it needs to thrive and fight inflammation. Make sure to get a probiotic at a dosage of at least 10 billion CFUs that has Lactobacillus and Bifidobacterium strains, which have been shown to decrease inflammation.
Believe it or not, you can work on decreasing chronic inflammation over the holidays—and still enjoy them fully. It's all about balancing indulgence with healthy choices and trying to incorporate inflammation-fighting rituals into your day wherever you can. Your body will thank you.