Rules To Live By When Hanging Art In Your Home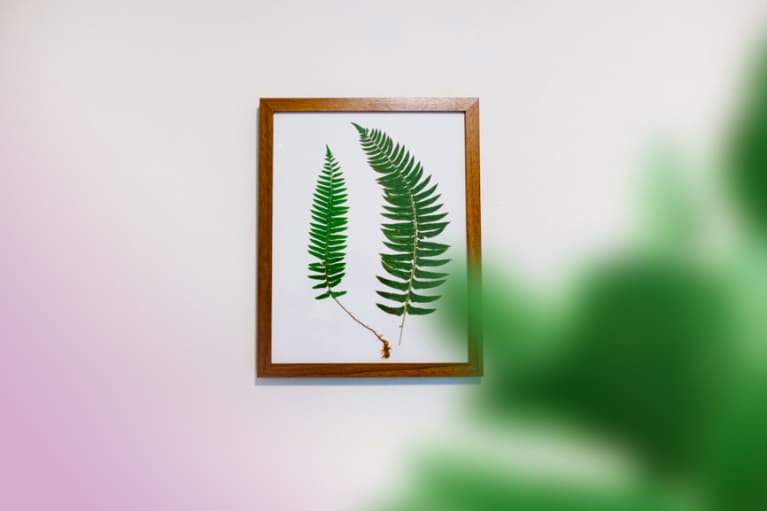 Decorating a space is about more than hanging a photo on a wall and calling it a day. As an art fair director, over the years I've realized that honing your home décor means bringing your environment to life using light, color, texture, furniture, plants, and, yes, plenty of art. With these elements, you can transform any space—big or small—into a place where you feel inspired and at peace. Here are my pro tips for transforming your space into your own private gallery without spending a fortune.
1. Think of art as an accessory, not the start of the show.
Art doesn't always need to be the focal point of a blank wall; it can also be used as an accessory. Think about breaking up your wall of books with a small framed artwork, a vase, or a small sculpture every now and then. Mix them up with some lush plants and you're well on your way to a beautiful display. Consider turning the accessories on your dresser into a sculpture themselves by displaying them on a beautiful little stand or bowl. And don't forget your bathroom walls—they deserve art, too! The bathroom is a great place to install a truly eclectic gallery wall or display some of your funkiest pieces. You'll notice your pieces of art become so much more enjoyable when you see them in a new light.
2. Invest in a statement piece.
Sometimes a single piece of artwork is all you need to liven up a room. If you are starting out your collection and have the wall space, invest in a large statement abstract or photograph. These can add depth to your room, anchor it, and make it seem larger. With big pieces, it's important that you absolutely love them, since they will dominate your space. It should be a piece that you can see yourself interacting with every day. Start out by assessing the color scheme in the room you are seeking to decorate.
Think about whether you want to go monochromatic or opt for a bolder, more colorful piece. Once you have determined the general color scheme, I recommend deciding on the style of work, such as abstract or more realist. If you want to play it safe, I suggest choosing an abstract piece; I find you can live longer with abstract, as they're more decorative and can be read as flashes of color on a wall. Plus, there are so many different ways to interpret them. Just make sure to measure your wall carefully so when you hang the piece, there is enough wall space surrounding the work so it doesn't look crowded.
3. Rotate your collection.
Most visitors I come across buy a piece of art because they truly love it. After all, a collection is a very personal statement, and it's something to be proud of. However, not all of the works you adore need to be displayed at the same time. I am constantly changing my collection around based on how I feel and what I want to focus on in my life in that moment. Decluttering your walls to focus on statement pieces will instantly make your space appear more spacious too. I just acquired the limited edition print that my friend and artist Cary Hulbert created for an upcoming art fair I'm hosting, and I'm planning to rehang it as an anchor piece in my living room as a reminder of the special occasion. I also like to rotate my art according to the seasons. I'll keep it bright in spring, airy in summer, dreamy in fall, and thoughtful in winter.
4. Hang smaller pieces as part of a larger accent wall.
If you already own smaller two-dimensional artworks, like paintings, photographs, or prints, I always recommend hanging them salon-style. Use one larger piece to center your wall and install your other pieces around it. I like concentrating on one wall and keeping the rest of the room airy and blank, especially if your rooms are tiny. You can tie the pieces together by using the same type of frame or keeping it monochromatic. Make sure you leave at least 2 inches between each piece so it doesn't feel too crowded.
5. Remember that lighting is everything.
I find that this fact is often overlooked, but it's so important! Proper lighting can highlight the intricacies of your artwork, as well as make your space appear bigger. Use a ceiling light fixture that illuminates your walls and smaller fixtures or floor lamps to brighten up dark corners or narrow spaces. Remember that heat and UV light can damage art over time, so avoid placing your most precious pieces in direct sunlight, and make sure to choose bulbs with a UV filter or LED bulbs. Personally, I like a mixture of ceiling lighting and floor lighting to create an evenly lit wall, as opposed to directing light at each piece of art.
Eager for some more home inspo? Check out the simple formula that makes this home magazine-ready, and peek inside an Insta-famous desert oasis that will make you want to redo your entire space.