How To Declutter Every Room In Your Home, According To A Professional Organizer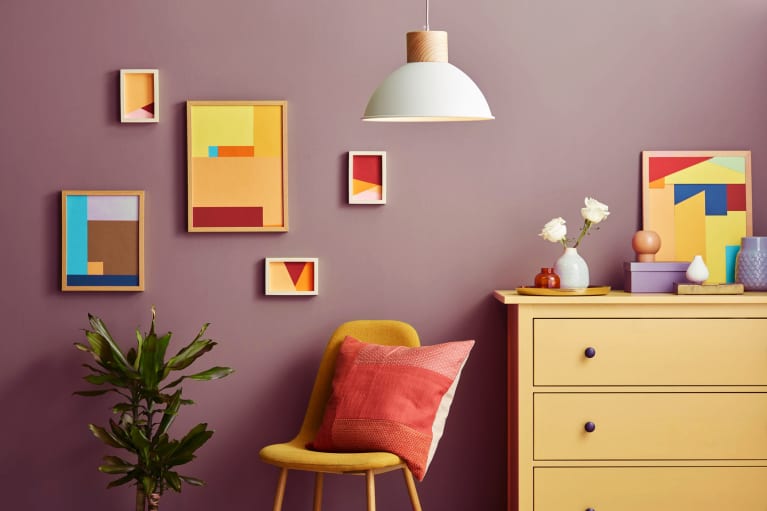 Purge alert! There are plenty of reasons the declutter bug can strike—all of a sudden your junk drawer sends you into a frenzy, your horoscope tells you to clean up your act, or maybe you just binge-watched Tidying Up With Marie Kondo on Netflix—whatever the catalyst, take it as a clutter-free call to action and get started.
But where to begin? Most of us know the benefits of decluttering—it can make you less stressed, happier, and even emotionally healthier—it's the "how-to's" that can lead to declutter paralysis. Help! Here's an action plan for each room so you can declutter your home and stay on task:
The house's main artery can quickly turn into a dumping ground for discarded shoes and junk mail if you let it. It can also set the tone for your home, so it's a good place to get started. Do you really need more than one jacket or pair of shoes by the door? Donate or put away extras. Next, create a drop spot for daily essentials, like keys, sunglasses, or purses.
"Having a dedicated space for these items, whether it's an entryway table or a few hooks on the wall, will save you from searching for misplaced keys every morning," says professional organizer Elsa Elbert, founder of Composed Living.
Another rule of thumb: "To ensure this space stays clutter-free, take care of your mail before putting it down," says Elbert. That means immediately opening anything of importance and recycling any junk mail.
The living room gets a lot of use but doesn't always offer traditional storage—which is probably why remotes and blankets are always hanging around. "Keeping your living room surfaces clutter-free is essential for an inviting space, so containment is key," says Elbert, who suggests using baskets to house extra blankets, store magazines, or hide your little one's toys. "Decorative boxes are great for storing necessities like remotes, while a gorgeous tray works well on a coffee table to both display your favorite objects and make moving them out of the way easier," she adds. Here are some beautiful home storage tools professional organizers swear by.
Unlike the living room, which is lacking drawers and shelves, the kitchen is nothing but, which can turn it into a black hole of unused gadgets and gizmos. "Creating stations by grouping similar items together allows you to see everything you own and makes finding your cooking essentials a breeze," says Elbert, who suggests storing rarely used appliances in hard-to-reach cabinets and installing pullout drawers to maximize space in pantries and lower cabinets. Donate storage containers without matching lids, dishes you no longer use, and cookie cutters collecting dust to free up space.
You want to sleep in a sanctuary, not a tsunami of strewn clothes. Since an unmade bed can make the whole room feel messy, start there. Tackle your nightstand next, trash mystery chargers, toss dried-up pens, and put already-read books back on the shelf. Your M.O. going forward: "Put your clothes away immediately, whether it's clean laundry or your outfit at the end of the day," says Elbert. "By taking the time to put your things where they belong, you'll keep the space tidy—and you'll be less inclined to buy new items when you can't find what you need."
Reframe your closets. Whether they're for clothes, linens, or a utility closet, instead of looking at them as just a place to put stuff, see them as an organizing tool. That means hanging clothes by type (pants, shirts, fancy dresses), separating supplies by category (light bulbs, wrapping supplies), and organizing linens by kind (towels, sheet sets, blankets). "Limit yourself to two sets of sheets for each bed in your home and two towels for each person," suggests Elbert.
Going forward, keep your bedroom closet under control by doing a seasonal detox. "As the seasons change, so do your wardrobe needs. Take a few moments to eliminate anything that no longer fits, physically or stylistically, and move any out-of-season garments to the harder-to-reach parts of the closet," says Elbert.
While the bathroom isn't a room for obvious clutter, those vanity drawers and beauty cabinets can house some sneaky culprits. So what's your first step? "Go through all makeup, skin care, and hair products—only keep what you use," suggests Elbert. Next, eliminate expired medications and contain items by type (e.g., a bin for makeup, first-aid supplies, medications). Tip: "Don't take the mini toiletries from hotels or accept cosmetic samples from department stores unless you truly use them," says Elbert.
Need extra incentive to tackle your home office: Less clutter can boost productivity. Start by figuring out what you actually need on your desk. Keep only the stuff you use daily up top, and move secondary supplies (scissors, paper clips, rubber bands) to a drawer organizer. Those paper piles come next. "File any paperwork you must keep, or consider scanning your items to eliminate the paper clutter," says Elbert. "And get in the habit of clearing off your desk at the end of every day to keep clutter from accumulating."
Decluttering rules to live by.
Professional organizer Elsa Elbert shares her get-started declutter commandments:
Decluttering can be exhausting, both physically and emotionally. Set a goal of 30 minutes per day when getting started. If you're feeling really energized, set a goal of one room per day.
Write a list of the areas in your home you'd like to declutter, and go in order.
Start with a small project so you can quickly see the rewards of your hard work, and you'll be inspired to keep going!
Don't buy storage bins before you sort. Eliminating the things you no longer need can eliminate the need for extra storage solutions.
Create a donation station somewhere in your home--it can be a box in the garage or a bag tucked in a closet—and every time you come across an item that you no longer need, add it.