The Advice That Totally Changed How I'm Decluttering My Home For The Holidays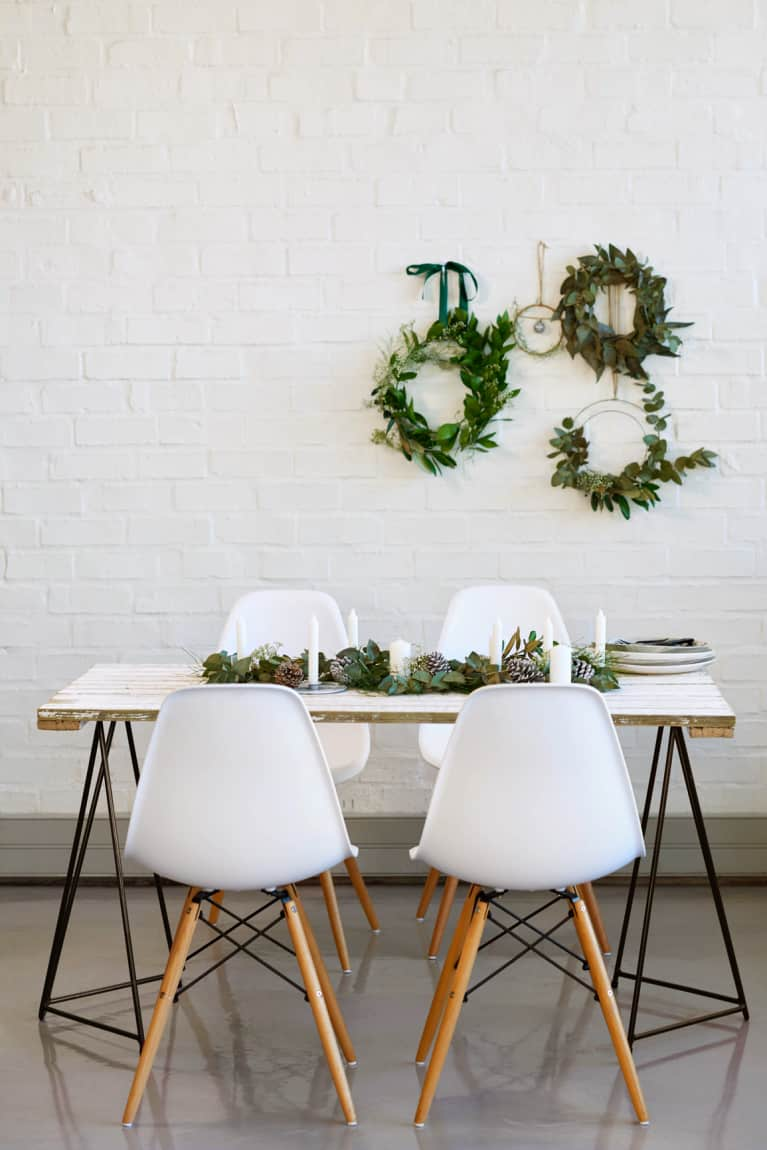 Our editors have independently chosen the products listed on this page. If you purchase something mentioned in this article, we may
earn a small commission
.
'Tis the season—for family gatherings, gift-buying, and holiday decorating. Depending on your stress level, preparedness, and mindset, such things can be fun opportunities to get creative or dreaded chores. They all take thought, organization, and planning, which can get really overwhelming really quickly—especially if you are a clutter bug.
Do you, for example, have boxes upon boxes of Christmas ornaments dating back to childhood waiting somewhere in the attic to be found for trimming the tree? Or unopened holiday hostess gifts you received last year still waiting to be re-gifted, donated, or stored out of respect for the giver?
I certainly have dealt with excess clutter around the holidays, and I know how debilitating it can make this time of year feel. I've found that maintaining an attitude of gratitude helps. The heart of the holidays is about family, generosity, and love. If you return to these priorities as you work your way through your to-do list, you should breathe a bit easier and complete your tasks with more joy and ease.
This year, for some practical advice on how to help me do this, I turned to the queen of happiness herself, Gretchen Rubin, bestselling author and host of the Happier podcast.
"Clearing clutter is a big challenge. One reason is that the process requires us to make taxing choices about what to keep, what to discard, and why," Rubin advises in her forthcoming book, Outer Order, Inner Calm: Declutter & Organize to Make Room for Happiness.
Rather than become short-tempered, flustered, and/or emotionally drained, realize that while challenging, "Once we've made the key choices about the fate of our possessions, we can begin to establish order. Creating order gives a disproportionate boost of energy and cheer," Rubin writes. Here are some of Rubin's tips that I've found most helpful this holiday.
Give yourself enough time to prepare for upcoming festivities, so you don't feel pressure. Things take longer than you might anticipate, so put things like cleaning the guest room, stocking up on groceries, getting out your step ladder, and retrieving ornaments on your calendar.
Don't let planning spiral out of control. Ask yourself what the essence of the holiday means to you. If having a particular culinary dish or watching Miracle on 34th Street is part of family tradition, as long as you execute such customs, don't worry about other, less important tasks. This New Year's Eve, for example, which is also my husband's birthday, rather than feel pressured to have a double-celebration party at home, I've made dining reservations at a favorite restaurant and invited immediate family to share ice cream birthday cake at our home afterward.
Your home need not look like the cover of a magazine to look dressed for the holidays. Clear space for the tree, organize your ornaments, and perhaps choose a color theme. Making one area or element beautiful, such as the fireplace mantel or Christmas tree, can change the entire atmosphere. This year, I plan to bring the outdoors in with a touch of pine and decorated foliage, adding sparkle with holiday string lights and mercury candles. We live by the beach, so there will also be plenty of seashells, to personalize the theme.
Invoking amusement in holiday preparations is important too. While trimming the tree, for example, make hot cocoa and put on holiday tunes in the background. Perhaps everyone wears their ugly Christmas sweaters.
If you keep track of what you're spending, you're less likely to impulse buy during the holidays. Paying with cash rather than credit card also helps, as it hurts to let cash go, says Rubin. According to financial expert Brianna Firestone, you also need to identify your values around gifting, decide on an intention for your shopping, and set the right budget (and "kickback" budget) before you even head out to a store.
The extra efforts taken to create order within one's home shouldn't just cease after the holidays do. In 2019, I'm resolving to practice what I've preached here, because I know the benefits will extend beyond myself, reaching my entire family and circle of friends.