This Is The Best Way To Declutter Your Beauty Cabinet
Contributing Wellness & Beauty Editor
By Lindsay Kellner
Contributing Wellness & Beauty Editor
Lindsay is a freelance writer and certified yoga instructor based in Brooklyn, NY. She holds a journalism and psychology degree from New York University. Kellner is the co-author of "The Spirit Almanac: A Modern Guide to Ancient Self Care," with mbg Sustainability Editor Emma Loewe.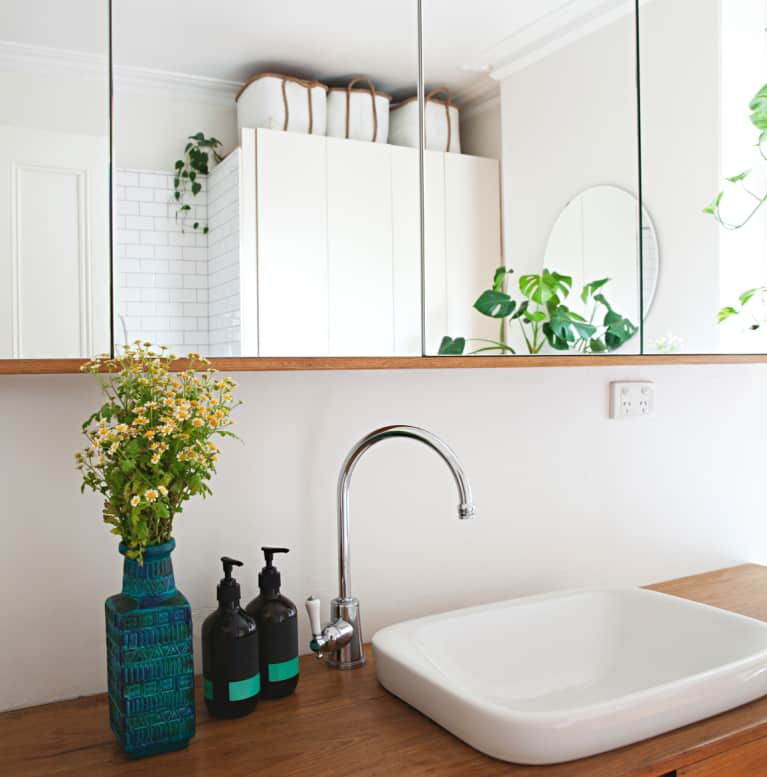 If you love product, you may quickly find you have too much of it. Where was that toner? Am I out of those masks? To get the most out of your products, you need to know where they are and be able to access them easily. Organization, it turns out, is an essential tool in your beauty regimen. Here's how to declutter your cabinets, so that all your favorite products are always within reach. Here's exactly how to do it:
1. Take every single product out of the cabinet(s).
Put them all on the floor where you can see everything. Wipe down your cabinet and, if you're feeling it, go ahead and smudge it with sage. Welcome to your new beginning. Seeing something restored to its original state can lead to new ideas, organizations, and desires when it comes to how you feel about your products.
2. Declutter your products (in three rounds).
Now that you've wiped your slate clean, it's time to roll up your sleeves. This is the time-consuming part—product review. To make it easier, start by chucking anything that's expired or set to expire soon. Make sure you follow proper recycling code, and/or reuse glass bottles and jars whenever you can. They make great dry goods storage and bud vases.
For the next pass, ask yourself how much you use the product. Set aside everything that's used daily or weekly. Then, go through what's left. Will someone else get better use from it? Is it still right for your skin and the season? Do you really like the product? If you haven't used it much, what are the chances that you will? It's OK if you spent money on it and no longer like it. Think of this as information to inform your next purchases. Just be honest here.
For the last pass, see how much of your product is left. If it's almost out, think about whether you can downsize the remaining into another container (see above regarding container repurposing) or if it makes sense to toss it.
3. Consider alternative storage.
Now that you've whittled down your collection, it's time to find each one a proper home. Keep the ones you use daily and weekly set aside—those will go into your medicine cabinet. If you can't bear to separate from a product, know you'll use it only on special occasions, or want to keep it for another reason, invest in storage outside of your medicine cabinet. Muji has some excellent inexpensive modular storage options in varying sizes, many of which are stackable.
4. Choose display products and storage.
This is also the perfect opportunity to assess whether a product belongs where you've been keeping it. It sounds silly or obvious, but it might make more sense to store your blow dryer in your bedroom, for example, than your bathroom. Or perhaps you can keep a glass jar full of lip color on your dresser rather than in the medicine cabinet. Get creative and break the rules with storage and display—anything goes! Using trays, decorative candle jars, ceramic bowls, and baskets are other beautiful, functional ways to organize products outside of the cabinet.
5. Wipe down your products.
Taking a damp cloth, wipe down all the remaining products before placing them. There's nothing worse than rediscovering your favorite cleanser during a cabinet cleanse only to reach out and realize it's sticky. Decluttering goes beyond making your products look better—though that's a bonus. It's to make sure they're both visible and appealing for you to use.
6. Add products back into your cabinet.
Taking the products you use daily, add them back into your cabinet. You can do this in a number of ways. Try organizing them in clusters by how you use them (not what they are) so your routine is simplified. Or group them by stage "cleanse," "treat," etc. Then, style the remaining product in your home. Feel free to add style elements like empty glass candle jars to the cabinet, too, if that brings you joy.
This system is meant to be repeated. If you don't get rid of very much the first time, try it again in a few months for a tune-up. Every time you do it, you'll learn a little more about your preferences, what works for your skin, and where you could save a little money.
Love decluttering? Here's the best decluttering advice we've heard in a long time.