How To Cleanse Your Home After A Breakup: A Pro Declutterer Explains
mbg Contributor
By Tracy McCubbin
mbg Contributor
Tracy McCubbin is a decluttering and organizational expert who has spent the last decade decluttering over 1,200 homes around the country. She has a bachelor's from the University of California, Santa Barbara, and most recently authored Making Space, Clutter Free: The Last Decluttering Book You'll Ever Need.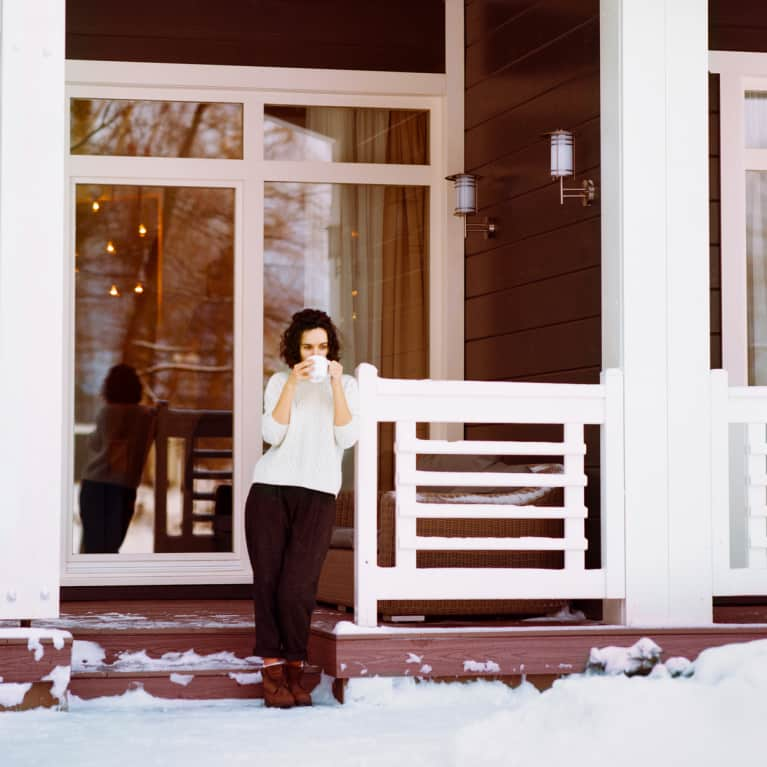 On my sink, there is a toothbrush in the cup that's not mine. It was left by the man I was dating for the past year. He lives on the other side of the country and, as much as we tried, the logistics got to be more than we could overcome. Yet I can't bring myself to toss it.
This is not normal for me. For the last 11 years, I have been a professional declutterer. I help people let go of the stuff they no longer need, and I rarely have trouble purging my own. But this toothbrush is tough. I was staring at it the other night and kept asking myself, "Why are you keeping it? To remind yourself of what was? Just throw it out." And then I said out loud, "What if he comes back? He'll need his toothbrush." Then I realized I was hanging on to the what-if. The fantasy of "If he comes back." Not the reality of "He can't give me the kind of relationship I want."
We hang onto stuff for all kinds of reasons, and most of the time they're emotional, not practical. When it comes to a breakup, we are often pushed into a situation in which we have to deal with sorting, packing, keeping, and rejecting a tremendous amount of stuff from a very emotional place. Which is what differentiates breakup decluttering from grief decluttering. We find ourselves having to let go of things while we're still in the throes of all the emotions, and the result can be, well, messy.
How to declutter like a pro after a breakup.
I was helping a client move out of the home she had shared for many years with her soon-to-be ex-husband, and we were tagging the furniture with different colored Post-its. MINE, HIS, and DONATE. As she kept tagging items MINE, I kept asking her, "Do you really want to take this with you? Will you really use it in your new home?" To which she replied, "Oh, I'll use it if kills me." She was revenge packing.
When the movers were unpacking the truck and bringing the furniture, piece by piece, from her old life into her new life, her face started to fall. Later that day, we went to a furniture store to buy her a bed and nightstands. In her state, she told the story of the divorce to the salesman. He nodded his head in commiseration and said, "When I broke up with my ex, I walked out the door with my clothes and toothbrush. I didn't want anything. He could have it all."
She asked, "Really? Do you miss anything?"
"Not a thing. If I wanted to be reminded of him, I never would have left."
And if he comes back, he'll get a new toothbrush.
Here are my seven top tips for decluttering after a breakup:
Keep no more than three items of your ex's clothing, and put them away. Don't sleep with them or cuddle them while you watch TV. After a month, you'll look at them with more perspective, and they might get turned into rags.
Put all the photos in a box and put the box on a high shelf. You don't have to throw them all out now, but get them off your fridge!
Consider selling any valuable jewelry you were given. The rest can go to any kid you know for dress-up.
Only keep artwork or decorative objects you bought together if you can display them and not be reminded of the relationship. If it feels like someone is sticking you in the chest with a fork every time you look at it, sell it or loan it to a friend for a few years until it's lost its charge.
Purge the intimate items. Towels you shared, sheets you slept on together. Place mats you ate on every night. Give yourself a fresh start and donate the old ones to an animal shelter.
Move the furniture around. Get new throw pillows. Do something to remind your brain from the moment you walk in the door: This is NOW. That was THEN.
Do something nice for your space to show it some love. If you have some empty shelves where someone else's books used to be, arrange yours to fill the space. Have you had your eye on a vase in a shop down the street? This is the moment. Tell your space: I'm still here, and I value you.