This Quick Ritual Will Illuminate How To Boost Your Homes Design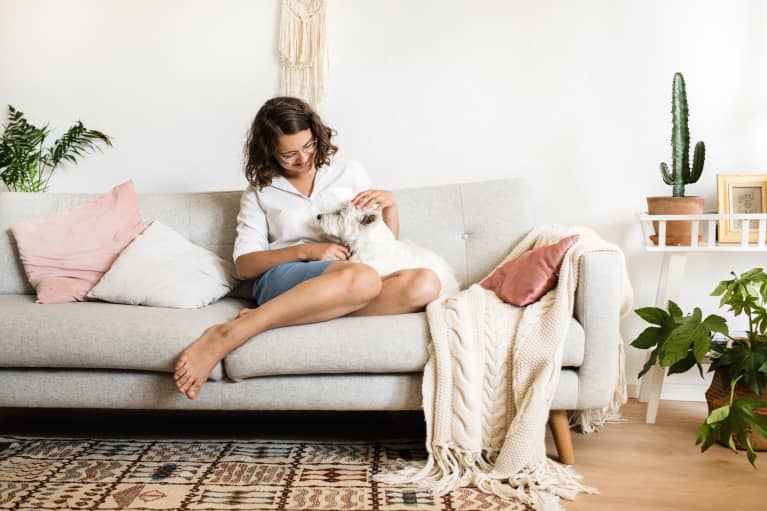 Months and years can pass before we reassess whether our surroundings are still reflecting and supporting us. So every once in a while, it's worth scheduling a time to look at your home with a more critical eye.
You take care of your home, and it should take care of you right back! According to Elana Kilkenny, an intuitive counselor and sacred space designer, a home that promotes self-care is one that is a source of comfort, calm, and support through all of life—the ups and the downs.
"Sometimes it's about highlighting the really beautiful stuff about your home, and sometimes it's making space to do what you're avoiding," Kilkenny tells mbg. So making your space more comforting and supportive could look like carving out a meditation space or adding more seating for gatherings with friends, but it could also be designating a place to pay those bills you've been avoiding.
Sanctuary means something different for everyone. To get clear on what it looks like for you, here's Kilkenny's step-by-step routine for being an explorer in your own space.
A home tour ritual to help you decide on your next redesign.
Pick and time when you're not rushing—maybe it's when you're coming home from work—and take a moment to yourself outside of your front door. So often, we rush into our homes without thinking about it, but really notice your entrance this time around.
Before you walk inside, take a deep breath and set the intention: "I'm going to see my home through new eyes." Go in as an observer. Adopt the mentality of curiosity, and turn down judgment.
Once inside, navigate the space using a different route than you usually do. Go to different rooms first, just to bring more consciousness to it.
As you go room by room, start noticing what you are drawn to. What are you irritated by? What have you not even really seen or noticed before? Does everything still support you, or does some of it speak to a different time?
Take some notes as you navigate your space. She recommends using paper and pen since it's so easy to get distracted if you're using a phone.
End the ritual by sitting down and taking a final look around. See what calls out to you. Often, if you really get quiet, something will come into your head that you want to change. If it's an action item, carve out some time to do it.
The idea here is that once you find the core of your dis-ease, you can start thinking about how to overcome it. Your makeover doesn't have to be a massive headache, either. Minimizing discomfort at home could be as simple as rearranging furniture, hanging new art, decluttering, or getting a new lighting fixture.
No matter how trivial an action item may seem, remember that a little mindful TLC can go a long way in creating a space that supports your dreams. "It's the idea of 'if you build it they will come,'" as Kilkenny puts it. "If you create space for something, you can live it."