How To Create A Vacation Vibe At Home: 5 Fun Ideas For Quarantine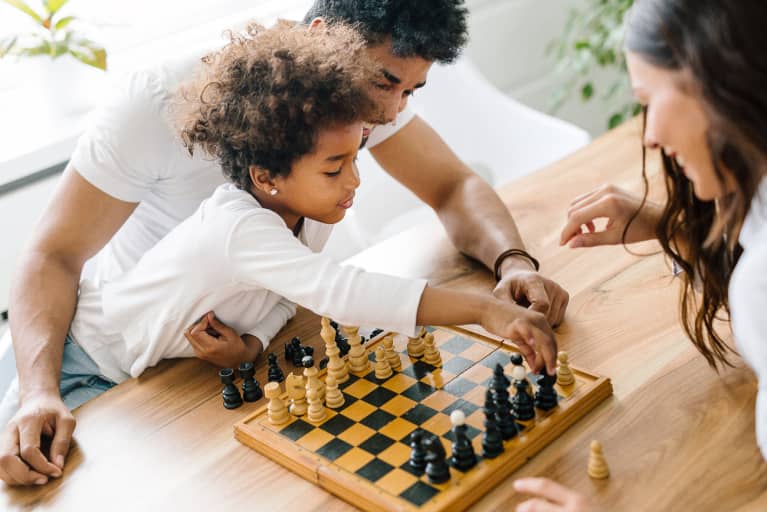 Our editors have independently chosen the products listed on this page. If you purchase something mentioned in this article, we may
earn a small commission
.
There's a decent chance that the current situation has put a hold on any spring or summer travel you might have planned. And while it's for the best—for your own health, as well as the community—it might be upsetting to put aside a much-needed break. Plus, since many of us are working from home, the lines between office life and personal life are increasingly blurred, making a proper break from work duties seem like a thing of the past.
Here's the thing: We still need to find enjoyment now, even if said enjoyment looks vastly different. And we still need breaks from work; carving time out for downtime is essential for your mental health and even productivity when you go back to work. So even if your vacation has been postponed, here are several ways to keep things fun around the house—for you, your partner, or family.
Half the fun of traveling is trying the new food, no? "Recreate a favorite meal from a special vacation," says Carley Schweet, author of Holistic Self-Care Guided Journal. "Bonus points if you have old pictures to look at from your time away."
Pull up those old photos and let them jog your memory: Was it a pasta dish in Italy? A taco truck masterpiece in L.A.? Do a little Googling and see if you can find a near-match recipe (if the place is famous enough, you just might be able to find the real deal). Then try your best at making it in your kitchen. Of course, you may not have every single, unique ingredient, but you just might be able to come close.
Go to the theater or a show.
One of the more lovely things to come out of quarantine is the plethora of virtual shows, concerts, musicals, and ballets that we can stream. Regularly visiting events used to be quite costly—or just not available to you based on where you lived. Not to mention live events used to be a big draw for visiting new locations, if not the entire reason for going anyway (music festivals, anyone?). But now you can do it in the comfort of your home. Sure, little tops live theater or music, but you can recreate elements indoors.
For starters: Set a time and date in advance, like it would be if you were attending in person, and try your best to make curtain call. Then get ready for it in the same way: If you're streaming a concert, put on your best band T and bold lip. If you're watching a ballet, consider tossing on a dressier item you've tucked away for the time being. (Or don't; sweatpants and leggings are great.)
Then schedule fun activities around it: Would you normally get a round of cocktails before a concert? Do that before you start streaming. Would you have a fancy dinner? Whip up your best meal. The bottom line is to try to make the occasion feel as special as possible—not like you're just plopping down on a sofa and turning on Netflix.
We've talked a bit here about beauty in the age of COVID-19—specifically how it's a means of self-care, how it can make you feel better, or how it's also OK if you're not feeling your best right now. All the ways you can feel about beauty routines are valid. We've also given a few ideas for DIY beauty treats you can make from stuff you likely already have around the house (see face masks and hair masks).
So maybe you have the beauty treatments down, but just because you slather on a mask doesn't mean you've instantly transported yourself to a relaxing day spa or resort. One of the most important parts of visiting a spa is the setting. If we got the same sensorial experience from simply applying a sheet mask at home, spas wouldn't be a thing; we love spas because they create a special, stress-free atmosphere.
"One of the most important things that we can do in a stressful time is to be sure that our homes are a comfortable, calm place," said Amelia Hill, spa director at SpaTerre. And according to Hill, some of the most important ways to cultivate a spa-like space are actually many of things we recommend here at mbg anyway.
"Keep your space clean and free of clutter—an airy open feel that will translate to a sense of calm. Care for and protect your sanctuary," she says about creating the space. From there, bring in plants to your designated spa area—even if it's just a temporary move for the day. Eucalyptus, in particular, can inspire a spa-like scent, but just plant life, in general, is key. Then create your spa resting area: Bring in a comfortable lounging chair, pillows, blanket, and tea. And of course, leave the phone elsewhere: "Unplug and shut down," says Hill. "Unplug anything you're not using. Save energy—literally and spiritually."
Visit the stuffed animal safari.
If you have young kids, who also happen to be stuffed animal or toy lovers, create an animal sanctuary or safari in your home. Have them gather up their animals and start identifying the geographical areas where each animal lives—where does the monkey belong? Where does the bear? The penguin? (Also: Feel free to create imaginary animals that live wherever your heart desires.) You can start carving zones in your home for each: The sofa's the Arctic, the rug's the ocean, the kitchen's a dense forest; you get the idea. That way you can travel from spot to spot visiting the different creatures. Bring along your phone so you can Google facts about the different geographical areas and animals, so it can be a learning experience too.
Do you miss going out to bars and restaurants while on dates with your partner? Recreate your favorite haunts in various rooms or areas of your home, complete with venue-inspired snacks and signature cocktails or mocktails. Then travel your home tasting and trying various bites and sips.
Or try all-new ones: Google the hot spots of the city you want to visit, look up their cocktail menu, and try to recreate a drink from it. (Another hack: Don't be afraid to DM bars on Instagram for recipes and tips—they may not give away all their secrets, but they can point you in the right direction if you're stumped on a specific drink.) Then, when we're allowed to travel again, see if your homemade version matched up.
Also, if possible given your home or apartment setup, try getting ready for the date in different areas of the home and then "meet" at the first location. "It reminds you that you are two separate people who have their own lives and interests," Schweet says. "But then when you join back together, it recreates that feeling of a proper date night." It's a subtle shift but just might make the difference on your staycation.