Mother's Day Making You Blue? Here's A Therapist's Advice On Self-Care
Licensed Clinical Social Worker
By Alison Stone, LCSW
Licensed Clinical Social Worker
Alison Stone, LCSW is an integrative psychotherapist based in New York City. She received her bachelor's in education and sociology from Emory University, and her master's in social work from the New York University Silver School of Social Work. Stone is also a health coach, certified through the Institute for Integrative Nutrition.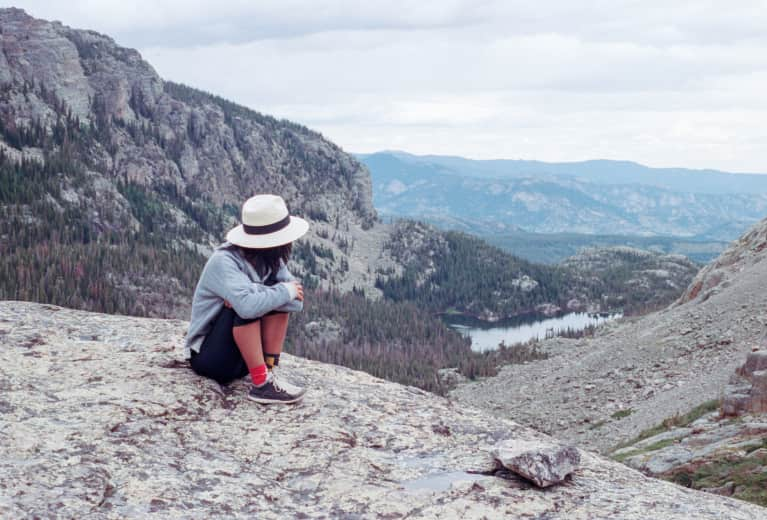 The arrival of May means fragrant blossoms, blue skies, perfect 75-degree days, and the annual celebration of motherhood. While it can be an exciting day for kids, moms, grandmas, aunts—the list goes on—for some people, Mother's Day fills them with dread. Maybe you've lost your mother, or perhaps your relationship with your mom is a rocky one. Maybe you're struggling to conceive, or you've had a miscarriage. Whatever the case, there's no question that there's a whole group of people for whom Mother's Day is endlessly difficult.
If this sounds like you, it's important to remember that you're not alone and that there are things you can do to make the day a little easier for you. Here are four important things to keep in mind.
If you know Mother's Day will be difficult for you, make sure you bookend the weekend with self-care. Do something enjoyable before, on the day, and afterward if necessary. A lot of the time, people struggle not just with painful emotions but with feelings of guilt or shame around having those uncomfortable feelings. If possible, be extra gentle and kind to yourself. Take that yoga class you keep telling yourself you don't have time for, or splurge on an extra-relaxing massage.
The "thing" that makes Mother's Day easier is different for everyone. Maybe one person will find solace in a hike with close friends, and someone else would rather curl up on their couch with a cup of tea and a good book. The one thing I encourage people to avoid across the board, though, is social media. Social media tends to compound our insecurities, so it may be helpful to take that extra step of protecting yourself during a time when you are already feeling vulnerable—there's a slim chance that seeing endless happy photos of friends and family members with their moms will make you feel better, but it's not likely.
Celebrating Mother's Day when it's tough.
Can it help to celebrate the moms in your life even when it's a day that's historically hard for you? If that's what makes you feel good, yes. If doing that will only make the pain worse, don't. I don't think I would ever tell someone who is grieving a loss that they have to honor someone else's mother just because it's Mother's Day. There are lots of opportunities other than Mother's Day to show love and gratitude for the women in your life if that day feels particularly raw for you. So trust your instincts, and go easy on yourself.
Many people have been socialized to believe that emotions that indicate vulnerability are unacceptable. So we end up avoiding, pushing down, or shoving aside anything that resembles them. Sometimes, acknowledging that we are in pain and giving those feelings some attention and some compassion can be healing.
Additionally, there's a difference between distracting yourself and dismissing your emotions. Acknowledging the emotion and giving yourself permission to experience that emotion might allow some room for healthy distraction afterward, as opposed to denying that you are feeling anything in the first place.
If nothing else, remember this: It's rare that being true to yourself and what you're really feeling yields a negative outcome. So be gentle with yourself, and do your best to avoid judging yourself. The day will pass and come again next year, so spend it in a way that feels most comfortable and true for you.
Does this resonate with you? Here's a guide for surviving Mother's Day without your mother.