This Sweet Scented Adaptogen Is Like A Dose Of Instant Calm
mbg Contributor
By Lily Diamond
mbg Contributor
Lily is an editor and wellness writer raised on Maui and graduated from Yale University. Her first cookbook, Kale & Caramel: Recipes for Body, Heart, and Table, is named by The New York Times as one of the best cookbooks this spring, and The Independent called it one of the top vegetarian cookbooks of 2017.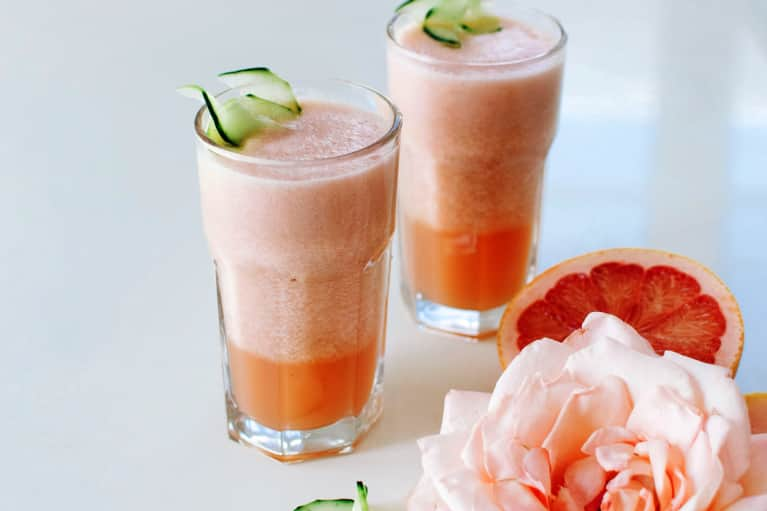 Our editors have independently chosen the products listed on this page. If you purchase something mentioned in this article, we may
earn a small commission
.
The scent of rose has been used for centuries in perfume and food, its popularity buoyed by the belief that rose essential oil can rejuvenate the psyche and the body, balance hormones, and cure skin conditions. These healing qualities are born out in research, where rose is revealed to be an antioxidant and antiseptic.
Moreover, Iran's Journal of Basic Medical Sciences asserts, "Rose oil heals depression, grief, nervous stress and tension." A study cited by the National Institutes of Health reports that subjects who applied rose oil were, "more calm, more relaxed and less alert than subjects in the control group." These properties form the foundation of rose's adaptogenic function.
Rose's adaptogenic properties.
An adaptogen is defined as a product that exerts a stabilizing effect on the body's internal ecosystem. For our purposes, let's expand that ecosystem from the physiological to the psychological: Rose delivers balancing effects to both the body and the mind, whether you're suffering from heartbreak or the twitterpated elation of romance.
Where the nervous system and the body are suffering from overstimulation (romantic, erotic, or otherwise), rose's relaxant effects bring calm. And where the psyche and heart are dulled by the tension and disappointment of heartache, grief, and loss, those same relaxant effects yield nurturing and soothing.
Tapping into these adaptogenic properties is a favorite pastime. Here are a few favorite rituals for morning, day, and night:
Travel-size spray bottles of rose water (or a few drops of rose essential oil mixed into distilled water) make excellent companions—a few spritzes midday will instantly relax and lift spirits.
Keep a small bottle of rose essential oil by your bed, either pure or blended into a carrier oil (like sweet almond, jojoba, or raw sesame). As you lie in bed, rub a small amount of rose oil on your chest, over your heart, and at the nape of your neck. Close your eyes, take a few deep breaths, and begin to scan your body and mind: Take note of how each part of your body and mind feels. Notice aches, pains, and feelings of comfort and discomfort, annoyance, pleasure, and anxiety. As you perceive each, take a deep breath and allow the relaxing and stabilizing qualities of rose to bring ease to that specific challenge.
Repeat as often and as long as necessary, until your body and mind are in a state of relaxation.
Make this easy blended juice from Kale & Caramel: Recipes for Body, Heart, and Table morning, noon, or night (cocktail, perhaps?): It's packed with vitamin C and antioxidants from pink grapefruit, hydrating cucumber, and the heart-nurturing power of rose.
Pink Grapefruit Cucumber Rose Skin Quencher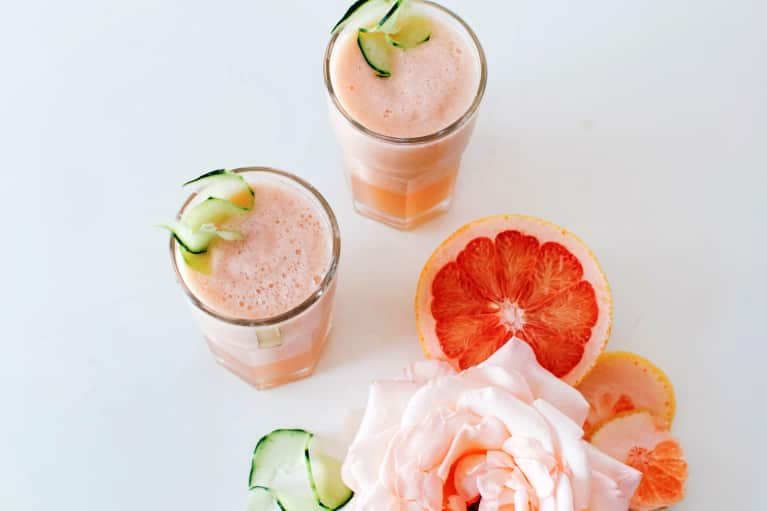 3 small pink grapefruits, or 2 large (or 1½ to 2 cups pink grapefruit juice)
5-inch length of cucumber, peeled and chopped (about 1 cup chopped)
¼ teaspoon rose water, or to taste
4 to 5 ice cubes
stevia or sweetener of choice, optional, to taste
Remove the skin, seeds, and membranes of the grapefruits (the membranes can be very bitter, so make sure to remove them as well as possible). You should have about 2 cups of peeled grapefruit sections.
Starting with the grapefruit, place the cucumber, rose water, ice, and stevia in a blender. Blend on high until fully incorporated. Taste, and add more rose water if desired. If it tastes slightly bitter (grapefruits may vary in their sweetness), you can add a few drops of stevia and blend to mix.
Pour. Ahhh.
Make it a cocktail: Add vodka, St. Germain, or gin to taste.