How To Cook Dinner With Local Veggies Tonight
mbg Editor-At-Large
By Olessa Pindak
mbg Editor-At-Large
Olessa Pindak is the editor-at-large at mindbodygreen. Formerly the executive editor at Prevention, she's worked at Condé Nast, Rodale, Martha Stewart Living Omnimedia, and more.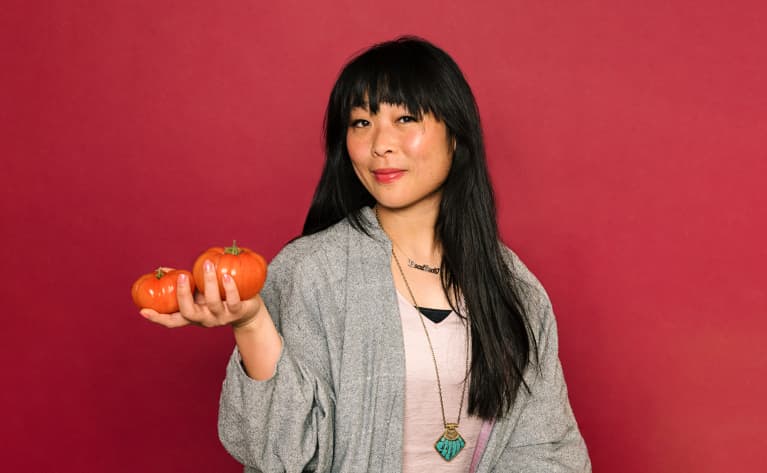 Love this? Want more? Stay up to date with the podcast by signing up for
our newsletter
. —The Editors
We know eating local is better, but it's not always easy. Should we really head to the farmers market, join a CSA, or is it better to just buy what we need at the local market?
There are often more questions than answers, which is why we were thrilled to have Wen-Jay Ying, the founder of Local Roots and local foods enthusiast, on the mindbodygreen podcast. She talks about why she became passionate about creating access to local food and how you can incorporate more local foods into your diet right away.
One of the best ways to experiment with local foods is through community-supported agriculture or CSA, said Wen-Jay. A traditional CSA model usually requires a six-month commitment in which the consumer picks up local vegetables at a specific location from local farmers. We discuss the pros and cons of joining a traditional CSA model, as well as the ins and outs of Local Roots, an alternative CSA model, which offers delivery or pick-up options, a variety of vegetables, and the option to pay by season, week, or day. No matter which model you opt for, Wen-Jay says her favorite part of being in a CSA is the community that surrounds local foods: the people, farmers, and culture.
When eating locally, however, you run the risk of getting bored with eating the same veggie that's in season, explains Wen-Jay. What do you do with a week's worth of beets? Here are Wen-Jay's tips for getting creative regardless of the ingredients you have:
1.
Spices and sauces are essential.
The great thing about cooking with fresh, local foods is that the taste is already the best around. The shorter distance food travels, the more nutrients and flavor, said Wen-Jay, so you're already ahead of the game. If you do end up with a ton of potatoes, for instance, she recommends prepping the veggies at the beginning of the week (roasting or boiling) and experimenting with different spices and sauces during the week to mix it up.
2.
The freezer is your friend.
3.
Use technology to your advantage.
If you're feeling less than inspired and are staring at a giant pile of the same kind of veggies, Wen-Jay recommends getting on Instagram and searching for specific ingredients. Say you have a batch of carrots, search #carrots and scroll through the search feed for meals or ways to prepare them that catch your eye.
Wen-Jay says her favorite part about cooking is it's really up to you—what tastes and textures does your body want, and what do you feel like making? She recommends ditching a plan from time to time and embracing improvised cooking. Check out what's in the fridge and close your eyes and think about the flavors you're craving.
No matter your budget or location, Wen-Jay's perspective on local food, food justice, and CSAs will inspire you to dig into your local food scene and find what works for you.