10 Meaningful Ways To Commemorate Juneteenth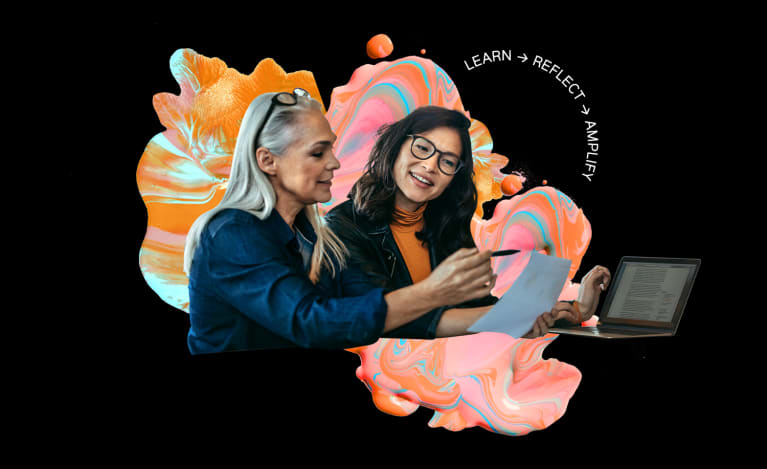 As protests and calls to anti-racist action continue to permeate cities and social feeds, Juneteenth is getting more attention than it has in the past. For many non-Black folks, this may even be the first year even really thinking about Juneteenth—a reality that itself suggests a need to better understand and honor Black history as a nation.
Juneteenth is the annual holiday celebrating the end of slavery in the United States. It marks the events of June 19, 1865 (June 19 being combined into "Juneteenth"), a full two months after the end of the Civil War and a whopping two years after the Emancipation Proclamation, when a Union general arrived in Galveston, Texas, to let the community there know that the war was over and that the enslaved people were now free.
Each year, it's often marked by events with speakers, picnics, and family celebrations. While this year things may look different because of COVID-19, that doesn't mean this 155th year will go without notice or celebrating. In fact, recent events mean Juneteenth is more important than ever.
"One thing about national holidays, they help educate people about what the story is," Texas Rep. Sheila Jackson Lee, who has been introducing legislation to make Juneteenth a federal holiday every year, said in a recent interview with Time. "Juneteenth legislation is a call for freedom, but it also reinforces the history of African Americans. We've fought for this country. We've made great strides, but we're still the victims of sharp disparities. Our neighborhoods reflect that. We've been denied the same opportunities for housing, access to health care, and, in 2020, [during] COVID-19, all of the glaring disparities are shown. Because of that, I think this is a time that we may find people who are desirous to understand the history, not necessarily only of African Americans, but the history of America."
Juneteenth is all about learning about America's history and looking toward how to create true freedom and equality for Black Americans. With that in mind, here are a handful of meaningful ways for anyone to celebrate and honor Juneteenth:
1.
Attend a local demonstration.
Consider marking Juneteenth by joining a local demonstration for racial justice. Many major cities have dedicated resources for tracking protests, or you can check in with local activist groups to see if they're leading any demonstrations. Social media, including Twitter and Facebook, can also be great places to find out about what's being planned around your city. Find out who the racial justice organizers, activists, and organizations are in your community, and follow them for updates.
Continued demonstrations are an important part of progress: one of the most famous civil rights protests, the Montgomery Bus Boycott, lasted 381 days. If you've never attended a racial justice demonstration, Juneteenth is a great day to get out on the streets, learn from local organizers, and support the people doing this work on the ground. (Just be sure to protest safely amid COVID-19.)
2.
Purchase from Black-owned businesses and restaurants.
Making the conscious choice to support Black-owned brands in your shopping habits is a simple way to support Black livelihoods.
Not sure where to start? There are many lists circulating of Black-owned brands, like this list of brands in the wellness space from mbg and this list of Black-owned restaurants in New York City. (You can probably look up similar lists for your city!) There's also an app called EatOkra that specifically lists Black-owned restaurants nationally.
Cynthia Daniels, an event strategist from Memphis, is also launching a virtual shopping hob called Juneteenth Shop Black, specifically highlighting 100 Black-owned businesses to support this Juneteeth.
3.
Volunteer for a local organization supporting Black needs.
Some local organizations that serve the Black community may be looking for volunteers again as states slowly reopen. Look up local groups in your area and see if you can volunteer your time and services to be a part of concrete change in your community. If they're not accepting volunteers, see if you can also make a donation.
4.
Consume Black media and entertainment.
Here's a great roundup of Black films on Netflix right now from Oprah magazine.
For some particularly topical options: The new film Miss Juneteenth will be released for on-demand streaming on the 19th, adding to the long list of films, plays, and television shows that showcase the Black experience in America and around the world. The sitcom Black-ish dedicated an entire episode to Juneteenth in its fourth season, and before that, the comedic drama Atlanta also did an episode focusing on Juneteenth.
5.
Amplify Black voices on social media.
Share and amplify the work of Black activists, educators, artists, and businesses on social media. mbg has rounded up lists on lists on lists of incredible Black thought leaders, Black food experts, and Black fitness professionals.
Social media has played an important role in this wave of the movement, as many racial justice educators have active Instagram presences. But beyond simply sharing anti-racism resources, amplify and support Black voices sharing messages of joy, celebration, and art.
If you're not Black yourself, take time to diversify your social media feeds and consider whether anything you're planning to post on Juneteenth really needs space on the feed on this day. Instead, make space for Black voices.
6.
Donate to a racial justice organization.
You may have donated to some organizations in the immediate aftermath of the death of George Floyd, and maybe you've even continued to donate—but if you haven't, Juneteenth is a great time to dip back into your wallet if you can afford to. Honor the day by financially supporting the cause via one of the many groups working to support Black people.
7.
Take a class on anti-racism from Black educators.
Particularly for non-Black folks, consider spending Juneteenth learning about Black history in America and about anti-racism more broadly. There are many Black educators who offer courses and resources. And make sure to pay them for their work!
8.
Educate yourself on Black history and culture, if you're not familiar.
All Americans should know and understand our nation's history, and Black history is an integral part of American history.
So pick up a book about Black history, race, and racism in America. Also consider reading works of literature by Black voices that aren't explicitly about race, like the ones on this reading list: "These books are phenomenal pieces of work that deserve to be read and reread simply because of that fact," explains writer Amari D. Pollard.
Institutions like museums and historical societies also have useful resources. For example, the Smithsonian's National Museum of African American History and Culture recently launched an online portal for discussions of race, racism, and identity called Talking About Race.
9.
Start a conversation in your community.
Speaking to your family and friends about racism and anti-Blackness may mean having hard conversations, but if a conversation is hard, that usually means it's worth having. Make space for the discussions that your immediate social network needs in whatever way you can.
One way to do this in an organized way? Start a book club focused on Black authors, which will facilitate conversations but also hold the members accountable for reading and engaging with the important works. Maybe plan a meeting for June 19 as a way to mark and honor Juneteenth with continued work.
Alternatively, there are plenty of internal conversations many of us need to have as well around anti-racism. Starting with internal work is important, and honoring the celebration of Juneteenth can include self-reflection in the form of reading, journaling, and sitting with difficult emotions.
10.
Make time for rest and joy.
Many Black educators have called attention to the importance of rest and restoration as an important part of activism and liberation. "As the black community continues to fight for our rights, our justice, our lives, we cannot forget that the revolution cannot happen with exhaustion," anti-racism activist Rachel Elizabeth Cargle wrote on Instagram.
Rest means a lot of different things for different people: Maybe it means spending time with loved ones (even virtually), indulging in some lavish self-care practices, or taking time for movement. Gail Parker, Ph.D., C-IAYT, has literally written the book on Restorative Yoga for Ethnic and Race-Based Stress and Trauma, and this restorative flow for healing racial trauma is a great introduction to the practice.
At heart, Juneteenth is a day of celebration. So don't forget to make space for joy.