6 Ways To Use Feng Shui This Season
Designer & Feng Shui Master
By Dana Claudat
Designer & Feng Shui Master
Dana Claudat is a modern Feng Shui Master and founder of The School Of Intention Feng Shui Certification Program. She holds a B.A. from Stanford University.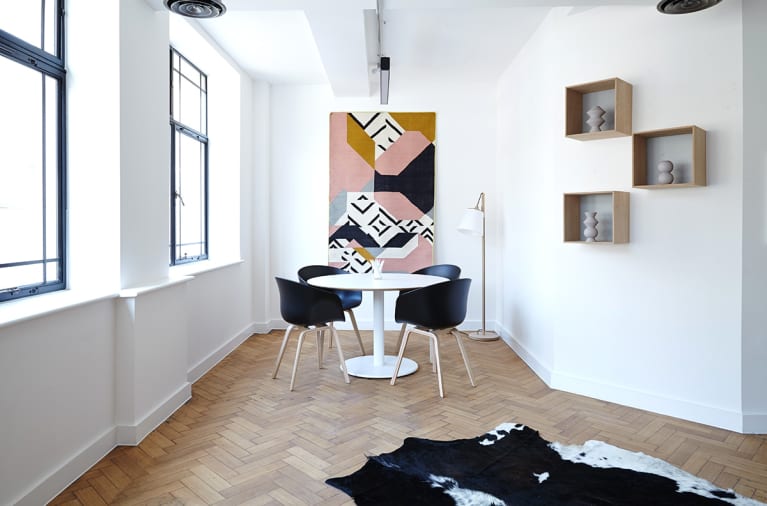 Every season brings its own unique joys. Fall, though, has particularly rich sensory associations—the Technicolor leaves, the first feelings of sweater weather, the pumpkin spice everything. It's a time to return to school, ease back into work, and prepare for the winter ahead.
In the nature-fueled ancient practice of feng shui, fall is also celebrated as the season of harvest. No matter where you live, the last few months of the year represent a time of collection—collecting the gifts that emerge from all the seeds we've already planted this year. During this time, creativity and connection are prized, and many of us are seeking new ways to stay grounded to Earth.
Feng shui can help us harness the energy of the season and gain momentum to finish the year on a high note. Here are a few ways to use principles from the ancient practice in and out of your home:
Under Chinese elemental theory, fall takes on the energy of metal, which represents refinement, minimalism, and efficiency. Bring forth these traits by decluttering your workspace down to the essentials that inspire you. Once you do that, reflect on the following questions concerning your creative process:
Can I work more smoothly?
What habits are not serving me, and what can I let go of?
What ideas or projects are not exciting me? Can I find a way to take them off my to-do list?
2. Create healthy boundaries.
Boundaries can also help us harness the productive energy of the metal season. Focus on creating healthy barriers that free you from needless drama and negativity. If you feel drained after summer, now is a good time to say no more often. Your intuition can let you know how to spend your time in a way that makes you feel joyful, energetic, strong, and radiant.
Now it's time to turn your attention to the kitchen. Root veggies are big this season, and they can help us stay connected to the earth beneath our feet. Enjoy the beets, carrots, yams, and radishes, and don't be afraid to add some spice to your life too. Anti-inflammatory spices like curry, turmeric, cinnamon, ginger, and even cayenne can help warm things as the weather cools off. Similarly, spicy and woodsy scents of aromatherapy—cedar, sandalwood, ginger, and the like—can help impart the rest of your home with grounded energy.
Full-spectrum light bulbs are a stunning way to bring more light to your home when it starts getting darker much earlier. Pay extra attention to the light on your desk or any place that you tend to sit down and do work.
5. Surround yourself with creativity.
How can you add more creative activity to your life? Starting a consistent drawing or journaling practice is always a great idea, as is learning a new skill. Can you finally learn to use all the features of your camera? Take a new dance class? Try an unfamiliar form of meditation or visualization? All forms of learning stretch us creatively and encourage us to find new ways to light up our minds every day.
6. Use love as your guide and celebrate all that you have accomplished.
The start of any season is a great time to extend yourself to spread more love. Use it as a chance to volunteer, connect with your family, cherish loved ones, reach out to old friends, or make a stranger's day. In doing so, you'll keep your own energy high and your purpose clear.
The new season is also a reminder to check in with yourself and celebrate all that you have accomplished. While this may seem counterintuitive if you haven't reached the finish line of your projects and goals, acknowledging the steps you're taking can keep you from losing steam halfway through. So celebrate anything that hasn't been celebrated yet, including milestones you've hit, personal wins, and even obstacles that have caused you to change course. Celebration is elevating, and it can help you get into a positive energetic flow when you're feeling unmotivated. The more we expect to see great things happen, the more they will appear.
Wondering how feng shui experts decorate their homes? Take a peek into the high-vibe essentials they keep in their bedrooms and living rooms.