How To Shape Your Natural Brows At Home During COVID-19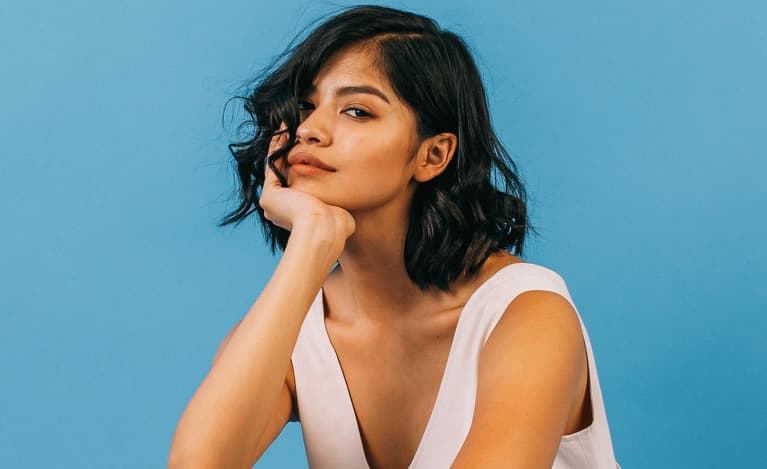 There are many beauty treatments and appointments we've had to put on hold for the time being: hair trims, color, manicures, waxing, derm consultations. Many of us have figured out how to make do with DIY versions—or have simply decided to let our beauty standards ease a bit until we can safely see our beauty specialists again in person.
Somewhere right in the middle of that Venn diagram of "becoming your expert" and "letting things go wild" is your brow maintenance. During quarantine, we recommend letting hairs fill in where they are able to regrow while doing maintenance where needed—allow brow expert Joey Healy to explain.
Use this time to let your brows grow in, but set expectations. 
For those who have been tweezing for years, perhaps now is the time to explore your current state of brows. Meaning: If you left them alone for four to up to 10 weeks, what do they look like? "When you regrow brows, you are exploring your maximum capacity of growth," Healy says, noting that specialists will often ask people to leave their brows alone for six weeks before their appointment to reach what we state is the "most clean starting point."
Then when we're all able to go about our business again, a brow specialist will be better able to make a shape that works best with your natural face shape.
However, Healy stresses: Set your expectations. "A lot of people are under the assumption that if they stop touching their brows then they are going to fully grow into these two giant caterpillars that they can do anything with. Most people are surprised to learn that their brows have real limitations of regrowth, especially if you've been shaping your brows for a long period of time," he says. "There is value in seeing what their maximum capacity is, but letting them regrow does not mean they are going to be back to the natural brows of your youth or they are not going to return to the natural brows you had before you started shaping them—do not get discouraged if there are areas that have not filled in the way you wanted them to."
Don't try to mimic a professional grooming; just do housekeeping.
We won't pretend, however, that it's easy to give up grooming entirely. If leaving your brows alone is simply not an option, Healy says that's totally fine. "It is good for people to do their brows at home but not to do too much," he says. Much like we've warned about trimming hair: You can always go back and take off more, but you can't add removed hairs. And if you really screw it up, there's unfortunately no salons to visit to help you fix it.
"Their job is not to mimic a professional shaping; their job is to bring their brows to the point where they look tidy and presentable," he says. This means just pluck stray hairs that you do not want to grow in (between the brows or too far low on the brow bone, for example), but don't attempt to reshape on your own.
"Remember, lots of people are still working from home and doing Zoom calls, so maintaining a professional appearance is important," he says. And always feel free to lean on brow pencils and gels to keep brows looking orderly.
If they're not perfect, it's OK.
Let's say you're trying to regrow, but still have spotty areas—or that they are growing in, quite wildly in fact. No matter where you fall on the brow spectrum, just know that we're all in the same beauty boat together. Not to mention, video calls aren't that high-def anyway: No one's going to see a few stray hairs or small gaps.