This "Minimalist Hiker" Has Walked 30,000 Miles With Only A Small Backpack
mbg Sustainability Editor
By Emma Loewe
mbg Sustainability Editor
Emma Loewe is the Sustainability Editor at mindbodygreen and the author of "The Spirit Almanac: A Modern Guide To Ancient Self Care."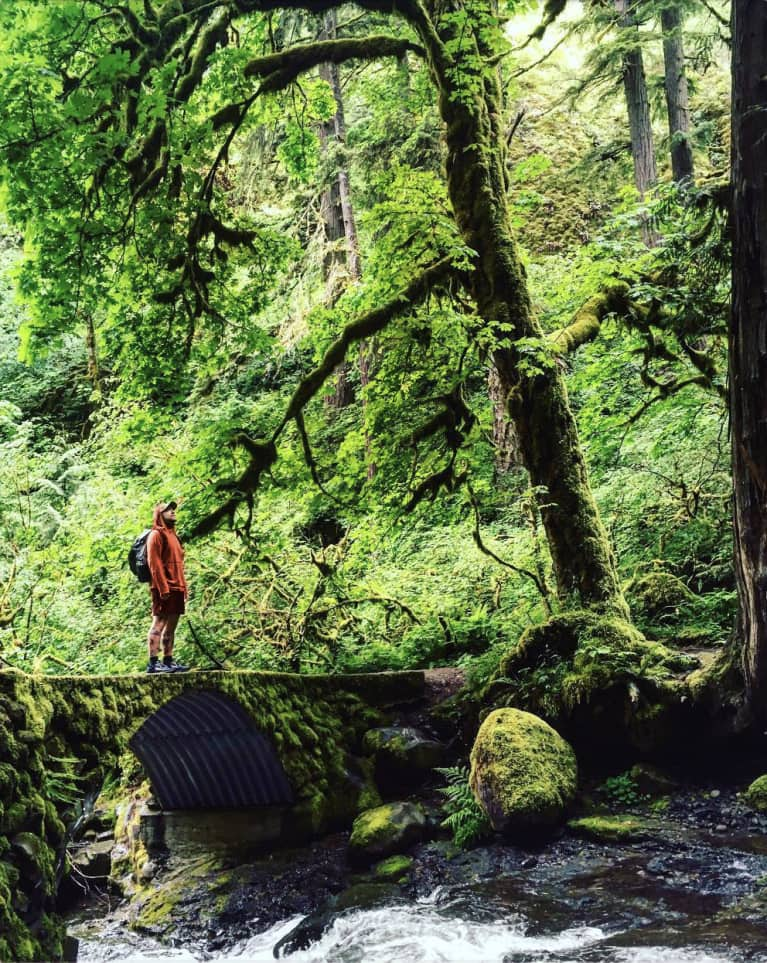 Clint "Lint" Bunting lives his life outdoors. He's traversed the lengths of the Appalachian, Pacific Crest, and Continental Divide trails by foot—three times each. He's coming up on the 30,000-mile mark in his hiking career, and when we first spoke he was heading out the door for a 450-mile hike across Northern California. ("Planning to set a speed record!" he relayed, excitedly.)
And yet his seemingly infinite stamina isn't what Bunting is best known for. In fact, it's what he carries—not how he carries it—that the explorer takes the most pride in.
When Bunting's hiking career kicked off on Wisconsin's Ice Age Trail in 2003, his packing list looked pretty standard: leather boots, plenty of extra clothes, a tent, a sleeping bag, and a huge bag to stow it all away. He soon realized that this assemblage of "essentials" actually left him ill-suited to complete the 1,100-mile trek.
"As I trudged with that heavy burden, all I could think about was how painful it was to hike like this and what I could do to lighten my load," Bunting recalls. "I'd shoulder my huge pack with a heaving lurch and trudge down the trail with aching feet. I thought I needed all that extra junk to be comfortable, not realizing it was actually making me uncomfortable since I had to carry it all day!"
Once he decided it was time for a downsize, his extra clothes were the first to go. Then, Bunting swapped a heavy tent for a tarp, a bulky sleeping bag for a quilt, and clunky boots for trail-running sneakers. After years of trial-and-error hikes to distinguish the essentials from the nonessentials, he's whittled his backpack down to 8 pounds—worlds away from the 30-or-so-pound packs more typical for long distances. Simplifying his gear has allowed him to cover more miles in less pain.
"I bring everything I need to stay warm, safe, and dry—but not much else," he says. "When I go to the woods, I'm there to walk and explore, not sit in camp, and I want to be comfortable while walking, not lounging around. Stripping my gear down to the bare essentials allows me to travel free and light through the mountains."
By parting with the nonessentials, he's picked up some life lessons. "You learn a lot about your personal limits, which is invaluable data to have. It boils down to learning what you are comfortable with as an individual through real-life experiences outside." While Bunting's ultralight pack leaves him wanting for the comforts of home, he sees that as a good thing. "Our culture no longer seems to appreciate feats of endurance or challenge by the individual. We turn a dial to adjust temperatures in our homes, flush toilets with drinking water, and never experience real hunger or discomfort at all. Instead of pushing physical boundaries, we push buttons on the television. By heading off into the mountains for months at a time with only the bare essentials, I am testing myself and strengthening all aspects of my being."
His advice for any hard-core hikers looking to lighten their load? Lay out all your gear before you start packing, and be honest with yourself about how useful each piece really is. When in doubt, start by getting rid of a few pairs of extra clothing. After all, you're going to get dirty no matter what.
Even for those of us who aren't planning a triple-digit-mile-hike anytime soon, there's a poignant take-away from Bunting's story: We could all probably traverse life a little easier if we had less on our shoulders.
Looking to simplify your own bag, even if you're not carrying it across entire states? Check out this complete guide to breezy minimalist packing.