How To Stay Motivated To Work Out When It's Cold Outside
Certified Personal Trainer
By Krista Stryker, NSCA-CPT
Certified Personal Trainer
Krista Stryker, NSCA-CPT is the author of The 12-Minute Athlete: Get Fitter, Faster, and Stronger Using HIIT and Your Bodyweight and a leading expert on HIIT and bodyweight fitness. She lives in Venice, California, and is a certified personal trainer through the National Strength and Conditioning Association.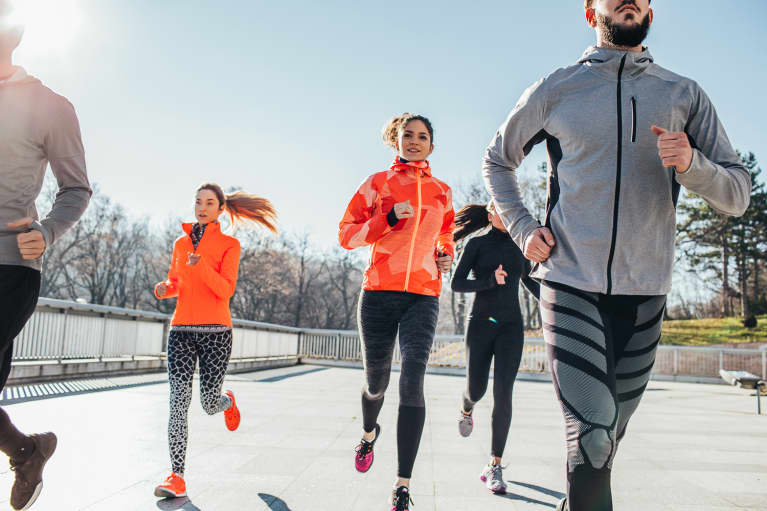 Cold, rainy, or snowy weather got you stuck inside all of a sudden?
As much as I'm a fan of taking your workouts outdoors in the summer and fall months, when the weather starts to turn and the days get shorter and darker, most of us will opt for indoor workouts instead.
And while it may be tempting to skip your workout in favor of cozying up in your PJs and binge-watching your favorite TV show, staying consistent with your workouts in the winter is important if you want to keep up all the gains you made this year. As a bonus, exercising in winter can help keep your moods elevated and energy levels high even during the darkest months of the year.
Luckily there are several ways to stay motivated to work out even in winter:
1.
Keep your workout at home.
Stuck at home due to rainy or freezing weather? Skip the commute to the gym and get your workout in at home instead.
Use your own body weight and get in simple but efficient exercises like squats, pushups, burpees, and step-ups (skip the jumping if your neighbors are prone to complaining).
If you want to add even more of a challenge to home workouts, get creative and use chairs and steps for something to jump up on, heavy books in place of medicine balls, and duffel bags filled with heavy stuff for weights. Have fun with it!
Winter is the perfect time to try that new class or activity you've been looking at but just didn't have the chance to try all summer long.
And this doesn't just have to be a new bootcamp class—try thinking outside the box and doing something that feels less like exercise and more like learning and fun.
Think martial arts or boxing classes, circus or adult gymnastics classes, dance class, or learning to rock climb.
These types of activities will keep you motivated and going for more even during the depths of winter, and have the added bonus of keeping your moods elevated as well (because learning is fun!).
3.
Get your friends to join in.
Instead of meeting friends after work for a drink, grab a buddy and get a workout in, or try a new activity together instead.
Exercising with friends is a great way to bond, and you'll feel much more accomplished afterward than if you'd had a few glasses of wine and splurged on that pizza instead.
Plus, knowing you've both committed to a workout means you'll help keep each other stay accountable and are much more likely to just get it done.
4.
Put those holiday treats to work.
For most people, the lead-up to winter equals a few more indulgences than usual—think Halloween candy, pumpkin pie, and all the holiday cookies.
While I certainly don't encourage anyone to go crazy with their holiday eating, it can be helpful to think of those extra calories as fuel for your muscles and your workouts. If one of your goals is to build strength and increase muscle, winter can be a great time to focus on this since you're already most likely eating a bit more than normal, and muscles require fuel (calories) to grow and get stronger.
Put those treats to work!