mbg Exclusive: Michael Phelps, The Most Decorated Olympian Of All Time, On How To Achieve Your Biggest Goals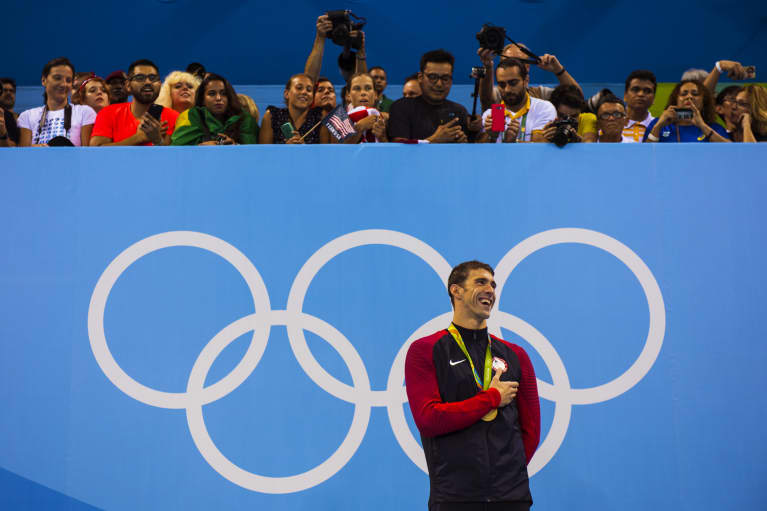 Michael Phelps has achieved something greater than his 28 Olympic medals; he's lived through the attainments of his goals. History will remember him for his performance in the pool, a nearly superhuman feat. But healing the depression that nearly cost him his life is the achievement worth more to Phelps than gold. "I was able to see a super low point in my life and turn that low point into one of the most enjoyable years I've ever had in my swimming career and outside of the water," Phelps told mbg candidly.
He rescued himself from suicidal depression using the same formula that drove him to the Olympics: "Dream, plan, reach." And it worked. Now married to his longtime love, Nicole Phelps (née Johnson), with a toddler, Boomer, and a brand-new baby boy, Beckett, born just this week, Phelps is mastering a new success. He's finding balance and self-love and is eager to help others find the same. His foundation is working to destigmatize depression and provide resources for those suffering. "Those moments and those feelings and those emotions for me are light-years better than winning the Olympic gold medal," said Phelps.
Just before baby Beckett's arrival ("We're so excited!" he beamed), Phelps spoke with mbg about what he knows best: how to set sky-high goals and achieve them. Whether you're looking to win Olympic gold or learn to love yourself, Phelps' approach is proven to work.
Phelps is the first one out of bed in the morning, "Whether at 6, 7, or 8 a.m. I try and give Nicole a little bit more sleep, with everything she's getting ready for right now." He wakes up with son Boomer on his mind. "The first thing I think about is how the little man has slept. Next, I'm thinking, what can I find in the refrigerator that the little guy can have and wants to eat in the morning He gets picky. We try to find him nice nutrients to start his day." With his family taken care of, Phelps shifts focus to himself.
My whole motto throughout my career has been 'Dream, plan, reach.'
Physical training is about keeping his mind healthy as well as his body. "I have to have a training regimen for my own sanity. Most of my life, my schedule has been regimented." He schedules workouts six to seven days a week, either diving into the water to swim or hopping onto a bike to ride between 15 and 25 miles. "I know how it affects my mental state; I need it to be a good husband, a good father, a good friend, a hard worker. It's important for me to be able to function. I need it to be as successful as I've been in the pool, now outside of the pool. I want to make sure I'm heading in the right direction toward the goals I still want to accomplish." How does he recover? "The same way I did when I was training for the Olympics: replenishing calories." A round of golf helps him decompress too.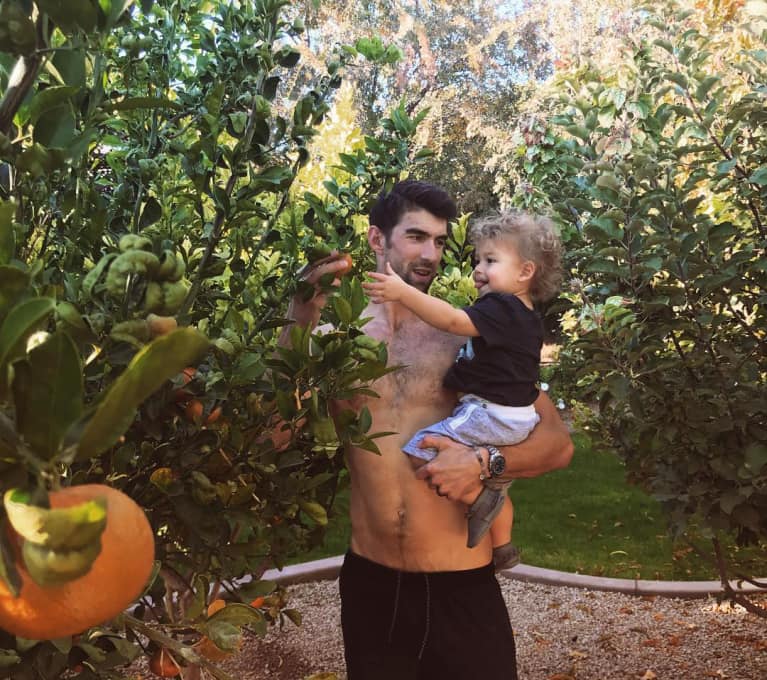 "I've always looked at my body like a high-performance car. You want to put the best fuel into your car you possibly can," said Phelps. He keeps breakfast light, fueling up on "a bowl of cereal, oatmeal, eggs, fruit, or a bagel," and to stay energized, snacks every two to three hours. "I try to make sure I'm maintaining weight and giving my body what it needs. Today I had a bag of Krave jerky, the Garlic Chili Pepper Beef, in my bag. It's the perfect on-the-go snack for me. I want to make sure it has the correct nutrients it needs so that I have the energy to get through a round of golf or a workout." Other than his high-protein snacks, Phelps limits red meat, sticking with a variation on a Mediterranean diet. "I eat a lot of chicken and fish." What do his cheat days look like? "I love a nice pizza—and candy. Candy is probably my biggest weakness."
I've always looked at my body like a high-performance car. You want to put the best fuel into your car you possibly can
Phelps is familiar with the tug of war between determination and self-care. "I'm extremely hard on myself because I want to accomplish the goals I've set out for myself. I'm not going to call myself names, but I do get frustrated with myself," said Phelps. But his all-in dedication to swimming, and the personal crashes that came along with it, helped Phelps reprioritize his own well-being. "I've had to learn balance throughout my career. All my life has been is sports. It's not that hard to jump right in and do it for me," he said. "I've had the opportunity to already go through one retirement and see how I was in that retirement and see where I ended up, and it wasn't in the safest or the happiest place." Now he pursues wellness with the same focus he reserved for his sport. "I'm trying to maintain everyday happiness."
Early in his career, a coach taught him a positive psychology hack. "I removed the word 'can't' from my vocabulary. If you say you can't do something, you've already made that decision up in your mind, and you've already told yourself that it's not possible, so you might as well stop trying, if you've told yourself you can't do it, and move on to something else. That word is so negative. I want to be as positive as I can."
His experience with depression and his ascent back to health have given him the opportunity to support those struggling. "Every day I get to wake up and help somebody, help lift them up if they've fallen, help someone out of a hard time they're having. I have a few friends who have been going through some struggle," he says. "Having the chance to help save a life is way more important and exciting than anything I've ever been able to accomplish inside the pool."
Phelps is in bed between 9 p.m. and 9:45 p.m., with the lights out by 10 p.m. "We know how challenging it is to get sleep. We have a 2-year-old in the house and a newborn coming home shortly, so we try to get as much sleep as we can. It was so important to me when I was swimming." He learned "the better your night's sleep, the better you'll be the next day and the day after that." And the time in bed helps him connect with his wife. "It's important to use that time to relax, decompress. My wife and I always try to make it so that when we get into bed we don't ask any questions; we're not trying to piece the day together." They aim for at least seven hours of sleep a night. "Seven to eight: That's what I need to move through my day and get done what I need to."
I removed the word 'can't' from my vocabulary.
Setting and Achieving Goals
Phelps is a master of goal-setting. "My whole motto throughout my career has been "Dream, plan, reach." Figure out a dream you want to go for, find out what the plan is to get from point A to point B, and go for it! That's what I used in swimming, and it's what I use to accomplish my goals now, whether that be with my family or business." That doesn't mean you have to do it all on your own. "I know if I have that mentality and am able to ask for help, that's how I was able to be successful in the swimming world, and I like to imagine it's the same in the real world." He says it's critical to always keep your goal in your mind, "so when it does get hard, you understand you're doing it for a purpose." For Phelps, the sky is the limit: "I've set some of the loftiest goals the sports world will see. Anything you put your mind to is achievable." The key is being willing to sacrifice. "I look back at my being a high school kid and not going out with friends on Friday nights so I could get enough sleep because I knew if I did, the opportunities that I'd have would be bigger than anything else I could dream of."
Now, as he transitions out of full-time athletics and into "the real world—not fantasy land where I just get to jump out of bed and work out and that's my job," his plan of attack is still the same. "I still write my goals down so I see them every morning when I get up and get ready for my day just as a friendly reminder of what I'm trying to accomplish. We can get lost at times with the thousands of distractions we have." At 32, with a lifetime's worth or achievements both professional and personal already under his belt, what will Phelps do next? He's working on developing a wearable device that uses circadian rhythms to help users get in touch with their moods and alleviate their depression naturally. "We're hoping it will help you go down different roads, instead of just going to a doctor to get a prescription."
Whatever comes next, Phelps will win it. It's what he does best.