How This Woman Used Yoga To Build Mental Strength & Fall In Love With Her Body
mbg Contributor
By Leigh Weingus
mbg Contributor
Leigh Weingus is a New York City based freelance journalist writing about health, wellness, feminism, entertainment, personal finance, and more. She received her bachelor's in English and Communication from the University of California, Davis.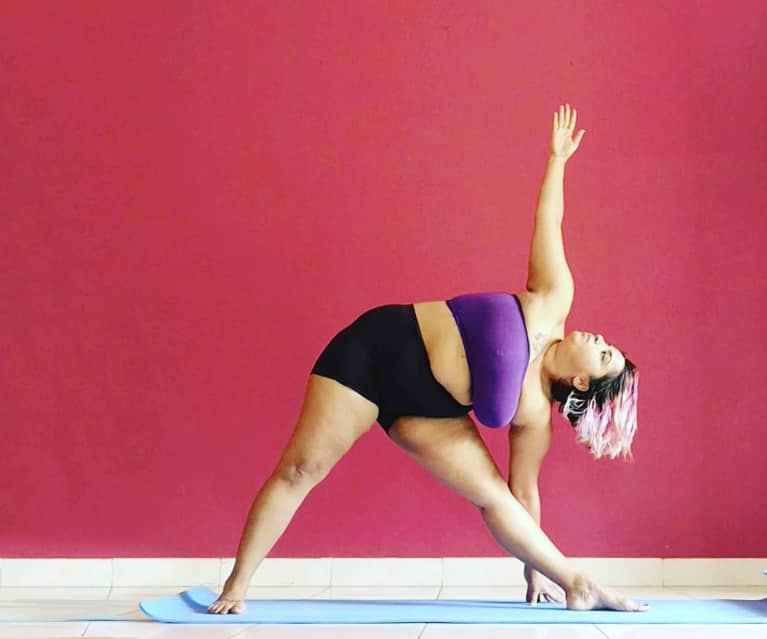 Two years ago, Dolly Singh sprained her ankle. Advised by a doctor to lose weight, Dolly, who is a TV producer in Mumbai, India, started exercising. She did Zumba; she ran; she did Pilates. Then she walked into a yoga class.
"I was immediately hooked. One week into the class, other people in the group were impressed by how good my asanas were—I was this round, big-bodied person who could easily get into postures and that was something very surprising for them," she says. "They were very appreciative, and I started enjoying the practice. The instructor started taking an interest in me and would push me to try a little harder."
But four months later, a different instructor took over—and this one didn't think that Dolly had what it took to practice yoga regularly and improve at the pace others were. Dolly had other ideas.
Rejecting the words "you can't do it."
As Dolly got deeper into her practice, she became increasingly frustrated by the fact that all of her instructors had the same body type. "For these instructors, it's kind of difficult for them to understand what the challenges of a big-bodied person are," she explains. "Like when I started doing halasana (plow pose), I would have a hard time because I'm big-busted, and the teacher would tell me not to do it. It was later with my own practice that I understood how to maneuver my bust for a cleaner posture. Bodies are all different. Teachers need to be different too."
One teacher in particular told Dolly that before she could practice yoga, she had to lose weight. "She had no clue about my practice and made the assumption solely based on my body," says Dolly. "Once in a class I asked the instructor to hold my leg as I was trying to do a free headstand, and he thought that was impossible and said no."
That's when Dolly started a home practice. If instructors wouldn't help her improve, she reasoned, she would help herself.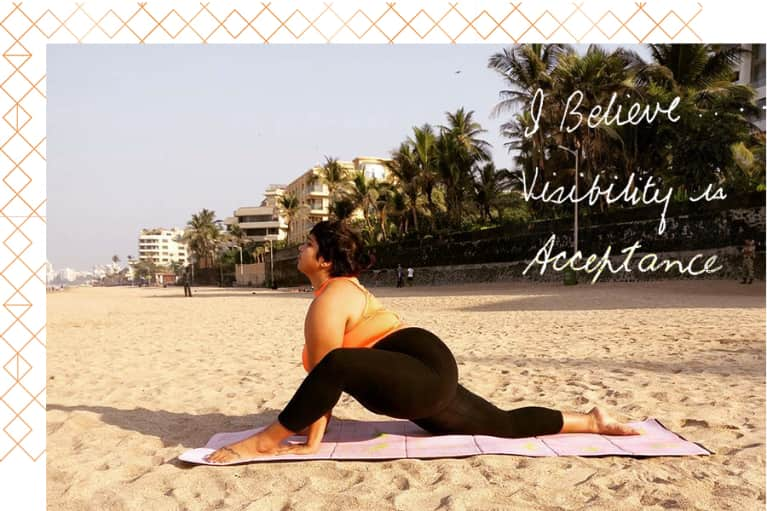 Discovering mental strength.
Two years later, Dolly's yoga practice is stronger than ever. She practices every day at home and hopes her Instagram account, @yogaforallmumbai, serves as inspiration and comfort for other women and men, no matter what the shape of their body.
Plus, her practice has helped Dolly find mental strength she never knew she had. "I often say that my physical strength has translated into mental strength," she says. "And that has been the most significant part of my practice. My flexibility, agility, strength, focus, concentration, and ability to handle difficult situations, etc., all have a new dimension now."
Even better, yoga has helped her fall in love with her body. "Every day I'm a little less ashamed of my big belly and have a little more trust in my tiny wrists. A lot has changed both physically and mentally. I'm now full of energy, quick, and always busy doing something. Yoga has added playfulness to my life. It's so much fun."
Inspired by Dolly's story? Read about the incredible woman who is working to open up the conversation about mental illness on college campuses.