How This Surfer's Near-Death Experience Taught Her To Trust Her Intuition
mbg Contributor
By Leigh Weingus
mbg Contributor
Leigh Weingus is a New York City based freelance journalist writing about health, wellness, feminism, entertainment, personal finance, and more. She received her bachelor's in English and Communication from the University of California, Davis.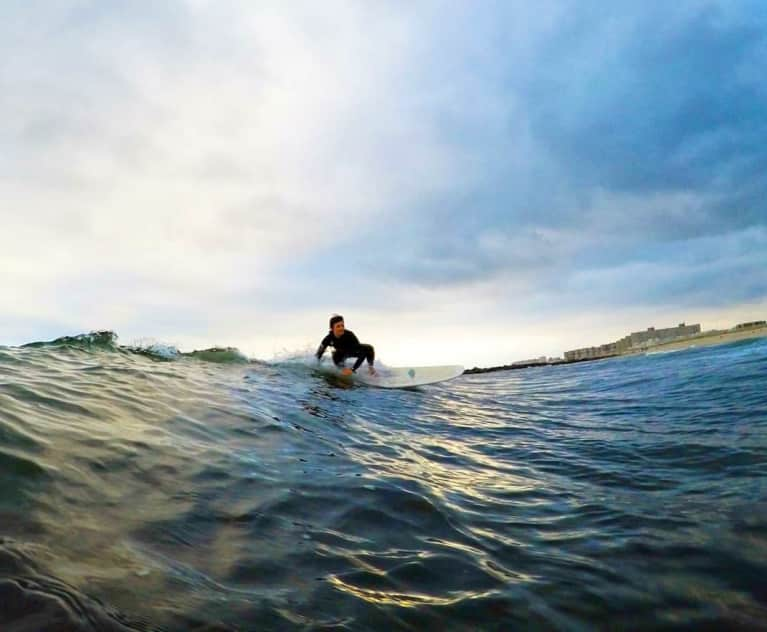 By day, Claire Canfield is the operations manager at a hair salon in New York's Chelsea neighborhood. But in the peaceful early morning hours before the rest of the world wakes up, she's on her surfboard at Rockaway Beach in Queens. "I go as often as I can—sometimes five days a week. I surf all through winter. I don't let snow or freezing cold temperatures stop me," she says proudly.
When Claire moved from Colorado to New York City three years ago, she found herself without an outlet. While living in Colorado, she had been a backcountry skier, which she found to be the most peaceful, meditative part of her day. "In New York, there just aren't the types of mountains you can find in Colorado, and I felt like I had no way to clear my head," she said. "Someone told me you can surf in New York, so I decided to take lessons a little over a year ago. I was immediately addicted."
Finding peace in the waves.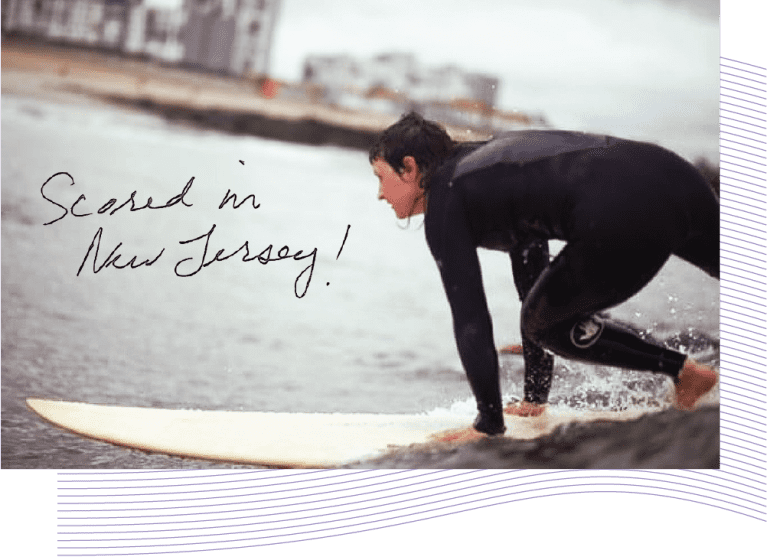 Once Claire got the hang of surfing, she couldn't stop. Before she knew it, she was waking up at 4 a.m. every day to check what was going on with the tides and the wind. If the conditions were OK, she was on the beach as the sun was rising.
"It's nice to clear your head before the day begins, and surfing does just that. It just requires so much focus that you can't really think about anything else," says Claire. "It's also very peaceful just being alone with the waves—you're out there by yourself in the water, but the nice thing is that there are people out there too, so you never feel that alone."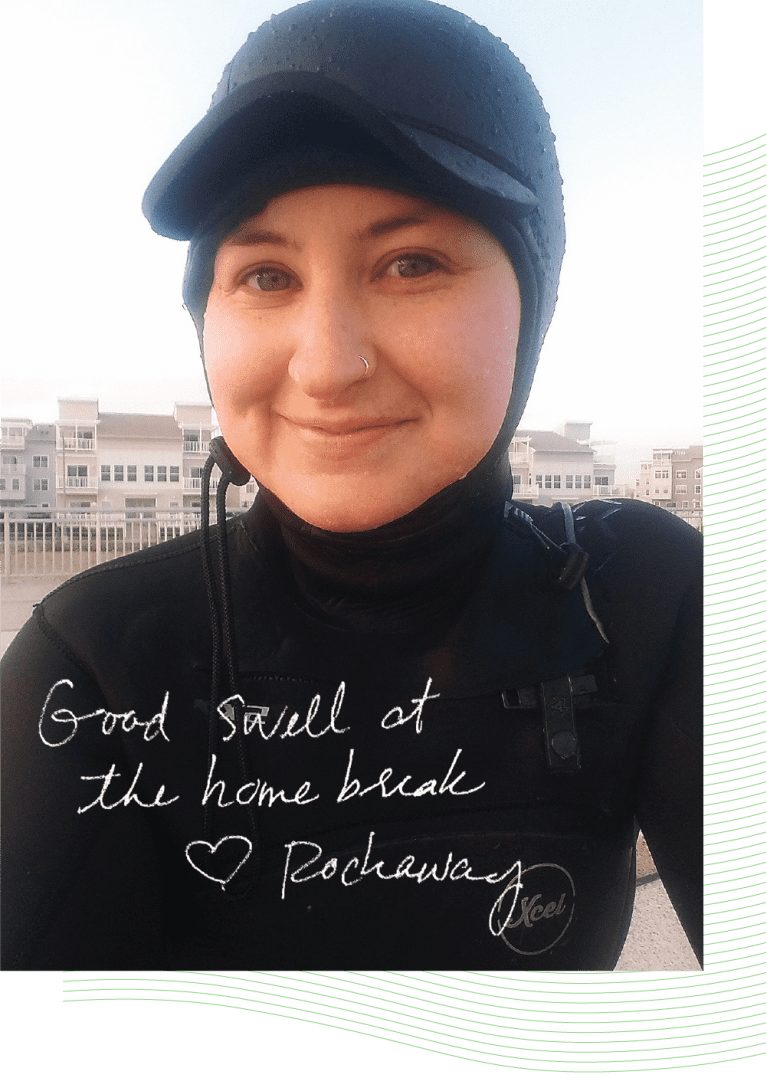 And when Claire says she was immediately addicted, she means it. "It became something I wanted to do over and over again," she says. "It just gives me so much. It gives me that adrenaline rush, and the excitement and the endorphins are incredible. My love of surfing also motivates me to go to the gym, because I want to get stronger so I can surf better. Surfing also improves my core strength and makes me better at practicing yoga. So it's basically improved every aspect of my life."
Learning to trust her intuition through surfing.
When Claire was still a brand-new surfer, she found herself in a terrifying situation. The waves were big and powerful, and she was so new to the sport that she had no idea how much danger she was in. "I caught one of these huge monster waves, and instead of making sure I had a good window to paddle back out, I turned back and paddled too soon and got stuck in an area where the waves were crashing over my head," she remembers.
With only moments to make a decision, Claire decided to dive off her board and underneath the waves. When she resurfaced, gasping for breath, she looked over to see that a couple of big waves had pushed her board back and it crashed onto nearby rocks. That split-second choice saved her life. "As it turns out, I had made the right decision by diving underneath the big waves. I had somehow timed it just right."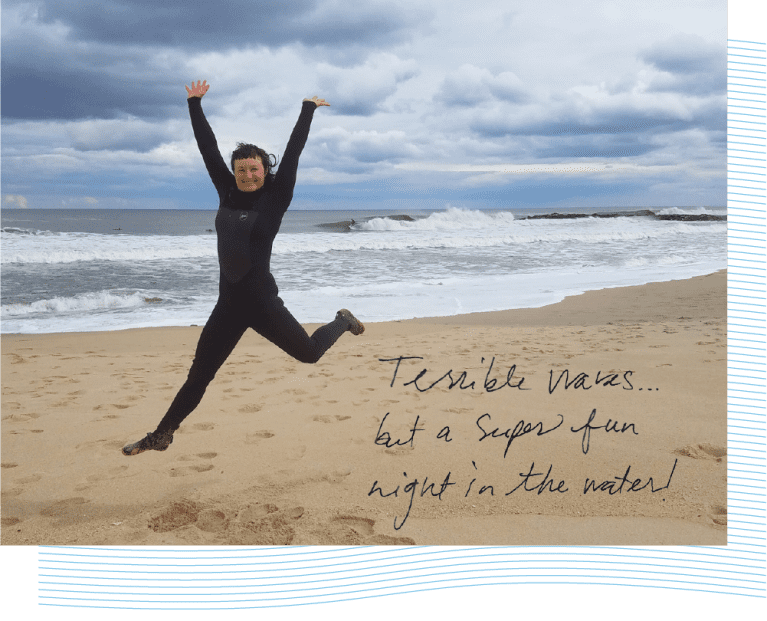 That experience with trusting her intuition helped Claire in other areas of her life as well, and she was amazed to see how quickly this newfound trust in herself gave her a boost in other ways. "I personally have to make a lot of management decisions that affect a lot of people, and a lot of the time I have an instinct about what the right call is," says Claire. "In business, I have all the opportunities to second-guess myself and wonder 'was that the right choice?' But when you're forced to make a decision based on your intuition, you don't have time to second-guess yourself," says Claire. "When you're feeling that insecurity and you're going for a wave, you can't think you're not going to make it. If you don't visualize success for yourself, you won't achieve it."
Love the surfer mentality? Read up on what pro surfer Courtney Conlogue eats in a day.