How These Pros Keep Their Hormones Balanced When They Travel
mbg Health Contributor
By Gretchen Lidicker, M.S.
mbg Health Contributor
Gretchen Lidicker earned her master's degree in physiology with a focus on alternative medicine from Georgetown University. She is the author of "CBD Oil Everyday Secrets" and "Magnesium Everyday Secrets."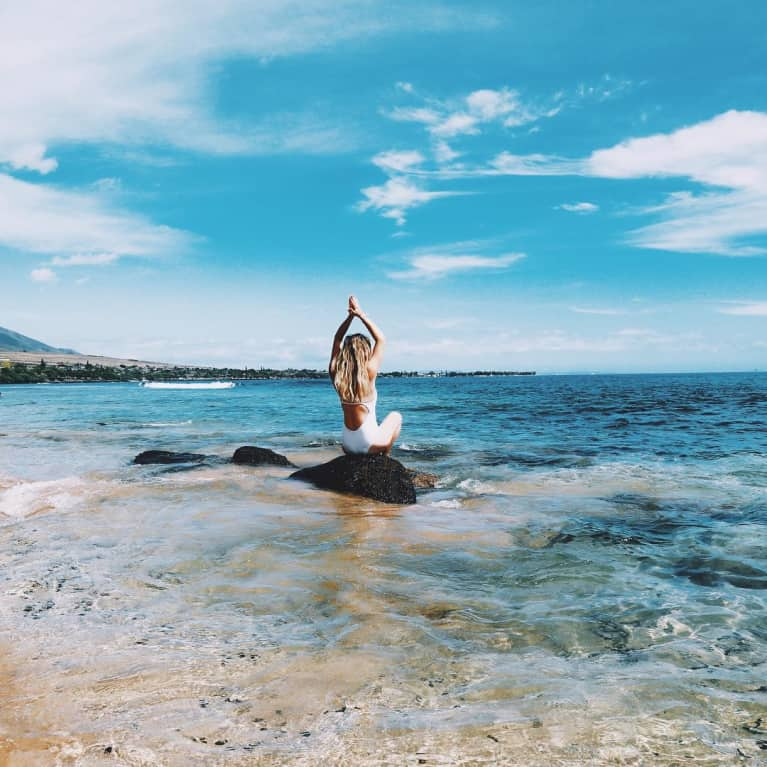 We're headed to mbgrevitalize this week, and that means flying across the country. Travel can be hectic, stressful, expose you to a host of germs, and leave you sleep-deprived. In other words, it's the perfect storm of factors that could disrupt our health and leave us feeling less-than-optimal—especially when it comes to our hormones. That's why it's important to have a plan to protect hormone balance so that we can have the energy to really enjoy wherever it is we're traveling.
We asked some of our favorite doctors, women's health experts, what we can do to safeguard our hormones on the go. There are some great actionable tips that we can apply to our own travel—whether we're gallivanting across Europe on an epic vacation, going to visit our parents in Ohio, or flying to Arizona to attend our annual conference.
1. Felice Gersh, M.D. and women's health expert.
"Travel across time zones changes our innate circadian rhythm, and this leads to abnormally high and improperly timed cortisol output. This in turn alters thyroid production and reception. These hormones affect the rhythm of the hormones from our pituitary gland, the gonadotropins, which can change our estrogen and progesterone output, upsetting the menstrual cycle and resulting in irregular cycles and missed periods. Add to that the heightened stress, altered mealtimes, often poor food choices, and disrupted sleep, and it's a recipe for hormonal chaos.
"But there is no reason to despair. There's plenty you can do to help keep your hormones humming. There are also some great supplements that can help. I take 0.5 milligrams of melatonin five hours before bedtime and then 6 mg half an hour before bedtime for three days (and then I drop it to 3 mg). I add in some ashwagandha at bedtime as well. You can also add 50 mg of 5 HTP as well, if you just can't fall asleep! And don't forget the stress component. I do guided imagery and use essential oils for travel stress. Some prefer meditation, Bach flower remedies, or progressive relaxation. Find what works for you, and stick with it. Try lavender essential oil and rub a couple of drops into the soles of your feet. It will help you get restful sleep." —Felice Gersh, M.D.
2. Jordan Younger, writer, blogger, and RYT500.
"For me, it all comes down to getting enough rest and also doing things on my own terms—even big group things! I have come to realize that being a highly sensitive person (HSP) and also being someone whose hormones get out of whack really easily, I have to listen to my internal compass even more diligently than usual while I travel. I know myself, and I know that Friday late afternoon to Sunday morning is a perfect weekend trip for me...and after that, I will be HOME by Sunday afternoon happy as a clam! (Cuddled up with my cat and my boyfriend, of course.) Some people enjoy extending their weekend trips or getting the fullest, longest days in while they're gone, but I am the opposite. My hormones thank me for it because I need that rest and alone time to balance the hectic! Then I enjoy myself while I am there so much more!" —Jordan Younger
3. Alex Goldberg, acupuncturist, herbalist, and women's health expert.
"Traveling can cause significant endocrine (hormonal) shifts for people, and unfortunately females tend to get the brunt of this more than males on average due to their general hormonal fluctuations each month due to their menstrual cycles. There are lots of things you can do to help alleviate some of these changes before they come on: Get a proper night's sleep before you travel, (especially) if you're going out of your time zone. Your circadian rhythm (that would be your sleep cycle) is directly related to your hormones—so if you get a good night's sleep, you are taking the first step to keeping yourself balanced before your flight. Also, make sure you're in tiptop shape before you travel; if you are feeling a bit under the weather, there are lots of great Chinese herbs that can help, but if you don't have time to get to your local friendly acupuncturist, go grab some black elderberry. This little natural supplement will help keep you feeling good so that you don't get sick. Lastly, avoid those dreaded 'damp foods.' This is a huge part of TCM, but keeping it simple, let's just say if you can try to avoid alcohol and dairy for three days before you fly, it would help keep your hormones in less fluctuation." —Alex Goldberg
4. Rachel Mansfield, wellness and lifestyle blogger.
"When I travel, I always try to get a morning walk in first thing in the morning. This really helps clear my head and start the day with a peaceful mind, keeping my cortisol levels down during the craziness of travel. I love walking alone or finding a friend who is traveling with me to join!" —Rachel Mansfield
5. Prudence Hall, M.D. and integrative medicine expert.
"Air travel can upset the adrenal gland hormones, which correlates with anxiety and stress levels. To help watch this, I always wear my WellBe bracelet to monitor my stress levels. If my stress starts to rise, I'll do one of their guided meditations or listen to specific stress-reducing music. Even simple focused-breathing techniques can be extremely helpful if you feel yourself getting anxious. Furthermore, on long flights, I allow myself to watch one movie, and then take 5 to 20 milligrams of melatonin. It is an important hormone that can become depleted with travel. Covering your eyes with a face mask while resting or sleeping will also boost this important hormone." —Prudence Hall
Come to mindbodygreen.com Saturday, September 9, at 9 a.m. PDT/12 p.m. EDT, to watch our livestream, presented by INFINITI, and follow #mbgrevitalize on social!