How The Absolute Worst Year Of My Life Led To The Career Of My Dreams
mbg Contributor
By Leigh Weingus
mbg Contributor
Leigh Weingus is a New York City based freelance journalist writing about health, wellness, feminism, entertainment, personal finance, and more. She received her bachelor's in English and Communication from the University of California, Davis.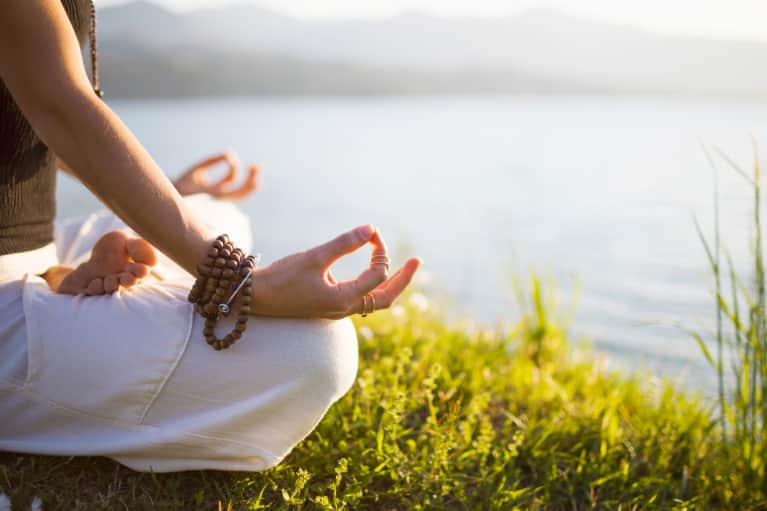 When Jillian Turecki's boyfriend suggested she try a yoga class with him, she was skeptical. She couldn't even touch her toes—how could she possibly endure all the stretching and posing that was required of her. "I finally succumbed, and it was absolutely amazing," she says. "From that moment on, I was 100 percent committed to it. Call it a calling, but pretty early on in my yoga-practicing career, I knew I wanted to teach it. I got certified about four years into my daily practice, and the rest is history. I started teaching it and teaching privates before I started teaching group classes, and I was obsessed with the therapeutic side of it."
Feeling stuck in a practice she loved.
About five years ago, Turecki found she was stuck. Although she loved the energizing, anxiety-busting feelings yoga brought to her life and the lives of others, she realized she wasn't moving forward anymore. "I started to feel bored," she admits. "I started to feel like, well, I'm doing something that I love, I have great students, but it's not enough. There's more of me to explore. But I had no idea what that looked like."
Feeling directionless, Turecki found herself more and more disenchanted with her career as the years went on. "What I found was that if things stay the same for too long, that leads to unhappiness," she says. "I believe life can be difficult, but if you feel like you're growing, there's fulfillment to be had."
Three years ago, Turecki had a year when truly everything went wrong: She had a miscarriage, her husband left her, and her mother died of cancer. "I think I cried myself to sleep every day for a year," she says. "I lost a lot of weight, and I couldn't get on my mat. It was awful."
Feeling like she had nothing to lose, Turecki decided to do a 30-day program with Tony Robbins. "It's what got me up in the morning. In the same time I was totally and utterly devastated, I also felt inspired. And both can live in the same space at the same time, and that's what I found so fascinating," she says. "So I did his two-year coaching program, and I started teaching it even when I had no idea what the hell I was doing or that what I did was even coaching."
Now, she has an extremely popular coaching practice that focuses on family and intimate relationships, and she's never been happier. "I really believe that if you're not happy with your relationships, you are suffering," she says. "And I believe that the way I learn and teach it is hearable. It's all about returning to your heart and realizing that everything is about giving more and thinking less about yourself."
How her breakthrough changed her yoga practice.
While she isn't as focused on yoga as she once was, Turecki has in no way abandoned her yoga practice. In fact, it's only gotten stronger. "My work as a coach has completely transformed my yoga teaching and given me more confidence to give people what they want and need," she says. "Sometimes people don't want what they need, but I feel like in my teaching I'm so much more engaged as a result. I like playing with people's energy, and if I feel like the energy in the room is low, I adapt the energy in the class to what I feel in the room. As a practitioner, I now more than ever cherish my practice in a way that's a little bit different."
Her No. 1 take-away? It doesn't take much yoga to change your mind and let go of tension. "If you can't make it to a yoga class—this mindset that you have to make it to an hourlong class or it's not worth it—that's bullshit. If you have five minutes, you can radically shift how you move your body and mind."
Inspired by Turecki's story? If you're in New York, check out her Grit & Grace class on December 2. And if you're interested in the ever-evolving landscape of intimate relationships, read about how this woman deals with jealousy in her open relationship.