8 Ways To Manifest Emotional Freedom During The Pisces Full Moon
mbg Contributors
By The AstroTwins
mbg Contributors
Ophira and Tali Edut, known as the AstroTwins, are professional astrologers based out of New York and Seattle. Their work has been featured in The New York Times, Elle Magazine, Vogue and Good Morning America and they are the authors AstroStyle, Love Zodiac, Shoestrology, and Momstrology.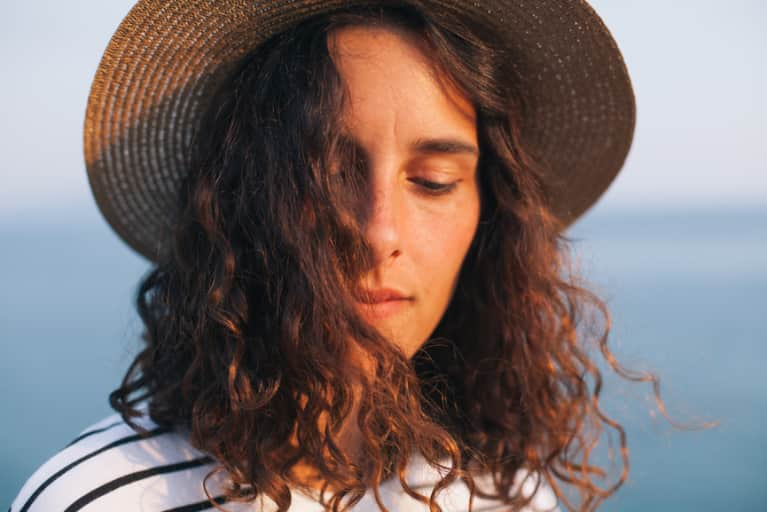 Our editors have independently chosen the products listed on this page. If you purchase something mentioned in this article, we may
earn a small commission
.
On September 6, 2017, life takes a turn for the esoteric and enchanted when the Pisces full moon lights up the skies. As the zodiac's last sign, Pisces is about endings and transitions, upping the odds that we'll see lingering situations start reaching a conclusion. Full moons are a powerful time to let go, and with the Pisces emphasis on surrender, we're invited to give up struggle. There's power to be found in waving the white flag and accepting the things we cannot change.
Pisces rules the subconscious mind. If you've been soul-searching or asking the universe for answers, expect to have some violet-light realizations near this full moon. This full moon is the culmination of the February 26 Pisces solar (new moon) eclipse, which also wrapped up a two-year cycle of eclipses in this mystical sign. Today's epiphanies may involve relinquishing control or literally saying goodbye to something that no longer serves a purpose. Have you put off mourning a loss or grieving something that didn't work out as you hoped? The soothing Pisces full moon helps the tears or stuck emotions flow.
For those who like to plan every move to the minute detail, the Pisces full moon may have the last laugh. Instead of attempting to direct the universe, pay attention to which doors are opening and which seem impossible to pry ajar—no matter how hard you try. Miracles CAN happen the minute we release our grip and accept that what will be, will be. Caveat: Pisces energy can send people spiraling into addictive, self-destructive, and downright delusional behavior—especially when "loony" luna is full! Steer clear of triggers and temptations at this full moon to avoid the slippery slope.
Make room for the muse! The creative Pisces full moon will deliver some divine downloads. If you've been developing a visionary idea, share it with trusted people—one of them could turn out to be a winner! But consider having people sign an NDA (nondisclosure agreement) if there are trade secrets or important artistic/intellectual properties involved. The blurring effect of Pisces could mask a competitor in ally's clothing. Yikes! Socially, this would be the day to dive into Piscean activities: an epic night of dancing, a meditation circle, a spiritual ceremony, or a romantic date lifted straight from the pages of a fairy tale.
The Pisces full moon is also recognized by the Farmer's Almanac as the Full Corn Moon or Full Barley Moon because it traditionally corresponds with the time of these harvests. And since it falls close to the autumnal equinox on September 22, it is also considered the full Harvest Moon.
Here are eight ways you can let go and surrender during the Pisces full moon:
1. Pay attention to the "signs."
In the light of the Pisces full moon, the veil between the spirit world and the living world is thinner than ever. In the next couple of days, boundaries can be blurred. You may experience coincidences, déjà vu, vividly symbolic dreams (Pisces rules sleep and the subconscious), or strange "signs" like repeating numbers on the clock or coins (especially dimes and pennies). There's a message there, so follow the clues. Is there an ancestor with whom you feel a special connection? Ask this person to be your guide from the other side. Hey, you just never know. Put up his/her picture, or add something to your environment that carries a sentimental and energetic reminder.
Since full moons are like giant celestial spotlights, this one could beam into an area of life where you've been stuck or in denial. If you've ignored your intuition, the Pisces full moon reminds you to pay attention.
2. Practice empathy instead of judgment.
Compassion and empathy are huge themes for Pisces. While it's human to judge the other, this behavior stems from ego and creates separateness. When you catch yourself judging someone (which is inevitable—we all do it!), try an exercise of stepping into their shoes. Easier said than done? Oh yeah. But judgments keep us divided, which leads to a deep sense of existential loneliness. That can awaken compulsive, controlling behaviors, the ones that send us spiraling into unhappiness, addiction, and manipulation. Who have you been judging in your life? Do an experiment, and try to view this person through a lens of compassion. While you don't have to excuse reprehensible behaviors, you might find an explanation for them that gives you peace. What do you see? Where are they struggling? Turn this lens inward next. If you've been hard on yourself, where could you be kinder?
3. Free-write or journal.
This may seem like 101 advice, but it's pretty amazing how quickly your inner voice can reach you when you just put pen to paper and let everything just flow out. We're fans of Julia Cameron's The Artist's Way, mainly for its brilliant practice of morning pages. For the uninitiated, this simple but powerful exercise asks you to begin your day by free-writing three pages. Dust off your diary or buy yourself a beautiful new one to rewire that pipeline to your soul.
4. Dance with wild abandon.
Brace yourself: This full moon can bring up turbulent emotions. It might even make you feel a little off-center in moments. Since there's no way around the madness, pick a healthy outlet for release. Pisces rules the feet and is also an avid music hound. There's no better place to lose yourself during a Pisces full moon than in the middle of the dance floor (or your living room floor for an impromptu dance party). Whether it's an ecstatic dance class, trance dance meditation, mosh pit, or outdoor club, find a strobe light and let loose. (This Seattle teacher's "Dance Church" class has become one of Tali's favorite activities!) Exhaust yourself at an electronic music show, or tear up the club until the sun rises. Just dance, dance, dance....then, come home and soak your feet in a luscious foot bath of Epsom salts and essential oils.
5. Manifest romance with a love letter.
Secret crushes, surreptitious affairs, windswept rendezvous: The full moon in Pisces permeates the air with a fantasy-fueled vibe. But instead of getting caught up in anything torrid and tempestuous, remember that Pisces also brings the power of the pen, at least the poetic one. Write an ode to your true love, or the one you hope will fill that role. Hit send, or drop it in the mail on beautiful stationery. (P.S.: Results from a full moon usually flow in within two weeks, so don't panic if the response time isn't instant.) If you're single and option-free, write the note to your would-be lover and set it on an altar for two weeks. Adorn the letter with rose petals, crystals, or meaningful objects—perhaps a small heirloom from relatives who had enduring love, such as your grandfather's pocketwatch or grandmother's bracelet.
6. Channel your inner mermaid/merman.
Ruled by Neptune, god of the seas, Pisces is the zodiac's mermaid. Find a body of water—be it a bathtub full of scented Epsom salts, a natural hot spring, an ocean, or a swimming pool—and dip a hand, a toe, or your whole body in it. A simple sea salt bath can be purifying and cleansing. These "house-witchery tips" from Gala Darling will also invite that magical, mystical Pisces energy into your space.
As the last of the 12 zodiac signs, Pisces is connected with the final years of life, the time when memories fade and blur and thoughts become less lucid. Who are the elders in your neighborhood? Your family? Take time to sit and talk with a fascinating octogenarian in your world. Listening to stories about "the good old days" will be a heartwarming experience under the light of this full moon. As our society tends to cast the elderly aside, your visit will probably have a profoundly uplifting impact. But it goes both ways, so expect to get an earful of inspiration in return.
8. Release suffering with forgiveness.
In Piscean terms, forgiveness means release. Releasing judgments, grudges, pain, and codependence. Releasing responsibility for fixing something that can't be fixed, for changing what's already happened. Piscean forgiveness means radical acceptance of what IS. From there, we can ask: What can I do right now that would make a difference?
Suffering comes from a refusal to accept a situation as it is. It's different from grieving—when we suffer, we give up our power. We stay stuck in the past, helpless and victimized. When we grieve, we acknowledge our emotions, but we still stay empowered, present, and able to act. What could YOU do today that would get you unstuck from suffering?
Want more astrological insight? Find out your moon sign here, then explore your love horoscope.