No Lie: This Surprising Supplement Can Naturally Balance Oily Skin
mbg Associate Editor
By Jamie Schneider
mbg Associate Editor
Jamie Schneider is the Associate Editor at mindbodygreen, covering beauty and health. She has a B.A. in Organizational Studies and English from the University of Michigan, and her work has appeared in Coveteur, The Chill Times, and Wyld Skincare.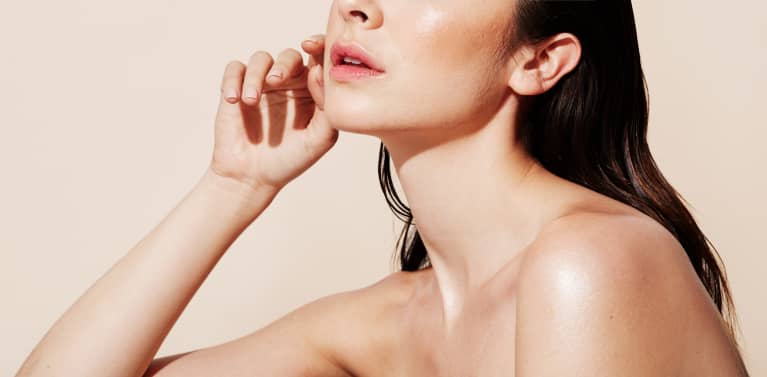 This article was produced to support the mindbodygreen supplements+ line. Our supplements adhere to the highest standards of ingredients and quality. We hope you enjoy these products, for more information
click here
.
If you have oily skin, chances are you float toward clarifying, purifying, or exfoliating ingredients. Any product that's able to penetrate pores and draw out debris (looking at you, salicylic acid) is the gold standard for oily skin types.
But like most aspects of skin care, eliminating excess oil is a bit more complicated than a 1-2-3-step regimen. Allow us to remind you of another way to approach excess shine: balancing your oil levels internally. One of the easiest ways to do so? Ingesting hydrating actives, like ceramides.* It may sound counterintuitive, but supplying your skin with moisture can ultimately keep oil to a minimum and help give you the dewy glow you're after.
How ceramides can help balance oil production. 
Now, we tend to think of ceramides as they relate to dry skin—ceramides act as the "glue" that keeps skin cells together, and they're able to prevent transepidermal water loss. Which is all good and well for keeping parched, flaking skin to a minimum; however, that same reason is what makes ceramides so great for balancing unwanted sheen.
In case you need a briefer: When your skin is dehydrated, it can, unfortunately, respond with even more oil production to compensate. So even if you're facing an uptick in oil at the moment, it's worth it to check your skin's hydration levels—your pores may very well be begging for moisture. (Bonus: For some, amply hydrating your skin can help clear stubborn acne.)
Why a supplement is a good idea.
Even though the thought of slathering hydrating creams onto slick skin sounds a little daunting, you should never shy away from a good moisturizer. However, we admit, a thick formula may not sound too appealing at times. You can, of course, opt for a lightweight confection, but smart supplements can help balance hydration levels at the internal level as well: Research shows that when you take ceramides orally, it can help the skin just as much as prescription-strength topical ceramides.*
mindbodygreen's nr+ contains phytoceramides (aka, plant-based ceramides), which can help improve skin hydration, as well as manage wrinkles and support skin elasticity and smoothness, while you're at it. Consider it a win-win for those wanting to balance oil production and skin texture. Plus, it's got additional skin-supporting ingredients, like astaxanthin (an antioxidant that can stabilize free radicals) and rhodiola to manage oxidative stress.*
Just because your skin falls on the oily side doesn't mean you should skimp on hydration. In addition to keeping your moisturizing habits up to par, you can also balance your oil levels from the inside out, with a targeted supplement—you know, just in case you're falling short on moisturizer.