The Simple Tweak That Led Me To Get Rid Of 25,000 Items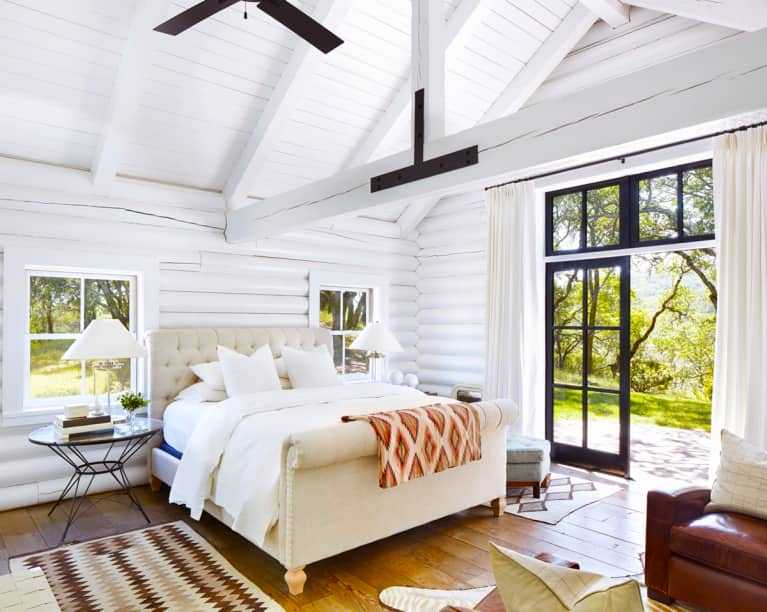 Back in 2010, my life looked pretty great (on paper). I had a lovely, happy baby girl, I was married to a wonderful, hardworking man, and I was running a small hand-made jewelry label. We had recently moved to the mountains, were currently renovating, had just returned from a Fijian holiday, and I was pregnant with our second child.
I knew how lucky I was. And yet I was filled with a bone-aching despair. Life was pushing down on me so hard that it took my breath away, and I couldn't figure out why. All I knew was that I was constantly striving for more. More stuff, more toys, more clothes, more busyness, more, more, more... Somewhere along the way I'd learned to equate more with success and success with happiness.
A few weeks after our second child was born, I was diagnosed with severe postpartum depression. Looking back, I'm fairly certain I'd been struggling since before our first child was born but had maybe been a little better at hiding it or convincing myself that it was what life was like as an adult, a partner, a mother.
As part of my treatment, I spent an hour a week with a psychiatrist. It was during one of our sessions that I began complaining about everything I "had" to do in life. All the things I needed to achieve, own, do, or be. All the ways in which I could never sit still, never be present, and never fully soak in the joyful details of my own very lucky life. There was always more to do, and I was tired.
She looked at me for a moment and asked, "Have you ever considered simplifying your life a little, doing less?" I admit that I was initially offended by the idea. I'd always prided myself on the fact I got a lot done in my day, on being the person people asked themselves, "How does she do it?"
Turns out that wasn't working out very well for me.
I went home and Googled, "How do I simplify my life?" and found myself deep in the archives of Leo Babauta's blog, Zen Habits, where I discovered a whole other world of people who were saying no to more.
Discovering the simple life.
From there, I began to see that there was another way. A simpler way.
The simple life was freeing people up to do more of what mattered to them. I immediately thought the best place to begin this simplified era would be our double-car garage. It was stuffed to the brim with boxes of stuff we'd moved to our new house but never actually brought inside. It was crammed with cartons of stock and materials from the jewelry label I'd built up and then shut down as my depression took hold. Surely this was the best place to start...
This was not the best place to start.
My husband and I rolled the garage doors up early one Saturday morning, determined to sift through the boxes of stuff and rid ourselves of a huge amount of clutter. We began by opening boxes and dumping the contents on the floor, sorting them into sprawling piles of "Keep," "Donate," "Recycle," "Rubbish," and "I forgot we had this thing, but now that I see it maybe we should keep it." Gradually, as decision fatigue took over and the piles began to merge into one unholy mess, we realized we'd been defeated. So we rolled the doors down and went inside for a cup of tea.
It wasn't until weeks later that I realized I'd been trying to run before I could walk. I didn't need to declutter the garage in one weekend. (I actually couldn't.) But maybe I could begin with my handbag.
So I emptied the contents of my bag onto the kitchen table and sorted through receipts, pens, lipsticks, hair clips, toys, baby wipes, random pieces of junk, and enough crumbs to make a whole new loaf of bread. I recycled, threw away, or put back in place everything that didn't belong there, and then I hung my much lighter handbag behind the front door. It took five minutes.
How baby steps helped me part with 25,000 things.
It was one small step toward a simpler home, but it felt good. Much better than failing to summit Garage Mountain. So I took another small step, this time decluttering inside our car. More toys and books and drink bottles and rubbish and dried-up fruit and junk. Fifteen minutes.
Then I moved on to declutter the utensils drawer, top of the fridge, coat rack, etc. None of these tasks was difficult or emotionally taxing, and they began to add up to big changes. We began counting the items we let go of, and by the end of the year we'd decluttered more than 25,000 items from our home. (I stopped counting after that.)
We discovered more space, time, and contentment that requires less maintenance and worry. We were amazed by how much calmer and happier we felt in our home, and over the subsequent years we've let go of so much more.
Now, you might be wondering, did we ever manage to declutter the garage? And the answer is yes. Once we got better at the art of letting go, those boxes no longer felt like such an impossible task, and over the course of a couple of weekends we emptied the garage of everything.
After we packed up the last of the garage's contents and sent them off to the charity shop, my husband and I found ourselves in the backyard, staring at the massive empty structure. We decided to let the garage go too, in the end. We sold it to a neighbor, tore up the concrete slab, and planted some grass and a veggie garden there instead. Now I watch my kids play in that space every day, often joining them on the trampoline or as we water the garden together.
I can't think of a better example of everything we stand to gain simply by letting go.
Inspired to start tackling your home, one small section at a time? Here are some more genius decluttering tips to get you started.